Want to auto repeat youtube videos?
If yes then this post is definitely gonna help you.
But before we begin please make sure that you have read our previous article on free reverse image search.
Youtube. The most entertaining site on the web which everyone loves.
But have you ever wished to replay your youtube videos in a loop?
If so, then you must be knowing that it's not easy.
We have to keep pressing the replay button again & again.
And everyone wants to get rid of it.
So in this post, I will show you how to loop youtube videos and listen to your favorite song on repeat.
Let's see how it works…
Also Read: How to Block Someone on Youtube.
Auto Repeat Youtube Videos in a Loop
This tutorial is divided into two parts in which I will be showing you how to repeat youtube videos in a loop on Chrome PC, iPhone & Android mobile.
So let's get started.
Loop Youtube Videos on Chrome Browser
This method works with all the chrome browsers, whether it's installed on windows or mac os.
Just follow these simple steps…
1. Open Youtube in chrome browser & play your favorite song.
2. Now, Right Click on the video screen & select the "Loop" Option.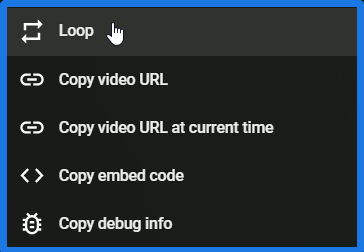 3. Reload the webpage and Done!
Now it will automatically replay your video again & again without any problem.
And if you want to disable the "Loop" option, reverse the above process.
Loop Youtube Videos on iPhone / Android
This method is a bit different than the above one as playing youtube videos in a loop on iPhone / Android isn't that easy.
But it works with every Youtube app, whether it's installed on iPhone, Android or other mobile devices.
Let's see How to do this…
1. Open the Youtube app on your mobile device.
2. Now play your favorite video/song which you want to auto repeat in a loop.
3. Click on the save or plus icon to add the video to the playlist.
4. Now Click on Change when this notification appears.
5. Next step is to create a playlist. So Click on +New Playlist.
6. But before that, you have to create a channel. So Click on Create Channel.
7. Now give the playlist a Title like "Auto repeat" and in Privacy drop down menu choose Private.
8. Now close the playing video and Go to Library.
9. Scroll down & open the playlist that you have created and then play that video.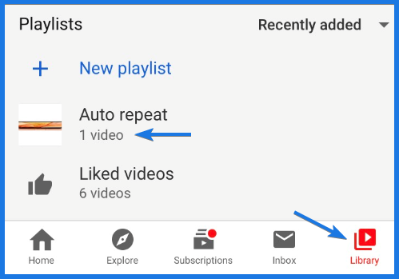 10. Tap the drop-down icon below the video screen and Click on "Loop" icon.
And Done! You have successfully created a youtube playlist to auto repeat youtube videos.
Note:- You can also perform the same steps to create a playlist on PC
Conclusion
So that's how you can easily loop a youtube video by creating a playlist on Chrome PC and other devices like iPhone, iPad & Android.
And also you can perform this autoplay using different apps & websites like listenonrepeat, youtubeloop & other youtube looper.
Stay tuned for the next post on loop youtube video on smart tv.
Feel free to share your thoughts and also tell us if you know any better way on how to Auto Repeat Youtube Videos in a Loop.
If you liked this post, Don't forget to share this with your friends.