Can I use a laptop as a monitor?
I would say YES, you can easily use your laptop as a second monitor and can connect it to your desktop computer.
If you have a old laptop that is slow and you are not using it.
Then you actually don't know that you can easily use it as secondary monitor screen.
Earlier I always used to think about people who uses double monitor screen or some secondary external screens on your PC.
But then I realized that using two screen monitor on your PC can effectively increase your productivity in many ways like:-
You can easily do many tasks simultaneously.
You can read two documents side by side easily.
You can research on one screen and compose it on the second screen side by side.
You can play the game on one monitor and can use the second monitor for streaming it on Youtube.
You can also use it for coding purposes.
And after knowing all this I used my old laptop as a monitor on my pc and now I am using it as a dual monitor setup.
Apart from this if you are a freelancer or a person who spends more time & does lots of stuff daily on PC, then having a dual or triple monitor setup is a must thing. There are many bezel-less monitors available in the market that can be used for multi-monitor setup on PC.
But if you already have a spare old laptop then you can also use it & can convert it into a second monitor screen.
So, Let see how it works…
Also Read: How to Show Clock On All Monitors in Windows 11.
How to Use Laptop as a Monitor (Second Screen) in Windows 10 PC
But before we dive in further.
Let's see what things are required to setup this.
The main primary computer or PC which you daily uses for your work.
A laptop that will be used as your second screen.
Both the laptop & PC must have an updated version of Windows 10.
Both the laptop & PC must be connected to the same WiFi network, if you want them to connect wirelessly.
And once you have all above things, follow the given below steps.
So, let's get started…
1. Enable Projection on your Laptop
First of all, Open your "Windows 10 Settings" on your laptop which you want to be used as a screen or second display.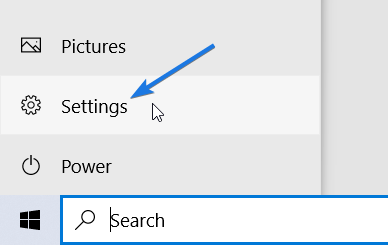 Then Click on "System Settings".
After that scroll down and on the left-hand side you will find the option "Projecting to this PC", so click on it.
Now here Enable and set up all the settings like I have done.
Some Windows PCs and phones can project to this PC when you say it's OK: Available everywhere
Ask to project to this PC: Every time a connection is requested
Require PIN for pairing: Never
This PC can be discovered for projection only when it's plugged in: Off
Here you can also Enable the Require PIN for pairing option if you want more security. And this totally depends on you.
Now let's move to the Primary Computer / PC.
2. Connect your PC & Laptop Screen
Now Go to your main computer and set up it for projection to laptop screen. So, follow these steps…
Once you are on the main computer screen, press Windows Key + R.
After that, it will show all the options available for screen projection display.
PC Screen Only: Option which you are already using.
Duplicate: This option will duplicate the screen of your PC to the laptop screen.
Extend: This option will extend your Main screen which you will have a wider view.
Second screen only: This will move the all the projection to the 2n screen.
So select the Extend option and then click on Connect to a wireless display.
Now it will start searching for the available wireless display and then click on the Display where you want to do the projection. And then a notification will pop up, so Allow once and then click OK.
After that, it will start connecting to the laptop screen and done. You have successfully learned how to use a laptop screen as a monitor.
Note:- If you face any lag issues in the screening, I suggest you to change your Display Settings to the recommended ones by the Windows 10.
It's really simple, just Right Click on the desktop screen and then select Display Settings options.
Also, this method works for both laptop or desktop computer which means you can also use laptop as primary monitor or vice versa.
Bonus: Share Mouse Application
I have seen many users facing issue while sharing mouse between two and moving from one to another. I don't know what's the problem.
But I think this problem occurs when they have two different version of operating system or may be there is some technical compatibility issue.
But no worries, Share Mouse will help you out. Just download and install.
It's pretty simple & doesn't require much configuration. And the best part is that it is available for the both Windows and macOS.
And done! Now let's move to the second part.
How to Use Laptop as Second Monitor by using SpaceDesk
Although the above method works really fine in using a laptop as a second monitor but some users still find it not up to the mark. As they have fewer features and also less compatibility with other devices.
And here SpaceDesk comes into the role which is more advanced and is packed with lots of features. This application not only removes the lag issues but also improves the quality of screen mirroring.
And the best part is that it is compatible with all the OS like Windows, macOS, Android, iOS and many more. It can also be used on all the devices which are connected to the same Local Area Network (LAN), Server and Wireless Network.
And let's not delay further & see how to setup it properly.
1. Setup SpaceDesk on your Desktop/PC
First of all, navigate to the official SpaceDesk website from the given link.
After that click on the download link and you will be navigated to the downloading section.
Here you will find a SpaceDesk Driver Software which is available for Windows Primary PC (Server) and can be downloaded on your Laptop, Desktop, Computer or PC. Now click on the desired version of the OS like Windows 10 64 bit / 32 bit or Windows 8.1 64bit / 32bit and your file will be downloaded.
After that install the SpaceDesk Driver file on your Primary Computer / PC.
Once the installation is done, now let's move to the laptop
2. Connecting your Laptop Screen with Primary PC
Now once you are on your laptop screen, follow the above two steps and download the SpaceDesk Viewer Software which is available for the secondary machine (client).
Note:- Before moving further, please make sure that your Laptop and Primary Computer must be on the same Local Area Network (LAN) and Wireless Network.
Once the viewer file is downloaded, install it properly. After that open the viewer app by double-clicking on it.
Now click on File option and then click on Connect.
Now it will start scanning all the computer machine that are connected via same network. Now select you machine and then click on OK Connect.
And done! Now you can easily use your laptop as secondary screen or monitor using SpaceDesk Application.
That's it for now…
Conclusion
So that's how you can easily be using laptop as a external monitor for screen extension or using it as a dual monitor setup. One thing which I would like to mention here is that, both the methods work well and its totally up to you which to choose. Most users like to use third party apps like SpaceDesk, Teamviewer and Anydesk.
But according to me I really prefer always using official Microsoft utilities.
Stay tuned for the next post on How to use laptop as second monitor with HDMI.
Feel free to share your thought in the comment section and also tell us if you know any better way on How to Use Laptop as a Monitor (Second Screen) – Windows 10.
If you liked this post, Don't forget to share it with your friends or colleague and help them with there Office Work.