Want to recover your lost data from Pendrive?
If yes then this post is definitely for you.
USB Flash Drive is widely used in our everyday life as a temporary storage device but it is not always safe.
A year ago my office Pendrive got corrupted and all the data present on it was lost.
And you won't believe that, when I searched for "recover deleted files from USB drive" on Google I found that there were over 33 million results.
This means that if you are a regular USB flash drive user, then there is a chance that you have ever lost your data stored on the flash drive.
And I think that's why you end up on this article while looking for a solution.
And trust me you are in the right place.
This article will show you the 3 proven ways to recover deleted files from a USB flash drive, even if it is formatted.
But before we dive in further, let's see some common reasons which can lead to a data loss on a USB drive.
5 Common Causes of Data Loss on USB Flash Drives
1. Accidental Deletion of Files
It is very common that you may end up accidentally deleting an important file from your USB device. Also, sometimes you may delete a file thinking that it is no longer of use. But then you regret it.
2. Formatted USB Drive
Sometimes you may need to format your USB drive to free up some space and sometimes Windows asks you to format it due to some error, which ultimately leads to data loss.
3. Virus Attacks
Virus attacks are common these days and they may often cause harm even if an antivirus program installed. Viruses like ransomware, trojan horses, and other malicious programs are very easy to target USB sticks. And this very often a common cause of data loss if a user uses the USB stick on unsafe computers.
4. File Corruption
File corruption is also a very common reason for the lost data but it's not that common like virus attacks. This commonly occurs when some program files crash or sudden power goes down. And after that, the file becomes useless as it is impossible to recover it in its original state.
5. Physical Damaged Device
Retrieving data from a physically damaged device is really hard but it's not like that it cannot be recovered. These days most USB flash drives come with a very small unique design but they are also very fragile. A small amount of impact can easily damage these USB connectors, which ultimately leads to data loss stored on your flash drive.
That's all. Now let's move to the solution part.
How to Recover‌ ‌Deleted Files ‌from‌ ‌USB‌ ‌Drive‌
Since the USB drive is an external device, this means that there is no recovery possible from Recycle bin. As the files deleted from the USB device are permanently removed and there is no easy option like recycle bin to recover it.
But the good news is that you still have a chance to recover the lost data from USB drive with these immediate actions.
So let's get started & follow these ways…
1. Recover Lost Data from USB Drive with AnyRecover Software [Recommended]
Luckily all the Windows OS has some inbuilt features to recover the deleted files but the recovery rate of them is not quite high. And that's why I have put this method on 1st because the AnyRecover software is much more effective and has the highest success rate.
With the AnyRecover USB recovery tool, you will be able to recover any lost data from a USB flash drive in no time.
And here are some of its features:-
Support 1000+ File types. Like photos, videos, documents, audios, excel, docs, and many more.
Advanced Scanning Algorithms. Guarantee high scanning speed with a high recovery rate.
Modern UI (User Interface). Easy to use.
Able to recover deleted files from formatted hard drive, SD Card, External Hard Drive, Pen drive, and other devices too.
Here I hope you have already downloaded the AnyRecover program from the above-given link.
So let's move further.
How to perform USB data Recovery using AnyRecover [Windows 10]
Step 1. Launch the AnyRecover software and then insert the USB flash drive into your PC. After that in the External Removable Devices section, select the USB Drive from which you want to recover your deleted files and then Click on Start.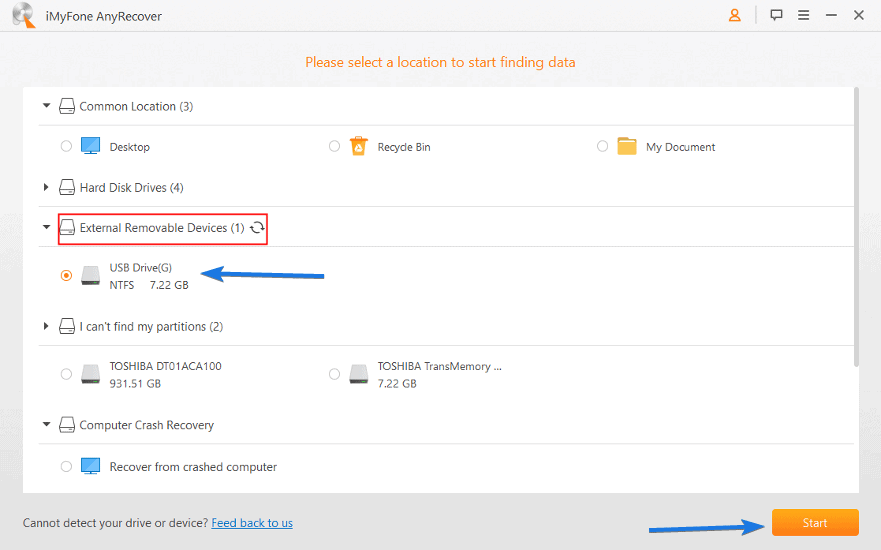 Step 2. Now AnyRecover will start scanning the USB Drive to search for the deleted or lost files. Here it will take 2-3 minutes but this also depends on the data size of the USB.
Note:- Deep Scan takes more time but you can even pause or stop the scanning process if you have already found the files you want.
Step 3. Once the scanning process is finished, select all the files you want to recover. After that click on the "Recover" button & then save them to your desired location on the PC.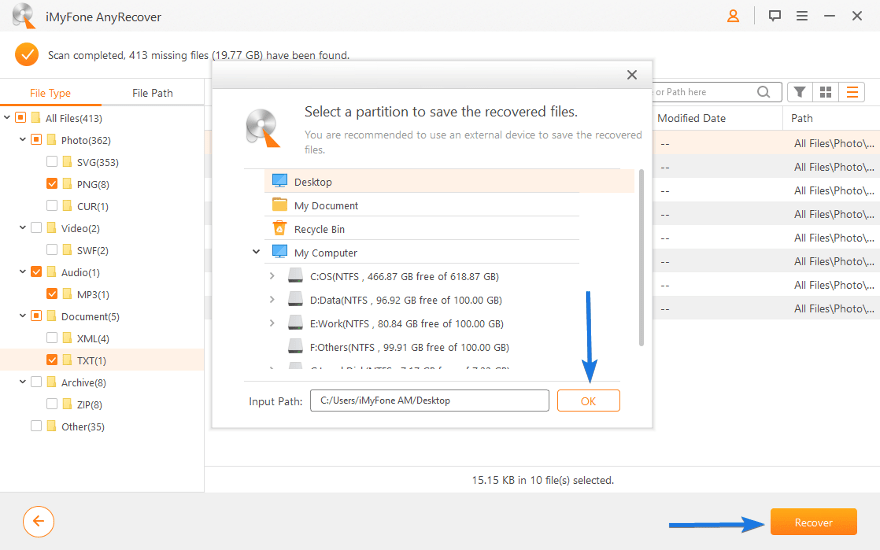 Now let's move to the 2nd method.
2. Recover Deleted Files from USB Flash Drive using CMD (Command Prompt)
Command Prompt is an in-built application available in all Windows Operating Systems, which allows your recover your files from USB flash drive for free.
However, it is only useful to recover hidden files rather than permanently deleted ones.
After connecting your USB drive to the computer, follow the steps given below:-
Press Win + R, then type CMD and then press Enter to launch the Command Prompt.
Once CMD is opened, type this " chkdsk E: /f " and then press Enter. Note that Letter E should be replaced with the drive letter of the flash drive where you deleted your files.
Now type Y and then press Enter to proceed.
Now type E and then press Enter again.
At last, type " attrib -h -r -s /s /d *.* " and then press Enter. (Remember to place the letter "E" with your drive letter)
Now you will be able to see all your hidden or missing files are recovered on your flash drive.
Now let's move to the 3rd method.
3. Restore a Previous Version of Files or Folders [Windows 10]
One thing which I really like about Windows Operating system is that they always provide some inbuilt utilities to help you out in all ways. Like that there is one small feature called Restore a Previous Version of File which comes in all variants of Windows 10, 7, 8 etc.
Basically the Restore previous versions feature makes it possible to recover a previous version of the deleted files or folders, but it only works if you have enabled the backup feature before you have deleted your files.
So let's not delay further & check how to use this.
Open the File Explorer and locate the file or folder whose previous version you would like to restore.
Now Right-click on the file or folder and then choose Properties.
Now Go to the Previous Versions tab and then choose the previous version you would like to restore. And then click on Restore & then OK.
But sometimes you may find no previous version at all and seeking help from a free undelete software like AnyRecover will be your best option.
That's it…
Conclusion
Now I hope that after reading this post you have successfully retrieved all your deleted or hidden files from a USB flash drive. One thing which I forgot mentioned above is that this awesome AnyRecover recovery tool also comes in a Mac version. This means you can also use this tool to recover lost data from a USB stick in the macOS.
Also if you know any better recovery software than AnyRecover then please let me know via comments below.
Stay tuned for the new posts. 🙂
Feel free to share your thoughts and also tell us if you know any better way to How to‌ ‌Recover‌ ‌Deleted Files ‌from‌ ‌USB‌ ‌Drive‌ [Windows 10].
If you liked this post, Don't forget to share this post with your friend & family who also need this.