Nowadays Everyone is talking about the Signal app.
And if you also want to know about this, then you are in the right place.
And I am totally sure that after reading this Review Article, all your questions & queries will be cleared.
Questions like What is Signal App, How to use it & how does it work.
But why this App is rapidly getting more popular.
In the first week of January 2021, Whatsapp announced that they are going to change their privacy policies about the collection of user's data.
In which they are going to collect almost all the type of user data present on their phone, laptop & other devices. (Where WhatsApp is installed)
And eventually, all this user data will be going to be used by Facebook Inc and Instagram.
And because of the privacy concern, the user started searching for the WhatsApp alternatives & they also tweeted on Twitter.
Alternatives that are more secure & reliable than Whatsapp in terms of privacy.
And then Elon Musk (Richest Person in the world) gave his opinion and recommended to use of Signal Private Messenger.
Elon Musk simply tweeted "Use Signal" via his official Twitter account on Thursday 7 Jan 2021.
But this doesn't mean to Trust this Application blindly, I would suggest you to please read this full article & then decided "Is Signal a Good fit for you or not"
So let's dive in further & get more info.
What is Signal App? [Full Review]
Signal App is a cross-platform encrypted messaging service developed by the Signal Foundation and Signal Messenger LLC. Basically, the main focus of creating this app was Privacy and the best part is that this app is run by a non-profit organization. This means that they will never use your personal user data because they not in the business of making money like Facebook and other big companies. This app was created by Moxie Marlinspike and Brian Acton.
Founder & Co-founder of Signal App
Moxie Marlinspike is an American Entrepreneur, Cryptographer, and Computer Security researcher. Marlinspike is also known as the Co-Founder of Signal and currently serving as the CEO of Signal Private Messenger. The real name of Marlinspike is Matthew Rosenfeld.
Whereas Brian Acton who was the Co-Founder of Whatsapp invested $50 million and then became the Co-founder of Signal LLC after leaving WhatsApp.
Some Features of Signal Application
This application gives you the ability to send one-to-one and group messages using the internet. Similarly, like Whatsapp using this app you can easily send messages including files, voice notes, images and videos. But in a better way of maintaining Privacy and not storing the user data for their business use.
Using this app you can also do video calling or voice calling in a group or one to one individual. And the Android version of the Signal app has an optional feature of making this application work like an SMS app.
How to use Signal App & Install it?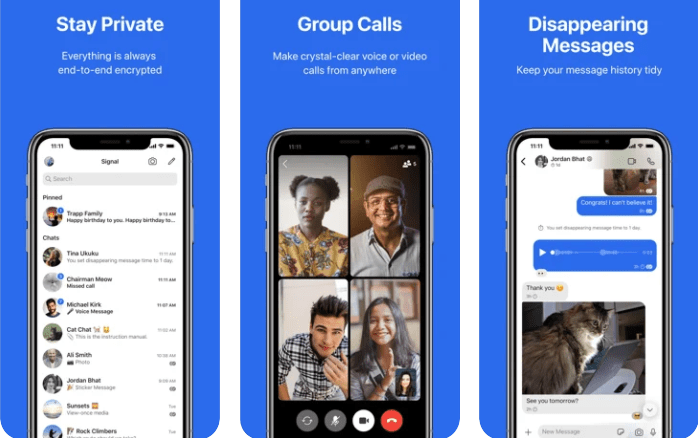 Signal App is really easy to use and you can set up it like other messaging apps. Just you have to download the App and then install it, then Sign up using your mobile number.
But still, if you are confused you can follow this guide.
1. Download Signal Private Messenger App
The first step is to download the Signal Messenger App from the Official site of Signal. This app is available for both the platform whether it's Android or iOS. And works really great on all supported devices. And if you are not sure from where to download, then follow the given links.
Here are some Signal app download links:
The above links are from the Verified Sites like Google Play Store and iPhone App Store.
2. Install and Setup it
Once the app is downloaded, the next step is to install and setup it properly. And it's not that hard task, I know you have already used any of the messenger apps like Whatsapp or Telegram.
But still, to make it easier we will show you how to do it.
1.  Once the app is installed, Open it and tap on Continue.
2. After clicking on Continue, now click on Enable Permissions and Get the message.
3. Then it will ask for access to your Contacts, so click on Allow. 
After that, it will ask for permission to Send a Notification. (Don't worry, they store any of your information)
4. Now Enter your phone number to get started and then tap on Next. 
After that, you will receive an OTP code, enter it and then verify it.
5. Now Setup your Profile and Enter your First name and Last Name and then Save.
At last, Create & Confirm your PIN and you are Online now. 🙂
Now let's see some great features of this app.
Signal Private Messenger App Features
The user interface is Great & Easy to Use.
End to End Encrypted (Secure Private Messaging App)
Open Source Code (Run by Non-Profit organization)
Do not store any of your Messages, Videos, Audios & Pictures.
You can add up to 150 members in a Single Group.
Use of Group links and QR code.
Some other features like Message details, Group & Storage Management, mentions in chats & other Options too.
This App is fully encrypted and follows all guidelines like GDPR compliance.
Support all Operating systems & Platforms like: Android, iPhone, Windows, Mac, Linux and Ubuntu.
Signal Private Messenger Reviews
Here are some Signal App Review given by Experts in Tech industries. After seeing these reviews, I can assure you that you can blindly trust this App and its company in terms of privacy.
1. Elon Musk (CEO of SpaceX and Tesla)
I know I have already mentioned this above but he deserves this. (Richest Man on the Earth)
2. Edward Snowden (American whistleblower & Former CIA Employee)
3. Bruce Schneier
4. Jack Dorsey
5. Laura Poitras
And so on… Now let's see some general queries.
Some Signal Private Messenger Queries
Here are some of the Signal private Messenger queries asked by daily users like you, who want to know more about this app.
1. Who owns Signal App?
Signa Private Messaging App is owned by the Signal Foundation and Signal Messenger LLC. It is a non-profit organization that runs via donations given by people like us. It is a Free open source code application.
2. About Signal App Security & Safety?
This app is totally secured and has end-to-end encryption which means all your chats and messages are totally secure. And the best part is that it doesn't any data like other messaging apps like Whatsapp or Telegram.
3. How does Signal App Work?
This app is similar to all other messaging apps like Whatsapp, Facebook Messenger or Telegram but Signal provides more End to end encryption and doesn't store any user data. For full functioning & how does it work and how to use it? I have given a section above which explains very well.
4. About Signal App Stock?
I don't know much about Stocks but I don't think so that stocks of this app are publicly traded. Because the Signal foundation is a non-profit organization and doesn't work for money profit. But due to this app, some company of similar name "Signal Advance" has received fame & a rise in stocks of massive 1,100 percent.
Now let's see some comparisons.
Signal vs WhatsApp vs Telegram [Other Messaging Apps]
Mostly all the high-rated Free Messaging Apps are End to end encrypted. But the difference between these apps is that they all do not follow the same rules and guidelines in terms of privacy of user data. If we talked about Signal vs Whatsapp, they both have the end to end encryption in normal chats & messages but they do not follow the same Privacy policy guidelines. Whereas in Signal vs Telegram, only Signal supports an end to end encryption features in chats but not Telegram. For an end to end encryption in the Telegram app, you have to shift to a secret chat to get this Encrypted messages feature.
And in the recent policy update made by Whatsapp, they are going to collect more user data which would eventually use your more internet data. And all these data would be used by the Facebook Company for their better business and increase revenue.
Now it's totally up to you, which messaging app you should use.
That's it for now…
Conclusion
So this is the full review of this secure private messaging app and I hope you liked it. So what are waiting for Go ahead and use this awesome messenger app which is absolutely free? And I can say that using this app you can easily chat with your friends and loved ones without any risk.
Also if you know any better service than Signal in terms of Privacy, please comment down below. We would really love to know.
Also, check out our new post on Best WhatsApp alternatives.
Feel free to share your thoughts and also tell us if you know any better way to What is Signal App? Why Elon Musk Recommended [Full Review].
If you liked this post, Don't forget to share this helpful post with your friends and family members.