Want to know how to create a Paypal account?
If yes then you are in the right place.
If you a freelancer or just started an online business, then you must open a Paypal account.
Although, you can easily use your debit card or credit card to do online payments.
But to receive payments you need something different.
And here comes the Paypal service to help you out.
But before we dive in further, let's see the quick intro.
What is Paypal?
In simple words, Paypal is an online platform or service which allows you to send and receive money all over the world. Using this platform you can easily send or receive your payments especially in US dollars.
And the best part is that it is 100% Free, Safe and is the most trusted online payment gateway in the world.
Some other benefits of a Paypal account:
You can easily create and send invoices to your clients.
You can easily make payments without using a debit card or credit card.
No need to share your Bank Account Details. (Only required Email ID linked to your Paypal account)
Some Good Paypal Alternatives:
Payoneer
Skrill
Stripe
Google Pay
If PayPal is not available in your country, then you can use any of the above.
So without wasting time, if you are the lucky one & Paypal is working in your country.
Then let's get started.
How To Create PayPal Account in India 2021 [Jan Updated]
But before we get started.
Please make sure that you have all the things to fulfill the Paypal business account requirements.
And for that, you require a PAN Card and a working Bank Account.
And if you don't have a PAN Card, then you can go and immediately apply for that. ( It hardly takes 15 to 20 days )
Also, if you don't have a Bank Account, then you can easily open a new Bank account. (It will hardly take a day )
Both of these things are more than important.
But still due to some conditions, if you can't have both of these things now.
Then you can also use your parent's PAN Card and their bank account. But note that, the name on PAN Card and Bank account must be the same.
Because PayPal will do some verification before setting up the account completely.
Once you have all these things with you, you can easily Set up a Paypal account for free.
And for that, follow this Step by Step Guide.
1. Sign Up for Paypal Account
First, Open the Official Paypal Link to Sign Up for Free.
Note:- The above Official Paypal Link is my referral link and if you sign up using the above link, You and I both could earn US $10 each for free. But here is one condition that you must receive international payments of US $100 within 45 days of signing up.
2. Account Type to Create
Now here you have two account options, one is an Individual Account and the other one is Business Account.
Individual account: Only allows you to send payments only.
Business account: This allows you to receive and send payments.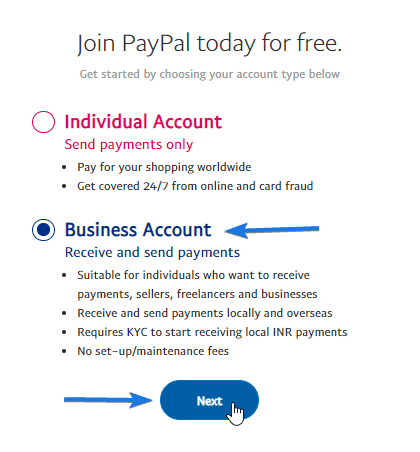 So Here I will choose and Open a Business account because I want to do both "Receive and send payments online". And then click on Next.
3. Paypal Business Account Preferences
Now to create a PayPal business account you need to select some payment preferences here.
You can select all these according to your preference or you can follow the given below options.
I'm looking to accept payments -> Via email, invoicing or link.
My monthly sales volume is -> Less than INR 5 Lacs a month.
My payment preference is -> Both INR and foreign currency*.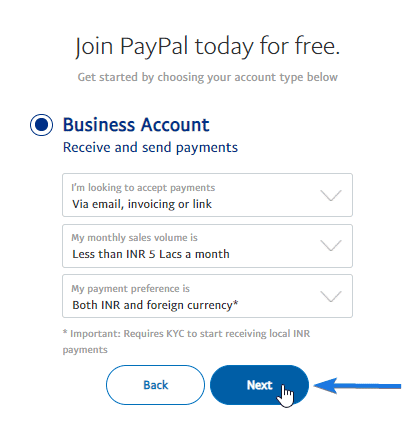 Once you have selected all these options, click on Next.
4. Enter your Email Address
Now Enter your Email address from which you want to Sign up for a Business account. And then click on Submit.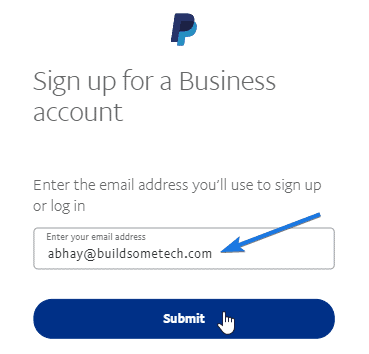 And after that Set up your Password and click on Submit.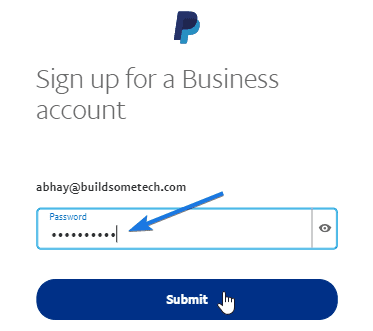 5. Describe Business Type
Now Describe your business and click on the Business type drop-down menu and then select Individual.
After that select Product or service keywords as Computer Network/Information Services.
And then select the Purpose code as P0806 – Other information services.
Now Enter your Personal PAN number.
And then Enter your CC Statement Name. (You can write your Own Name)
In Business URL you can write your website name or leave it blank. And then Click on Submit.
6. Business Owner Contact Information
Now tell us about your business owner contact information and fill in all the details correctly.
Enter First Name, Middle Name, Last Name, and your Nationality. (Please Enter the same name present on your PAN Card & Bank account).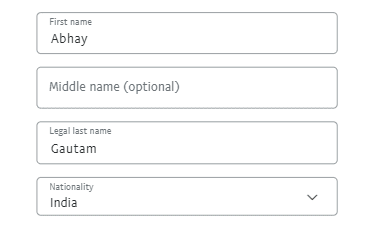 After that Enter your Date of birth.
And then Enter your Primary contact address.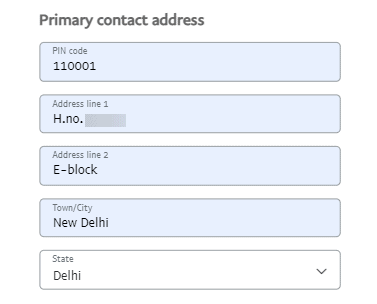 And then in the Business Information section, enter your Primary contact number and then select the Primary currency.
At last check, the Business address is the same as the Home address and then click on Agree and Continue.
7. Business Set Up Page
After that, you will be redirected to the Business Setup page and in the Account setup tab, you have to complete all the steps mentioned.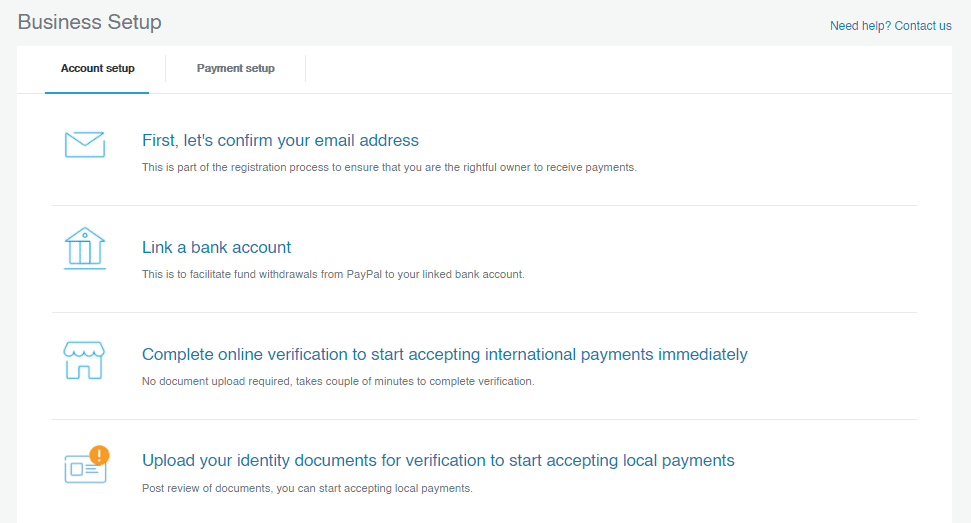 First, let's confirm your Email address. So click on that link
And then Go to your Email inbox and Open the Paypal Activate now Email and click on Get Started.
And you will be redirected to the same page.
8. Link your Bank Account
Now you have to Link your Bank Account for fund withdrawals from Paypal. So click on that link.
Now Enter all your Bank details including NEFT IFSC code, Account number and your Account Name as Personal. And then click on Link your Bank.
After that, Paypal will request you for 2 small deposits to your bank account. So click on OK.
(This will help Paypal to verify your bank account). So, wait for 3-5 days for the deposits and then and then come back to the business set up page & verify them.
9. Upload Documents for Verification
After that Complete online verification to start accepting international payments immediately. So click on that link.
Here you have to provide some personal information like PAN Number, Residential address for verification.
Once it's done. Move to the next step.
After that Upload your identity documents for verification to start accepting local payments. So click on that link.
After that click on Agree and Get Started. (Here you confirms that all the copies of documents you upload here are Genuine)
Now Enter all your details and provide your Proof of Identity. After that upload your PAN Card in Jpeg format and then click on Submit.
Once PAN Card is submitted, now you have to submit your Proof of Residential Address.
And then at last provide your Proof of Bank.
Now move to the last verification part.
10. Verify Bank Account Deposits
Once all the documents have been submitted, now it's time to verify your bank account using the 2 Deposits.
After 2-3 days check your Bank account statement and you will find two deposits like 1.21 and 0.91.
And when you are sure that these deposits are from Paypal, then Go and login to your Paypal account and then in the Financial information Settings enter those deposits and verify them.
And once all steps are completed you will see the Business Setup page like this.
That's it for now…
Conclusion
So that's how you can easily create a Paypal account to receive money without having a credit card. Also, you can conveniently use this PayPal account to make international or local payments. Whether you are in Sri Lanka, Ghana, USA, Cannada, or India, you can safely send money to your team members using this Paypal account.
Also if you know any better service than Paypal, please comment down below. We would really love to know.
Also, check out our new post on Best Paypal alternatives.
Feel free to share your thoughts and also tell us if you know any better way to How To Create PayPal Account in India 2021.
If you liked this post, Don't forget to share this helpful post with your friends and family members.