Searching for the best firestick ethernet adapters?
If yes then you are in the right place.
There won't be anything wrong with considering FireStick as one of the most popular and widely used streaming devices globally.
And these adapters include FireStick 4K, Fire TV Stick Lite, Fire TV Cube, and other older Fire TV devices.
The setup is really easy and it extends support to a lot of awesome apps from Amazon Store as well as several third-party apps.
Though the firestick device contributes to making the streaming experience fantastic but many people suffer buffering issues.
And if you are one of them & facing the same issues, then this article will explain how to stop buffering on Firestick by using the five best Ethernet adapters.
So, let's get started…
All Image Credits: Amazon India
5 Reasons Behind Buffering on FireStick

But before we dive in further.
Let's discuss about this buffering problem on FireStick in detail. Because it's not only related to the slow internet speed but there are so many other factors too.
So, we will first lay an emphasis on what causes buffering and then later on we will discuss about the best firestick ethernet adapters.
Apart from this, all these reasons are not rocket science-backed, are obvious, and you can easily troubleshoot them.
And here is the quick list of buffering issues:-
1. Connectivity Issues – You are going to watch a 4K video on this platform, that's a lot of resolutions as compared to 1080p, and hence its hunger for the internet is even more. Before cursing the FireStick and your investment in this gadget, make sure your internet connection is working and its speed is over 20 Mbps, only then you will be able to stream 4K videos without buffering.
2. RAM Complexities – RAM or Random Access Memory is responsible for the speed of the system, and if it is already occupied with what you forgot to shut down, it will be giving lower speeds. Check out background apps that may be consuming your RAM.
3. ISP Limitations – ISP stands for Internet Service Provider, and they are the ones whose internet service you have subscribed for. If the provider detects too many streaming actions from your network, there is a chance that they might consider limiting your speed. And that's why I recommend users to use VPN while streaming online.
4. Heating Issues – The heating of the FireStick means the processor within is getting heated and hence, it will hinder the speed of your streaming.
5. Outdated OS – You may also experience issues related to buffering if the FireStick you are using is running on an older version of the operating system.
And I am pretty sure you might be facing some of these issues & if not, then you can only do one thing to fix it. ( Get an Ethernet Adapter )
Also, if you don't know which to choose, here is the list.
Top 5 FireStick Ethernet Adapters to Stop Buffering
Although, all the ethernet adapters mentioned below are the best in the market till now. All these supports at least 100 Mbps speed which means you easily stream 4K Videos, Movies on your FireStick device.
Apart from this, some users also call these as Ethernet Connectors, so don't get confused between them. ( Both are the same thing 🙂 )
So, without further ado, let's move to the list.
1. Amazon Ethernet Adapter
Image Credits: Amazon.in
According to me, this is one of the best firestick ethernet adapters out there with top-notch quality. Also as the name suggests, comes officially from the E-Commerce giant Amazon. Apart from this, it is the most affordable and conveniently installed Fire TV adapter in the market you can lay your hands on.
Why use Amazon Ethernet Adapter?
Wireless router not required
Modem and cable available to ease installation procedure
10/100 ethernet mechanism available (makes configuration easier)
Up to 100 Mbps speed
2. TV xStream Ethernet Adapter
Image Credits: tvxmedia.com
If the USB power supply cable is working properly, the TV xStream Ethernet Adapter can manage to attain a speed of approximately 480 Mbps. The 3.3 ft cable just ensures that not much effort will be required to set up the adapter.
Why use TV xStream Ethernet Adapter?
Up to 480 Mbps speed
3.3 ft cable wire provided
Hardware support extension
Both RJ 45 cable and micro USB cable supported
3. UGreen Ethernet Adapter
Image Credits: ugreen.com
This 2.4 x 1 x 0.7 inches adapter is able to provide high speeds while not consuming much of your space. Though there are a lot of options available while choosing models, the second-generation is the one you should get as it extends support to the second-generation Fire TV devices. The only drawback is the high cost of the UGreen Ethernet Adapter, which is $14.
Why use a UGreen Ethernet Adapter?
With RJ45, speed can reach up to 480 Mbps
3.3 ft cable wire provided
USB Port availability
4. Cable Matters Micro USB-Enabled Ethernet Adapter
Image Credits: cablematters.com
Although the Cable Matters Micro USB-enabled Ethernet Adapter is comparatively bigger in dimensions, it is robust enough to be used to get a stable internet network on both the 4K and second-generation versions of the Fire Stick. The only drawback is that it needs a charger.
Why use Cable Matters Micro USB-Enabled Ethernet Adapter?
Offers USB wall charger
Provides fast and stable network
Google Home Mini support is available
Long-range connection enabled
5. Smays Ethernet Adapter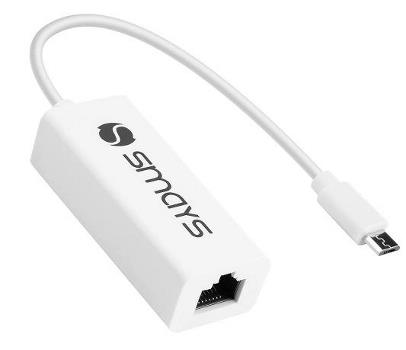 Image Credits: Amazon.in
This connector or adapter can assist you in getting rid of the complicated WiFi issues and experience a faster internet connection through a stable network. It is one of the sleekest Fire TV Stick adapters available in the market that has the potential to work with Fire TV and products like Amazon Echo.
Why use Smays Ethernet Adapter?
Stable Internet provider
RJ45 Port support
Three-in-one adapter for OTG hub, OTG Cable, and LAN ports
5 ft cable length
Some FAQs
Do FireStick Ethernet adapters work?
Yes, firestick ethernet adapters work really well with smart devices like Fire TV Stick, Chromecast, and more.
Can you hardwire FireStick to Ethernet?
It's pretty easy to hardwire your firestick to ethernet by altering the micro-USB with an adapter.
Is Ethernet better than Wi-Fi on FireStick?
This totally depends on the quality of the adapter and the signal strength of the Wi-Fi. Because If ethernet is of good quality then it will perform faster than Wi-Fi.
Does FireStick support Gigabit Ethernet?
Yes, I have seen many users using the UGreen Ethernet Adapter because it supports Gigabit Speed and that's we have also included it on our list.
That's it for now…
Conclusion
So, that's all about the best ethernet adapters and connectors available in the market. Also, this device only ensures that there is little to no buffering and stabilizes the network. There are no lags and the use of FireStick provides a significant level of security.
And the choice of which adapter to choose ultimately depends on you and your requirements. as all the adapters in the market have some advantages or disadvantages over others.
Stay tuned for the next post…
Feel free to share your thoughts via comments and also tell us if you know any other Best FireStick Ethernet Adapters That Can Stop Buffering.
If you liked this post, don't forget to share.