Do you need a VPN for Streaming?
If you are searching for this query, then you are in the right place.
In today's world, a lot of tasks can be done over the Internet. But along with being useful, you also need to be aware of the associated risks.
Whether it's your browsing activity or data or your identity, there may be a threat to them while using the internet.
And that's where the VPN comes as a lifesaver option.
Essentially VPNs safeguard against identity thieves and privacy abusers. Not just the safety but there are plenty of other reasons why you need to use a VPN.
And when it comes to flawless streaming with utmost safety, speed, and reliability, VPN proves to be the most useful option.
I know that there are lots of VPNs that can be beneficial while streaming movies or web series but if you are searching for some premium options then you can see more here.
So, without further ado, let's get some more info…
What is a VPN?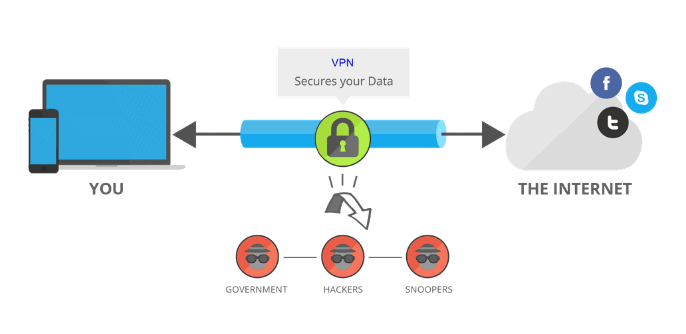 VPN stands for Virtual Private Network which helps you to browse the internet anonymously. In simple terms, VPN is an arrangement through which a secure private network is established with the implementation of encryption on a public network, usually the internet. Using VPN service, you can easily connect to a server although located in some different nation and then hoax your location.
If you are located outside the United States, it is possible to trace VPN back to a recognizable location and then access the internet like you usually do. The vice-versa is also possible. Moreover, at your preferred location like home or office, you can access a far located VPN server, possibly to access streaming video or movie that is inaccessible in the US.
How does a VPN Work?
Basically, a VPN conceals your IP address and lets you connect through to a different remote server given by the VPN server. And this makes you browse the internet through a different IP with a pseudo location. It means that if you are surfing online using a VPN then the server works as a data source. So, it also suggests that your ISP and some other third parties can not observe which websites have you visited or what data have you sent or received online.
In other words, a VPN functions like a filter that transforms all your data into garbage for other users. So, nobody can access your data and it stays confidential.
Now let's move to the next part…
Do You Need a VPN for Streaming? [ 8 Reasons to Know ]
Although, we have already discussed some needs of VPN in the above sections but here we will specifically talk about the streaming part. And later in this post, we will also find out that how helpful these VPNs can be while streaming a movie, tv-shows and web series.
Here we have listed 8 reasons why you need a VPN for streaming.
So, let's dive in further…
Disclaimer: BuildSomeTech.com does not support any copyright infringement policies. And we strongly advise all users not to stream or download any illegal content. VPNs should only be used to protect your privacy, not to access copyright content.
1. Access Geo-Restricted Services
Obviously, government surveillance is awful and the censorship of the internet is way worse. And when the matter comes to web browsing, people face lots of restrictions in some countries like Iran, China, UAE, Saudi Arabia, etc. You won't believe that in all these countries, websites like Wikipedia, Google, Facebook, YouTube, Twitter & many more are blocked. For benefitting from online freedom, VPN is worthwhile because it bypasses censorship. VPNs enable you to modify your IP address and hide your actual geographic location. Furthermore, it encrypts the traffic to conceal your activity and also helps you browse any website online.
Important Note:- If you want an allrounder VPN with all features and security then check out this NordVPN review.
2. Stop throttling from ISPs
If your ISP ( Internet Service Provider ) recurrently chokes your bandwidth then you definitely need a VPN. You can consider the network provider as a culprit when you try to watch Netflix or access other streaming services and it's continually buffering. With the use of a VPN, this throttling can be bypassed so that you can smoothly stream your movies or web series without any disruption. The ability of a VPN to encrypt your internet access and conceal it from your ISP and other third parties will be useful for stopping throttling from ISPs.
3. Use Kodi & Other Free Apps
Kodi is one of the most famous streaming apps nowadays. Using this streaming app you can also get free links to watch your favorite TV shows and movies without any subscription. And that's why these free links are mostly banned by the owners or the government. Although, there are so many tricky ways by which you can access them but if found then you can get into real trouble. In that case, a VPN can surely help you by encrypting your connection and hiding your online activity, so that you can watch all this copyrighted content for free.
Moreover, if you are a person who really likes to consume free content then check out this UltraSurf VPN.
4. Browse Public Networks & Wi-Fi Safely
You may need to recurrently connect to Wi-Fi and Public Networks if you travel very often. And if yes, then you should be very careful while connecting to these networks. Because when you are connected to networks, much data is shared between all those devices and anyone can easily misuse this authorization. In simple terms, anybody can view all your activity and can also get access to all the information stored on your device.
For example, you may be accessing your company data or bank account details. In such cases, VPN can help you in protecting your details from going into the hands of an anonymous person who can misuse them.
5. Unblock Netflix USA & Other Services
With VPN, you can watch exclusive titles on Netflix from any part of the world. Many services like Spotify, BBC iPlayer, Hulu, Pandora, etc are only available in selected parts of the world. Although, Netflix is accessible everywhere but still the libraries of movies & tv-shows may vary for different locations. And that's what a lot of people dislike.
For example, Netflix USA is the preferred version and as the name suggests, it is dedicated to US citizens only. And through a Netflix VPN, you can counterfeit your geographic location and can easily bypass all geo-restricted services.
6. Avoid Buffering Issues
Streaming consumes excess bandwidth. This leads to a situation where your ISP slows down your connection speed to counteract any network congestion. It is called bandwidth throttling result due to extended periods of frequent, troublesome buffering while streaming. Utilizing a VPN through a superior level of encryption such as AES 256-bit encryption keeps your internet activity concealed AES 256-bit encryption. So, bandwidth throttling is minimized leading to the prevention of buffering issues.
7. Download P2P without any Problem
However, this is not directly related to online streaming but if you often download movies, web series & tv-shows from P2P services like Torrents then this can be helpful. Basically, when using these services there is always a security risk because you are downloading copyrighted content without legal permission. And if you got caught sometimes for downloading these copyrighted content, then legal penalties can be charged to you.
In that case, when you use a VPN for torrenting then there are fewer chances of any legal penalties if your country doesn't focus much on this. The use of a VPN makes sure your ISP and anybody else stay unaware about you downloading torrents. So, they stay unaware that you are accessing any copyrighted content.
8. Hide Your Online Activity
I know that this is the most obvious one but we cannot neglect the importance of this basic function. It is possible to stream across multiple devices through a VPN. Your name and profile may be associated with leading healthcare, investment, etc. industries. Basically, these companies utilize these contact details for advertisement and marketing purposes.
In a nutshell, we can say that your digital history is in their hands. Although, this information can't be fully erased but you can still get some security. Through a VPN, this spying, as well as data collection activity, can be stopped. In this way, your online activity stays hidden from your ISP ( Internet Service Provider ) other phishing attacks.
Some FAQs
Do you really need a VPN for streaming?
It totally depends on you and what platforms you use. Streaming using a VPN helps in different ways like accessing Netflix services that are blocked, avoiding buffering issues, and more.
Why do I need a VPN to stream movies?
If you want to stream your favorite movies blocked by the Internet Service Provider or your country then you definitely need a good quality VPN.
Do big streamers use VPN?
Here are 5 reasons why big streamers use VPNs:-
1. Access geo-restricted services.
2. Stop throttling from ISPs.
3. Unblock games from different platforms.
4. Download P2P without any issue.
5. Hide online activity for privacy.
Does a VPN slow down streaming?
Yes, VPN slows down the streaming speed as compared to the normal speed. But there is only a 10-20% drop in the speed and to avoid this use premium quality VPNs.
That's it for now…
Conclusion
So, that's all about the reasons and why you need and should use a VPN while streaming online or watching movies. Although, these VPNs can be very beneficial while doing any online activity or browsing any sites like Twitch, HBO, and Netflix.
Whether it's about protecting your online identity or hiding your high bandwidth activities from your Internet Service Provider.
Stay tuned for the next post…
Feel free to share your thoughts via comments and also tell us about this post on Do You Need a VPN for Streaming? [ 8 Reasons to Know ].
If you liked this post, don't forget to share it.