How do I copy a list of file names into Excel?
If this is the same question popping in your mind, then you are at the right place.
Also Read: How to Enable Text to Speech On Windows 10.
From the last 2-3 years, I have started backing up my computer files to some external hard drives. To prevent data loss.
And till now I have filled 4-5 hard drives of data.
But it's really difficult to remember which files are present in which hard drive.
So I started exporting all files names to excel files & keep a record of it.
But it was hell time-consuming. And then I got to know about this trick method of copying filenames from folder in windows explorer.
Let see How it works…
Copy File Names Into Excel From Folder
This method of creating a list of the contents of a folder as text has helped me a lot in saving my time. Whether they are too long, short or one word it works with all.
Moreover, you can also create a directory of files present in a folder.
So let's get started.
1. Open Windows Explorer
Open Windows Explorer and navigate to your favorite folder for which you want to create a list of filenames as text.
2. Copy File Names as Text from folder
Now select only those files for which you want to copy file names into excel from the folder.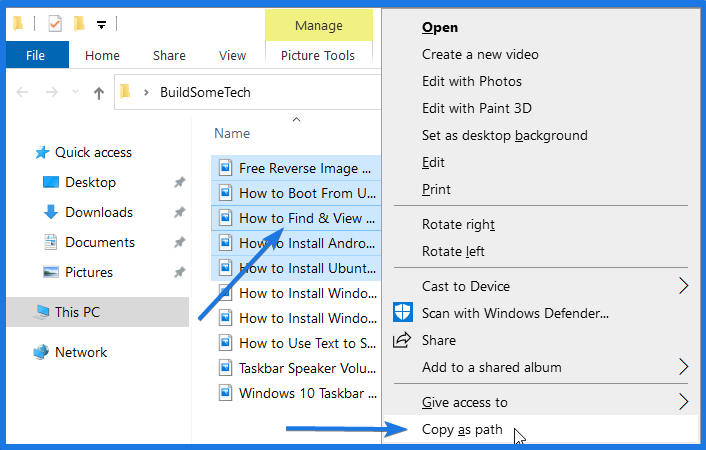 Now, Press Shift key + Right Click on it. And then select Copy as path Option.
And you have successfully copied files as text and also its location with the file extension.
3. Export Filenames to Excel
Now it turns to export filenames to excel file in windows 10. So, Open your Excel sheet and Press Ctrl+V to paste it properly.
And you can also copy filenames to Notepad as text using this technique.
That's it for now…
Conclusion
So that's how you can easily get a list of all files in a folder and subfolders into excel. And you can also follow the same method for Windows 7/8.
Check out the next post on how to copy filenames to excel using cmd.
Feel free to share your thoughts and also tell us if you know any better way to Export or Copy File Names Into Excel From Folder in Windows 10.
If you liked this post, Don't forget to share this post.