Is it possible to recover deleted photos?
How do I restore a deleted pictures?  OR  How do I retrieve lost images?
If you have all these questions in your mind, then this post is for you.

Also Read: Best free data recovery software that you can use.

Photos are like memories. And we want them to be saved for a lifetime.
For that, we always try to keep these photos on our computers or laptop.
But what if you accidentally lost or deleted them.
I can imagine this situation as It happens with everyone at some time.
But if you act quickly you might be able to restore them.
Let's see How it works…
How to Recover Deleted Photos in Windows 10,7
But before we begin.
Please make sure that you have a data recovery tool like Recuva which I personally recommend.
In this tutorial, I will show you how to retrieve your lost photos from a laptop computer even if you emptied your recycle bin in windows 10,7.
So Let's get started…
1. Download & Install Recuva
Download and Install Recuva from the given link. And then after installation is completed Open the Recuva Wizard & Click on Next.
Note:- I highly recommend using the Recuva Portable version because installing new software may overwrite the files on the computer.
2. Select Pictures as File Type
Now select the desired file type for which you want to recover. As for common image formats, such as digital camera photos choose Pictures and Click Next.
Note:- You can also choose Music (Mp3 files), Documents (Word, Excel files), Videos, Compressed files, and also Emails.
3. Select File Location
Now select the file location where the deleted files were present. For example, if you want to recover deleted photos from the Recycle bin then choose In the Recycle Bin.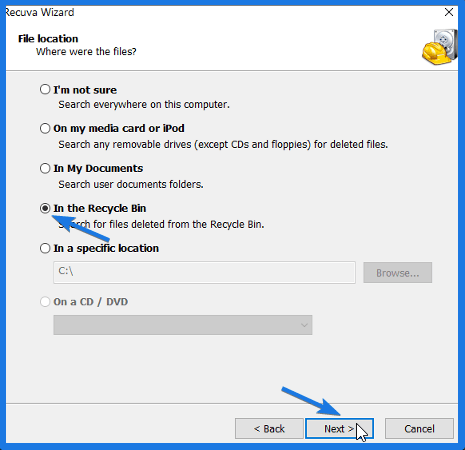 Note:- You can also use In a specific location option to retrieve deleted photos from hard drive, USB drive, SD Card on a laptop computer.
4. Enable Deep Scan
Now Enable the Deep Scan option and Click on Start. Now, wait for few minutes as Recuva is scanning for deleted photos.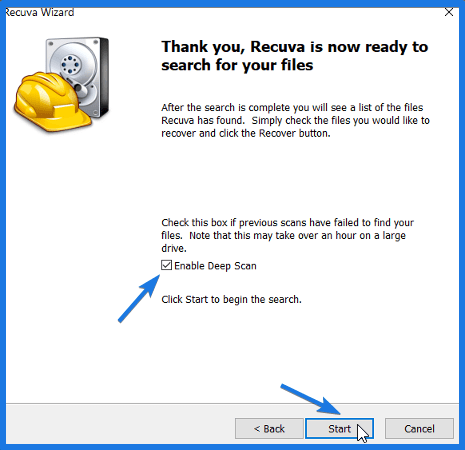 Note:- Deep Scan helps in scanning deeply buried files & can also be used to restore hidden photos.
5. Select Photos & Click Recover
After the scan process is completed, it will show a large number of pictures that can be recovered easily. Now select the desired pictures & Click on Recover.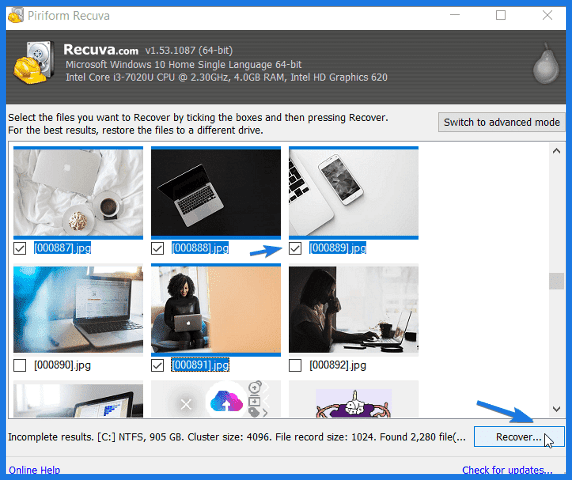 And it will ask for the location where you want to store the recovered photos.
Note:- Please don't restore the photos to the same location from where they were deleted earlier.
And Done!
How to Recover Deleted Photos From Android Phone
Recovering lost or deleted photos from Android Phone is really simple. Just you have to install some good apps & Done.
Some Apps which I recommend for both Rooted & Non-Rooted Devices.
Non-Rooted Devices: DiskDigger Photo Recovery (Also provides you features to save recovered photos to dropbox & google drive.)
Rooted Devices: Undeleter Recover Files & Data ( Support wide range of files)
These Android Apps are fully compatible with Samsung devices like galaxy s7 & s9.
If you more rely on PC apps, then you can try Wondershare Dr.Fone for android recovery like WhatsApp messages, Contact & Gallery.
Recover Deleted Photos from Google Photos
Note:- This method works on both iPhone & Android Devices.
Using Google photos is really very smart to store your photos & images online without any issue. But sometimes in a hurry, you accidentally delete the wrong photos.
But don't worry Google Photos gives you a time period of 60 days. And in that, you can easily recover them. Just you have to follow some steps…
Open Google Photos App.
Now from the Sidebar, Go to Trash.
Now Select all images & Click on Restore.
And Done! You have successfully recovered deleted photos from Google Photos.
Restore Deleted Photos From Onedrive, Dropbox & iCloud
Onedrive, Dropbox & iCloud all these are cloud storage providers and basically provides you the same features.
And also they provide 30 days of time period after deletion of photos from it. In that period of time, you can easily retrieve them. Just you have to follow some steps…
Open any Cloud Storage App.
Go to Trash or Recycle Bin & you will find the deleted files.
Now select those photos & Click on Restore.
That's it for now…
Conclusion
So that's how you can easily get back deleted photos from an SD Card, USB drive, hard drive using this simple tool called Recuva.
And also you can perform this method on Windows 10, 7 & 8.
Stay tuned for the next posts on how to recover deleted photos iPhone.
Feel free to share your thoughts and also tell us if you know any better way on How to Recover Deleted Photos in 2020.
If you liked this post, Don't forget to share this with your friends.