How to find my saved wifi password on windows 10?
If this is the same question popping into your mind, then you are in the right place.
But before dive in further, please visit our previous post on Reset your forgotten windows 10 password.
According to the theverge, Windows 10 is becoming more popular than Windows 7.
But why this version of windows is becoming more popular?
I think because of its features and security.
But this feature of high-security making us trouble. As it forces you to change the password from time to time.
Which makes it more difficult to remember all these passwords.
And it creates so much confusion as sometimes we also forgot our wifi password.
So in this post, I will show you how to check or see your saved password in windows 10 PC.
Let's see how it works…
Also Read: How to stop someone from using your WiFi.
How to Find/View WiFi Password on Windows 10
It's not a hack. But a simple & safe trick to know your saved password on PC.
So Let's get started. And follow these simple steps.
1. Open Windows 10 Network Settings
In the search Bar Type "Control Panel" & Press Enter.

Now Go to Network and Internet.
And then Click on Network and Sharing Center.
Or you can also navigate to Start  > Settings  > Network & Internet  > Status  > Network and Sharing Center.
Tip:- In Windows 7 you can simply search & Go to Network and Sharing Center.
2. Change Adapter Settings
Now on the left-hand side, click on Change adapter settings.
3. Check WiFi Status
Here you can find all the WLAN, WiFi or Other Networks & their settings.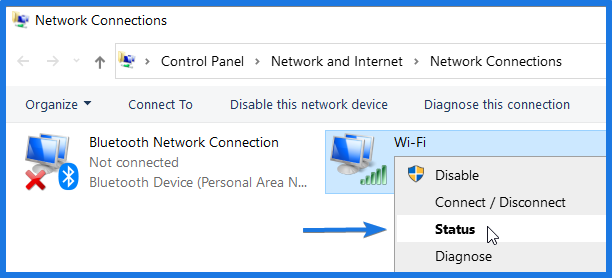 So, Right Click on the connected Wifi network for which you want to view or find WiFi Password on windows 10 & then select "Status".
4. View Wireless Properties
Now to view Wifi Settings, Click on Wireless Properties & then a new popup will appear.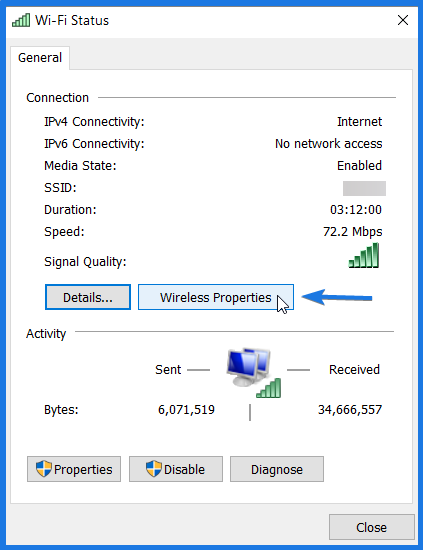 5. Show WiFi Password
Now the last step, click on Security Tab where you will find the "Network Security Key" or the stored password.
And to see the saved password, Check the "Show characters" box.
And Done!
Conclusion
So that's how you can easily know your saved wifi password on PC using simple steps on windows 7,8,10.
And also you can perform this using different software or apps like Passrec WiFi Password Finder & Revealer.
Stay tuned for the next post on how to find wifi password on iPhone & Android.
Feel free to share your thoughts and also tell us if you know any better way to View/Find WiFi Password on Windows 10,8,7.
If you liked this post, Don't forget to share this with your friends.