Want to download Windows 11 Ghost Spectre ISO?
If yes, then you are definitely gonna love this post.
Microsoft has been popular for years and since its inception, it has garnered a lot of praise from buyers around the world.
However, Windows 11 has been a hit among the masses but due to new hardware requirements like TPM 2.0 and Secure Boot, it wasn't liked by many old users.
And for those users, many developers are releasing the lite versions like Ghost Spectre, which don't need any such requirements to be fulfilled.
And the best part is that plenty of users loved this version because now they can easily experience Win 11 without having a high-end PC.
If you are one of them, download the latest version 2H22 now.
So, without further delay, let's get started…
Check out the Top 10 Space Movies On Amazon Prime!
What is Windows 11 Ghost Spectre Version?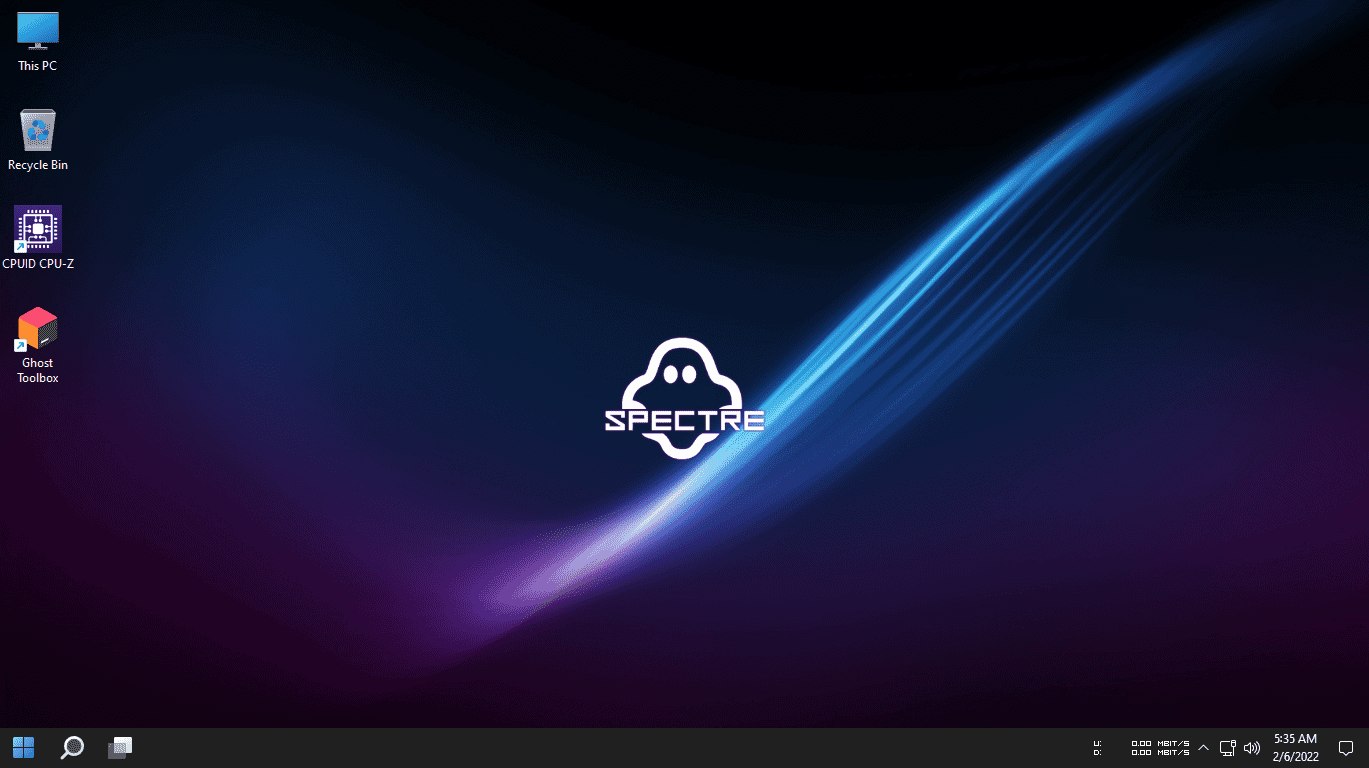 Ghost Spectre is another great modded version of the 2H22, which is also known as the Lite version. The developers of this build have removed so many features to make this operating system superlite and faster to use on low-end devices. And also from now onwards, users will not need to fulfill the mandatory system requirements for using Windows 11 and enjoy its features on any PC.
Furthermore, a lot of changes were made in this latest release of the "GhostSpectre" version, so that it can give the user the freedom to run this Windows OS without worrying about the RAM, Hard Disk, and also about the old generation of processors. Apart from that, you get a much smoother experience with the same user interface and it also gives you lots of options to customize it accordingly.
Ghost Spectre Windows 11 Superlite ISO Download [ 2H22 Build ]
However, the officially released version of the Windows 11 is 22H2 SV2, which is useful for all computers having 64-bit configurations. But it's neither less as compared to the official version which was released by Microsoft. Apart from that, the latest version is lite in size, compact, and can be bought in with defender and without defender options.
Moreover, its build version is 22621.819 with an architecture of x64 and the size of the en-US is about 3.1 GB, which was last updated in November month of 2022.
Windows 11 Ghost Spectre Download Link
Note:- Although, all the editions like Compact and Superlite are perfectly safe but we don't own any of them, we are just providing the links from the internet. Also, this post is just for educational purposes and BuildSomeTech should not be held responsible for any loss.
22H2 SV2 – 64-bit (Official Release)
| | |
| --- | --- |
| Edition | Superlite, Compact, Without Defender, With Defender |
| Build | 22621.1265 |
| Language | en-US |
| Architecture | x64 |
| Size | 3.56 GB |
| ISO Link | Download |
| Password | 22h2u8 |
22H2 SV2 – 64-bit (Official Release)
| | |
| --- | --- |
| Edition | Superlite, Compact, Without Defender, With Defender |
| Build | 22621.963 |
| Language | en-US |
| Architecture | x64 |
| Size | 3.46 GB |
| ISO Link | Download |
| Password | SV2GHOST1234U7 |
21H2 – 64-bit (Stable Build)
| | |
| --- | --- |
| Edition | Superlite, Compact, Without Defender, With Defender |
| Build | 22000.194 |
| Language | en-US |
| Architecture | x64 |
| Size | 3.00 GB |
| ISO Link | Download |
Now let's see the installation process of this version.
How to Install Ghost Spectre Windows 11?
Installing this Ghost Spectre edition is super easy because it also requires the similar steps that you take to install your regular windows, but with few changes. What are they?
Let's find them out in these steps.
First, we would be downloading the Ghost Spectre ISO and please make sure it should be the Windows 11 Superlite version.
Now it's time to get the Rufus tool from the official website.
After that, insert the USB drive and create the installation media using the Rufus.
Now you will see the Boot selection option and then click on the "SELECT" option to choose the ISO of the lite version that you downloaded earlier.
After that, it will start creating the bootable USB for Ghost Spectre.
Now restart your computer and push the Boot Menu keys before the system logo is visible to you. ( E.g. F12, F8, F9, ESC. Del )
Now you will see a screen having the list of drives, now pick the one that you plugged in and then tap on Enter button.
After that, you will see a Windows logo appearing and you will also see the animated dots that are revolving in a clockwise direction. This is a sign that shows the process is in progress.
Now once you are on the setup window, it's time to adopt the keyboard method, time, and language and then click on Install now button.
After that, select the Ghost Spectre version like Superlite, Compact, Compact + Defender, and Superlite + Defender according to your preference.
Now select the drive for installation and then click on the Next button.
At last, you will see the operating system getting installed on your Laptop, Computer, or PC.
Note:- For the full installation process, you can also check here.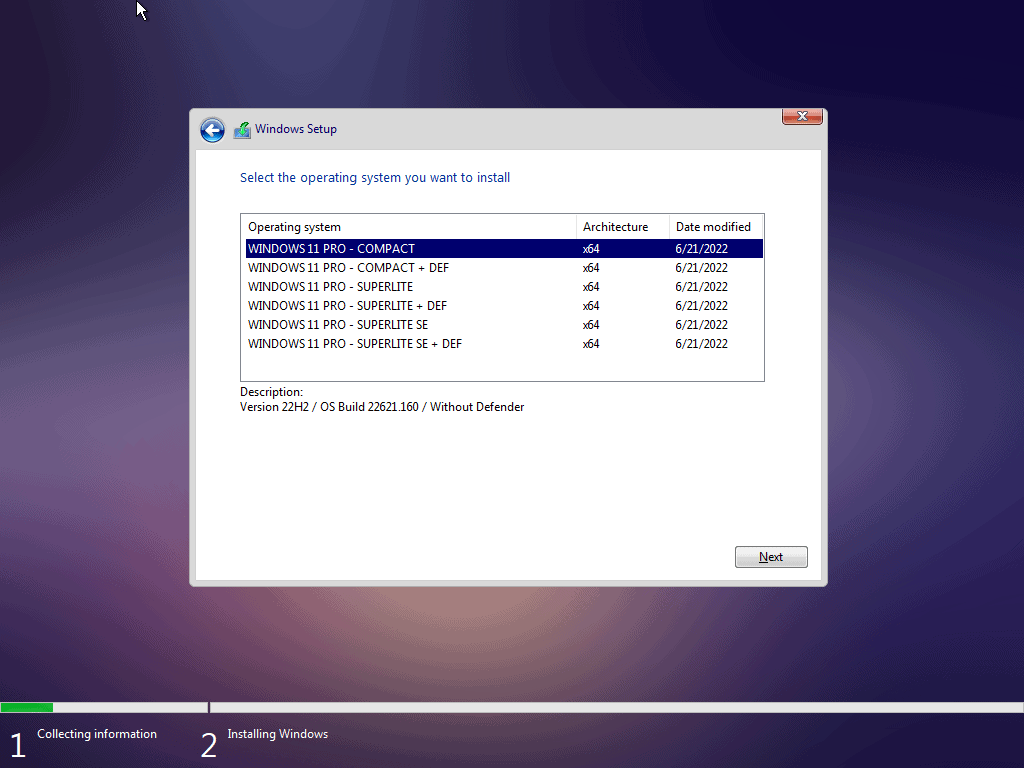 Key Features
The super lite version of Ghost Spectre comes with some exciting features that are explained here. Let's see what they are:-
Can pause the Windows Update in this version until the year 2077.
Support all different keyboards and languages.
If you are fond of UWP games or apps, then you can run them in this version of windows.
You also have the flexibility to add or remove the windows store using the Ghost Toolbox.
Can optimize the privacy of your PC along with the performance mode.
Can get the optimized page file, search indexer, and services alongside the option of scheduling them.
Has some unique theme packs, icons, and wallpaper.
Get you free from bloatware and all that is free of cost.
This version will have the LZX algorithm which is too compact and integrated.
Removed Features:-
Certain features were feasible in the Windows 11 version but they were not used by the consumers and that is why the developer of this Ghost Spectre OS has removed them and made a lite weight operating system.
No pre-installed Windows apps and system apps of the official version.
Onedrive is removed from the operating system.
WinSxS backup is removed.
Winre is removed. However, you can always add it through the ghost toolbox.
Action Center and its notifications are disabled in this version.
Error reports are also removed in this version.
Remote desktops focus assist, tablet keyboard, clipboard, and NFC are not included in this OS.
You will not be able to see the windows smart screen, windows defender, and windows security in some versions. However, if you select the ghost spectre with a defender, then you can use that feature.
That's it for now…
Conclusion
So, that's all about the Win 11 ghost spectre superlite version and how you can download and install it on any PC, Computer, or Laptop. Doesn't matter if you are having a high-end or low-end system, it works perfectly fine with all different devices without fulfilling the system requirements.
Apart from that, all the versions are custom builds of the Pro version and if you are looking for Home Basic or Premium, then you will not get them.
Stay tuned for the latest posts…
Feel free to share your thoughts via comments and also tell us about this post on Ghost Spectre Windows 11 Superlite ISO Download: 2H22 Build.
If you liked this post, don't forget to share it.