How to Convert PNG to PDF on Windows 11?
If you are looking for this, then you are in the right place.
According to recent data, PNG files are getting more popular than other image formats.
I don't know the actual reason for this but I think the main reason behind this is the rising popularity of screenshots.
Because in majority of screenshot apps, PNG is the default format.
But many times you have also noticed that lots of websites only allow PDF files to upload or share as a document.
Apart from that, there are many scenarios where you need to share multiple images in an email. Instead of doing that, it's better to combine them all in a single PDF file and then share it.
In this post, I will show you how to turn a PNG into a PDF in Windows 11 using the default apps and also some third-party tools.
So, without further ado, let's get started…
How to Convert PNG to PDF on Windows 11 [ 3 Free Ways ]
But before we dive in further, here is a quick overview.
Here, I am going to show you three different ways to convert a PNG into PDF easily. In the first one, we will be using the official Photos application and then using the free online tool and after that using any web browser.
For this, you just need an image file in PNG format and then you have to follow a couple of steps given below.
So, let's get started…
1. Using Windows 11 Photos App
In this method, we will be using a simple feature of the Photos app which is known as "Microsoft Print to PDF". Basically, this is a default feature that allows you to print images but we can also use it to save them as PDFs.
Generally, I always use this app to convert a single PNG file to PDF in Windows 11 but you can also use it for multiple files.
And here are the steps to follow:-
1. First, navigate to the desired image, right-click on it and then select the Open with > Photos option.
Note:- If you are using the Photos application as default then you can also double-click on the image to open with it.
2. Now click on the three-dot icon and then select the Print option. You can also use the "Ctrl + P" shortcut keys for this.
3. After that, select the Printer as Microsoft Print to PDF from the dialog box & then click on the Print button.
Note:- Here you can also change different options like Orientation, Paper size, Page margins, Fit and Photo size options.
4. Now the Windows File Explorer will open up or you can say the "Save Print Output As" dialog box. And then enter the File name and make sure the "Save as type" is selected as PDF Document because we want to save PNG as PDF. Once all these are finalized, click on the Save button.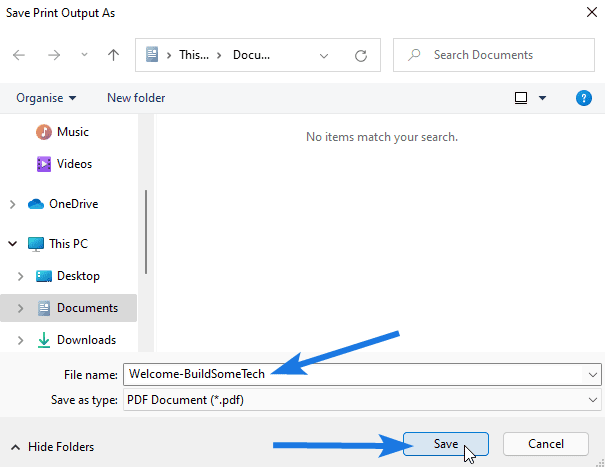 2. Using Free Online Tool
Although, the above method works great but what if the Photos app is not working or you are not getting good quality? In that case, you can use one of my favorite PNG to PDF converter which is absolutely free.
One thing which I really like about this tool is that using this tool you can easily convert multiple PNG files to PDF online for free.
And here are the steps to follow:-
1. Go to the official website from the above-given link.
2. Now click on the "Add File(s)" button or you can also upload the files directly from Dropbox / Google Drive.
3. Now navigate the desired image, select it and then click the Open button.
4. After that, click on the "Convert file(s)" button. You can also change the Original size or margin according to your need.
5. Now it will start converting the files that you have uploaded.

6. At last, you will see the "PNG image(s) were successfully converted to a PDF file." message, so now click on the Download file button.
3. Using Web Browser
This method is pretty unique and you can also call it a quick hack because you don't require any third-party tools for converting PNG files into PDFs. And the best part is that you can use these web browsers on almost all devices like Android, Laptop, Chromebook, Mac, Computer & more.
Although, it's extremely easy to use but the only downside of using this method is that it shows the File location of the image stored on your Local PC which looks a little unprofessional.
And here are the steps to follow:-
1. First, open the web browser. ( You can use any browser like Google Chrome, Microsoft Edge, Safari, Mozilla Firefox, or more )
2. Now drag and drop the desired PNG image.

3. Once the file is opened, click on the 3-dots icon and then select the Print option. ( Press Ctrl + P if you love using shortcut keys )
4. After that, select destination as "Save as PDF" and then click on Save.
Note:- You can also change the Layout or other settings like Margins, Scale, and Paper size from the More settings option.
That's it for now…
Conclusion
So, that's how you can easily change PNG file to PDF in Windows 11 using default apps and third-party online free tools. And the best part is that you can use all these methods on almost every operating system like Windows 10, 7, and more.
Also, if you want some more advanced options then you can get the Pro versions or Premium subscriptions.
Stay tuned for the latest posts…
Feel free to share your thoughts via comments and also tell us about this post on How to Convert PNG to PDF on Windows 11 [ 3 Free Ways ].
If you liked this post, don't forget to share it.