Looking for PrePostSEO Plagiarism Checker Review?
If yes, then this post is definitely for you.
When it comes to SEO or Google's search algorithm, plagiarised content is one of the biggest no-nos.
Having duplicate content on your website is not just about integrity; it's about reducing your search engine ranking and dealing with other negative consequences that can follow in its wake.
That's why having a tool that can scan through your content for plagiarism is essential. They are a great tool to keep writers and bloggers safe from anything that could potentially hurt their SEO or brand.
However, there have always been several websites claiming they are the best when it comes to top-quality checkers for plagiarism issues.
And that's why I tested many online tools and brought this detailed PrePostSEO review for our readers.
So, without further ado, let's get started…
What is PrePostSEO?
PrePostSEO is a simple website that gives you all the necessary SEO tools to help you with your website content strategy. It includes many easy-to-use tools that can help you optimize your site for better performance in Google, including keyword research, plagiarism checker, competitor analysis, backlink maker, and more.
The interface of the website is convenient, and all the tools are listed on the homepage for easy accessibility. Each tool has unique, interesting features that allow us to use it efficiently and get better results. The only problem with this website is that it has too many ads, which can be very distracting sometimes. However, this can be resolved if you opt for any of its premium plans.
PrePostSEO Plagiarism Checker Review
I have been using this free plagiarism checker for many years, and have really helped me as a blogger in all possible ways. Apart from that, I have also heard many positive reviews of PrePostSEO as compared to other free websites available online. And that's why I am writing this post so that more people can know about this tool.
Moreover, the following section will explain in detail what I came across while using this website online.
Pros
It is a very easy-to-use tool with step-by-step instructions on how to use this software and its features.
This tool has an intuitive interface that makes it accessible, even for those who are new and unfamiliar with it.
The resulting accuracy of this plagiarism checker tool is way better.
It has an extensive support team that will help you quickly if you face any type of issues while using it.
They also offers WordPress plugins that seamlessly integrate with your website.
PrePostSEO and its tools are available in multiple languages like English, French, and Spanish.
Cons
Lots of ads are very annoying for any user.
The tool is free, but you have to pay for the premium features.
How to Use PrePostSEO Plagiarism Checker?
Although, it's pretty easy to use but sometimes many new users get confused and that's why to help them, here is a quick guide.
Follow these instructions properly:-
Go to the official website of PrePostSEO.
Now open the plagiarism checker & then enter your content in the text box. You can also upload the file from your system or google drive.
After that, fill in the captcha code & then click on the "Check Plagiarism" button.
Once done, the tool will analyze your content and then display a report with the results of plagiarised sentences.
In case you want to remove the plagiarism, further click on "Remove Plagiarism" to rephrase the content.
Click on the download icon to get the report.
PrePostSeo Alternatives
I know this is a very good tool but in case you are not liking it for some personal reasons then you can check these similar tools.
Duplichecker: It is also a great choice if you are searching for a free tool and as the name suggests it checks duplicate content.
Quetext: If you want to go for some premium tools and have a good budget then you can check this online checker.
Grammarly: It is generally known for correcting grammar mistakes but side by side they have also added a feature to check plagiarism.
Turnitin: It is basically a company-based application developed for college students so that they can detect plagiarized content before submitting it.
Scribbr: It is similar to Turnitin, they also want their students to do their best and can produce original content easily.
SmallSEOTools: This is also a great website like PrePostSEO which provides SEO tools for free.
Some Other Tools Offered by PrePostSEO
Like in the above section I said, this website has lots of other tools that you can use for free. If you are a blogger, marketer, or SEO professional then you definitely need all these tools given by this website. Furthermore, you can also check out our quick beginner's guide to SEO for better rankings.
So, let's see one by one in detail.
Grammar Checker
This creative utility helps you to check the spelling and grammar mistakes of your content. It works by running your text through a database of more than 250 grammar rules and tens of thousands of examples, so you can be sure that your writing is flawless.
Reverse Image Search
PrePostSEO also offers this handy tool for finding the original source of an image. This is especially useful when you want to see if the image is copyrighted or if it has been used by someone else in their marketing efforts. Apart from that, you can also check out google reverse image search from here.
Article Rewriter
This is an add-on tool that rewrites sentences and paragraphs with a different writing style. It can generate unique content from one article and turn it into many different versions of that same article.
Credit Card Generator
This tool on PrePostSEO's arsenal allows you to generate credit card numbers, expiration dates, and CVV codes. It is used to bypass the payment of any charges that require a valid credit card, like online subscriptions.
Domain Authority Checker
This DA checker is also a free tool provided by PrePostSEO that will analyze any domain name and tell you its Domain authority. It will also give you a list of backlinks or referring domains pointing to that website and let you know how influential they are.
Image to Text
They also offer a free OCR-based image-to-text tool that allows you to upload an image and get the text out. It is helpful for SEO as it can help you identify the keywords in a picture.
Online Paraphrasing Tool

The online paraphrasing tool provided by PrePostSEO is one of the most useful and effective services that you can use. It will help you to reword sentences, paragraphs, and whole texts so that they are not considered duplicates by Google's algorithms.
PrePostSEO Pricing and Plans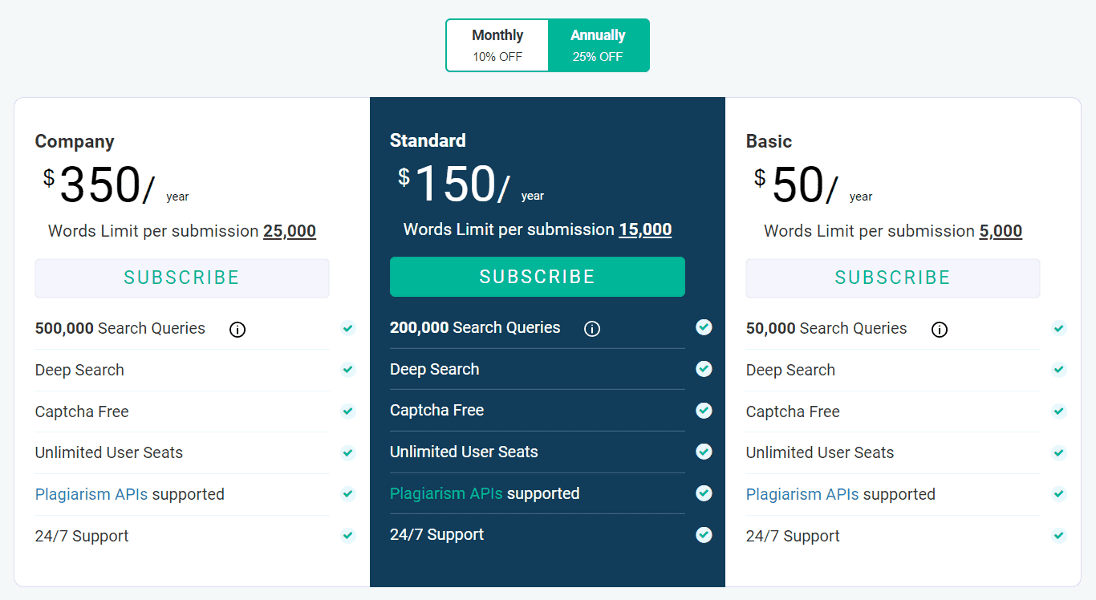 If you want to use PrePostSEO for personal use then it is the best free plagiarism checker that you can use effectively. But they also offer three different plans if you want to use them commercially. However, the pricing is based on a subscription model, meaning you will pay the same amount each month with your chosen plan.
It offers monthly as well as an annual subscription.
You can get started with as little as $10/month or choose from other options:
Basic Plan: $10 per month or $50 per year
Standard Plan: $20 per month or $150 per year
Company Plan: $45 per month or $350 per year
All of their premium plans include the following features:-
75,000 Search Queries
Deep Search
Captcha Free
Unlimited User Seats
Plagiarism APIs supported
24/7 Support
In addition to this, PrePostSEO also offers a refund policy. If you are unsatisfied with the results or service provided by this tool, you can ask for a refund within 7 days of purchasing it.
Conclusion
It is pretty clear that a plagiarism checker tool like PrePostSEO should be a must-have in every writer's arsenal, as it allows them to quickly ensure whether their work is written appropriately and complies with all the necessary rules.
Moreover, this is one of the tools I recommend for every blogger and the best part is that they also provide browser extensions and mobile apps.
Stay tuned for the latest posts…
Feel free to share your thoughts via comments and also tell us about this post on PrePostSEO Plagiarism Checker Review: Is It a Good Tool?
If you liked this post, don't forget to share it.