Want to learn how to do a Reverse image search on google?
If yes then you are at the right place.
Also Read:- How to Activate Text to Speech On Windows 10
In this online world, Google is here to provide you all.
And mostly it provides all the basic services which a user needs while using the internet for free.
And Google reverse image search is one of them.
If you are a blogger or social media influencer you probably heard about it.
Basically, it is a technique to find related images from the web.
Also, it helps you to find similar images of different sizes or resolutions and their original source.
Let's see how it works.
Reverse Image Search On Google
But before we dive in further.
Please make sure that you are using compatible browsers like google chrome, firefox and safari.
In this tutorial, I will show you how to google image search & find relevant pictures or photos using your PC, Android mobile and iPhone.
So let's get started.
1. Open Google Chrome browser
Open Google chrome or any compatible browser on your PC. Now go to the Google search engine and click on images.
Or simply click on this link Google images.
2. Upload & Search by image
Now click on the camera icon
to search google using a picture.

Here you will get 2 options to search image on google like Paste image URL and Upload an image.

And you can simply choose to Upload an image & then click on Choose File.
3. Browse image from PC
After clicking on the Choose File option. Browse to your favorite image for which you want to perform a reverse search.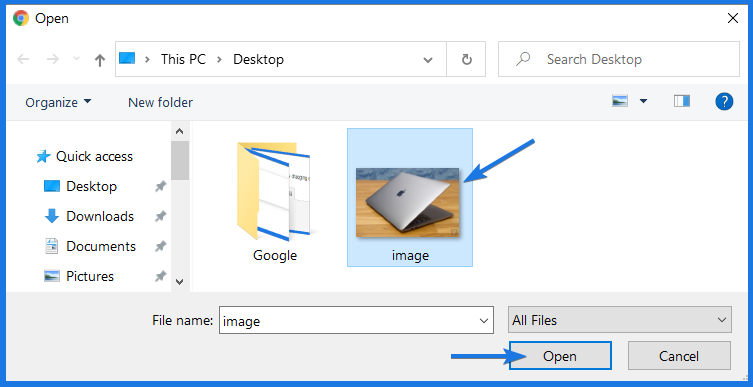 Now select your image and click Open.
Now it will start uploading and searching the similar image file on google.
And you will get all the similar pictures right there.
4. Reverse search results
Now it will show all possible related search results. And also the images which are visually similar.

And to dig it further. You can find different image size options like All sizes, Small and Medium.
Where you will get all the pictures in different sizes & also their original source.
And Done!
Shortcut Tip:-While using google chrome, Right Click on any image and then select Search Google for image.
Similarly, you can also perform the reverse search on different search engines like Yandex and bing.
Reverse Search Image On Yandex
To perform an image search on Yandex to find visually similar pictures. Click on the given link Yandex images.

And all the process goes the same.
Reverse Search Image On Bing or Yahoo
Similarly, to perform an image search on Bing or Yahoo to find visually relevant pictures. Click on the given link Bing images.
And in all the above search engines, you can also search for the image by using the URL of the images.
Now we will see how to do this search on mobile phones.
How to Do a Reverse Image Search On iPhone or Android
Note:- Google Chrome App or the Google app
makes this process more easier on mobile devices like iPhone & Android.
But I will show you this on iPhone using the Safari browser.
So let's get started.
Open your Safari browser.
Now in the Url bar type images.google.com or simply click on the link.
Now Click on this aA icon and then click on Request Desktop Website.
And then click on the camera icon and then Upload an image.
Now Go to your Photo Library or Photo gallery and select your image for which you want to reverse search.
And Done!
Bonus Tip:- Google lens
app is a specially designed app for this type of search feature.
That's it for now…
Conclusion
So that's how you can easily find relevant images that are visually similar using your PC, mobile phone like iPhone & Android. And also you can perform this search on different social media platforms like Instagram, Facebook & Twitter by using Socialcatfish.
Stay tuned for the next post on image search by face recognition.
Feel free to share your thoughts and also tell us if you know any better way to do a Reverse Image Search On Google, Yandex & bing for free.
If you liked this post, Don't forget to share this with your friends.