Want to know What is YourPhone.exe in Windows 10?
If yes, then you are in the right place.
We all know how to use basic computers, whether we are from a technical background or not.
But do we actually know which files & processes are crucial for us?
I don't think so. There are almost hundreds of background processes that are always running and we don't have any idea about them.
Likewise, Your Phone is also a process that is present on your Windows OS.
And it is basically an executable file or a .exe file that is located on your computer's root location folder.
Also, I have seen many users searching queries related to "yourphone.exe" like "Is it a legit Process?", "Is it a Virus?" and "Can I disable it?"
But before concluding anything, it's better to get some more info.
So, let's dive in further…
What is YourPhone.exe?
YourPhone.exe is an executable file that comes with the YourPhone app in Windows 10. It is basically an inbuilt program that allows you to connects your computer to your phones like iOS and Android.
Using this application you can easily get all your mobile phone notifications directly to your Windows PC. And that's why the process keeps running while your Phone is connected to your PC via USB or Bluetooth.
Apart from this, Your Phone app can read all your text messages, notifications, share different files, and even can reply to a text between two devices. And it is more compatible with Android devices rather than iOS devices.
Moreover, this .exe executable file can cause High GPU & CPU usage and can also be manipulated by an attacker or hacker.
So, it's better to identify more about this .exe process.
Information about YourPhone.exe Process
Although, we have already talked much about this YourPhone.exe process but here we will dive in further and will try to get more info about this specific process file. And how much damage this can cause to our resources.
Apart from this, Your Phone app is always running in the background to get all the latest notifications & updates from your mobile phone. And that's why you may have also found this .exe process running in your task manager.
As we have seen this file is always running, this may also cause High CPU & GPU usage. Due to which most of the users have also tried to stop it.
Moreover, you can get some info from this table.
| | |
| --- | --- |
| Developer | Microsoft Corporation |
| Programs | Microsoft YourPhone app |
| Filename | YourPhone.exe |
| Operating System | Windows 10 or later |
| File Location | C:\Program Files\WindowsApps\Microsoft.YourPhone_1.19071.901.0_x64__8wekyb3d8bbwe\ |
| File Size | 21000 bytes |
| Installer File | Microsoft.YourPhone_8wekyb3d8bbwe |
| Installer Size | 86.69 MB |
Till now, I hope you have a clear idea of this file and What is it for? And if this is not the case then the next part can help you.
Is YourPhone.exe a Virus or Malware?
YourPhone.exe is a Microsoft process and completely legit. But, it can be harmful if manipulated anytime and can also slow down your computer. There are very rare chances of resulting in this process in a virus. It may not always be a Virus or Malware. I highly recommend you to use any antivirus for running a scan. Also, a legit antivirus can be very useful in keeping your PC safe from viruses and malware.
And here is the Virus Total report and it has no Virus.
Is it Safe to Run?
Yes, it is completely safe to run YourPhone.exe file. According to me, it is completely safe to connect your mobile phone to the computer through this Windows application. There can be the possibility of a virus or malware through this process. But the chances are very less and in that, I will recommend you to run an antivirus scan if possible.
Also, recently I got one survey of users whether they want to remove or keep this process file running on their system.
Your Phone High CPU and GPU Usage
Your Phone is a preinstalled app that allows you to connect your phone to a PC. But I have seen many users who have reported that yourphone.exe is causing High CPU usage and GPU usage. I don't know the actual reason for this but if have checked your Task Manager and it is really using a high amount of GPU or CPU then it can be an alarming situation.
Apart from this, sometimes you may also find this file using the Network resources for communicating between your mobile device and PC.
But if you are not sure of what it is using for then you must follow the below-mentioned ways to Stop, Disable or Remove this file.
How to End or Stop YourPhone.exe Process
If sometimes you noticed that the YourPhone.exe file is running and consuming too much CPU or GPU resources then you can manually End or Stop it.
And here are the steps to do it:-
1. First, right-click on the taskbar & then select Task Manager. ( You can also use Ctrl+Shift+Esc shortcut keys for this )
2. Once the task manager is opened, now search for the YourPhone process in the list of running processes.
3. Now right-click on it and then select the End Task option.
And done! Now, this process will remain stopped until you reboot your computer or open the YourPhone app. Also, if you have connected the phone with your PC and end the process in between then you will not be able to see the notifications on your desktop.
Now let's move to the next part…
How to Disable YourPhone.exe in Windows 10
In the above section, you have already seen how to stop yourphone.exe process but here you will see how to disable it. Because disabling would be a much permanent solution and won't be enabled automatically after rebooting your PC.
And here the steps to do so:-
1. First, Go to Start Menu and then click on Settings.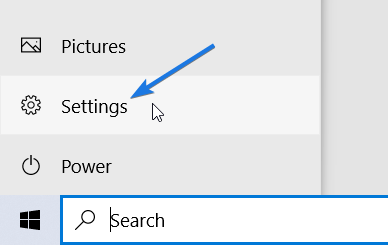 2. Now click on the Privacy option.
3. Now on the left-hand side section, scroll down & then click on the Background apps option.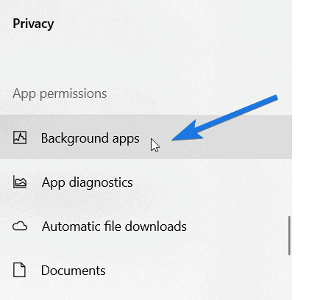 4. At last, on the right-hand side section, scroll down and search for the Your Phone app and then Disable it.
And done! Now YourPhone.exe process will not run in the background even after restarting the computer or PC. You can also re-enable it whenever required.
Now let's move to the next part…
How to Remove Your Phone App from Windows 10
Although, the above two methods can easily help you to get rid of YourPhone App. But if you think there is no use in keeping the App files of this application on your Windows 10 PC then it's better to delete them.
And here are the steps to do so:-
1. First, right-click on the Start Menu button & then select Windows Powershell as Administrator.
2. After that, Powershell dialog box will open up, now type the given below command and then press Enter.
Command: Get-AppxPackage Microsoft.YourPhone -AllUsers | Remove-AppxPackage
And done! You can also use these steps if you want to "Uninstall YourPhone.exe" and want to remove it permanently.
Moreover, after doing this task you will not see any process running in the background of this application.
Now let's move to the next part…
Best Practices to Resolve YourPhone Issues
There can be times when YourPhone app will not work properly and you may face issues in connecting your mobile phone to a PC or Computer. And if you want to take benefits of this application to use with your mobile device then these practices will definitely help you in resolving some issues.
1. Batter Save Mode:- You can face issues in YourPhone app if your PC is on Power saving mode. Because in this mode computers generally stop some background processes. So, just disable it and then try to connect your phone again.
( You can also use Windows + A shortcut keys to do the same. )
2. WiFi Network:- It is required that both the devices should be connected to the same wifi network. If you are facing some issues while using this app then it's better to check your WiFi network signals.
3. App Permissions:- There can be a possibility that you haven't given all the permissions to YourPhone companion on your mobile device. And this will cause errors for sure because the whole point is to get notifications on the desktop.
4. Reboot:- Sometimes rebooting your PC and your mobile device can help you in connecting your devices better.
5. Microsoft Account:- There is a possibility that if you are facing any issue then there may be different accounts logged in on both the device. So, make sure that the same accounts are logged in the YouPhone app and then try to reconnect them.
Some FAQs
Is Your Phone exe a virus?
No, YourPhone.exe is not a virus. It is a process of Your Phone app developed by Microsoft that enables us to get mobile device notifications on our Windows PC.
Why is Your Phone exe running?
YourPhone.exe always keeps running to get the notifications in real-time and also keeps your PC synced with the mobile phone.
Can I end Your Phone exe?
Yes, you can easily end or disable the yourphone.exe process by following these steps. Just go to Task Manager, search for YourPhone, right-click on it and then select the End task option.
Can I delete YourPhone exe?
Yes, you can easily delete or remove yourphone.exe process by directly uninstalling Microsoft.YourPhone app using PowerShell. And for a step-by-step guide, visit this detailed guide.
That's it for now…
Conclusion
So, that's all about the YourPhone application and its processes in Windows 10. In this post, we have tried to explain almost everything about this file and the process that is required. And if you think that, file is suspicious and may contain viruses or malwares then it's better to remove them.
You can also follow the above-mentioned safety measures if your device is not connecting with your PC / Computer or Laptop.
Stay tuned for the next posts…
Feel free to share your thoughts via comments and also tell us if you want anything to be included in this post of What is YourPhone.exe Windows 10? Is it a Process? Virus?
If you liked this post, don't forget to share.