Searching for AOMEI Partition Assistant Review?
If yes then you are in the right place.
Have you ever tried to merge, split, or migrate partitions on a Microsoft Windows PC or Server?
If yes, you probably know that it's usually a tedious job.
However, if you have the right software solution at hand then managing partition operations can become a much easier and even an enjoyable experience.
And this is where these partition assistants come into the picture.
This program lets you manage your Windows PC and Server partitions with easy navigation and without having to bug your IT admin for help.
Now let's take a look at this detailed review of AOMEI Partition Assistant and learn more about this perfectly reliable partition management program to make an informed decision.
So, let's get started…
What is AOMEI Partition Assistant?
AOMEI Partition Assistant is a multifunctional and user-friendly software that you can use to manage disk partitions under all Windows OS, including Windows 11,10,8,7 & XP. Also, this is one of the finest disk clone software that is available out there.
Moreover, it is a popular choice among server administrators and this piece of software can help you with every aspect of managing your disks and partitions. Whether you want to organize your partitions properly, resize them based on need, or merge two separate disks into one, there's not much this application can't do.
But how exactly can this one help you? That's what you will learn as we delve deeper into its features and functions.
AOMEI Partition Assistant Features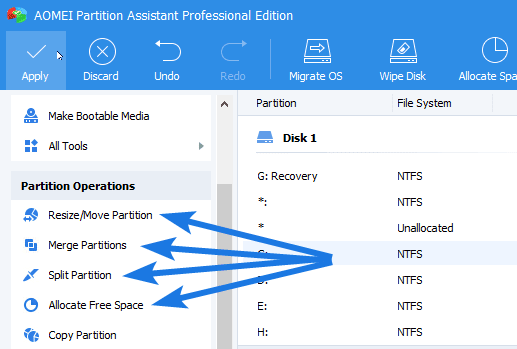 One of the main reasons it's easy to embrace this partition assistant by AOMEI is its approachable interface. It certainly doesn't look anywhere near as intimidating as many other disk management software out there. And there are plenty of features that it worth trying out, including…
All image credits:- diskpart.com
Resize/Move Partition
Resizing or moving the partition is a great chance to break free from the hard drive with a boundary. It can help you extend the system partition to fully solve the low disk space problem and shrink a data partition to make unallocated space usable.
Merge Partition
Merging partitions is an extremely useful feature if you have a lot of partitions on your hard drive that you no longer need. Using this assistant, you can easily merge or combine multiple partitions into one single partition without losing data.
Clone Disk
Clone Disk is a feature that allows you to copy a disk and partition to another disk or partition. This cloning capability makes partition management a breeze. Furthermore, it also allows you to duplicate disks easily and customize your disk space for optimal usage.
Delete Partition
Deletion of partitions is mostly used when there are several unwanted partitions on the disk space and you want to remove those partitions. Moreover, this partition assistant allows you to keep files if easy recovery is preferred and purges data when it needs to be truly gone.
Windows To Go Creator
AOMEI's Windows To Go feature is one I always like to talk about. It allows you to install an instance of the full version of Windows on a USB flash drive. These are also known as Live USBs that can tell your computer to directly boot the USB drive, which can be used as a portable version of Windows for testing purposes.
Make Bootable CD Wizard
Creating a bootable CD using this AOMEI Partition Assistant wizard is a great way to make your own Windows PE bootable CD/DVD or USB. Moreover, this setup device is very useful in troubleshooting and can easily help in fixing boot-related issues when the system fails to start.
Integrate to Recovery Environment
One of the most useful features offered by this partition assistant is the capability to integrate AOMEI applications into Windows RE. This provides a safe environment to manage disk partitions, disk or file system backup, and recovery without booting to the actual system or server.
Clone Partition
The Clone Partition feature is almost the same as the Clone Disk feature used to duplicate partitions. And this function allows you to build a similar shadow copy by duplicating the original partition for both SSD and HDD, which can be used for doing system migration or backing up data.
Create Partition
Creating a partition is one of the most frequently used computer maintenance tasks. To make things easier for you, this partition assistant provides a user-friendly way to create partitions on your storage disk quickly and safely.
Format Partition

Format partition is one of the basic functions in this software which allows you to format partitions quickly and also helps in changing the file system to FAT/FAT 32 and NTFS. Moreover, you can format all kinds of partitions, primary or extended, including a dynamic disk, GPT disk, and MBR disk.
Shred File
Shred File is another great feature that allows you permanently delete files from the hard drive and free up space. And the best part is that when you shred a file, you can rest assured that it cannot be recovered, which is good for users who want to delete sensitive information and files.
Some Smart Disk Partition Wizards
Partition Clone Wizard: This wizard can help you to clone entire drive partitions or migrate full Windows OS. You can also use this wizard to backup and restore files if they are lost or destroyed.
Disk Clone Wizard: Similar to the above one, this wizard helps you in cloning your hard drive and also in transferring a large amount of data between different disks.
NTFS/FAT32 Converter: This converter helps you to convert the file system of drives from NTFS to FAT32 or vice versa. And the best is that it allows you to perform the conversion without losing any data.
Note:- Since the FAT32 file system is only limited to 4GB file transfer whereas NTFS supports larger. In that case, this converter can be very helpful in transferring larger files.
AOMEI Partition Assistant Standard vs Pro
All the above-mentioned features are of the Standard version and now in this section, we will talk about the additional features which will be available in the Professional version. However, it's obvious that the Pro version is always better than the Free version in terms of features and functionalities. But before going to any conclusion, let's dive in further and see what more premium features you will be getting.
Aomei Partition Assistant Pro Features:-
Split Partition
Split Partition allows you to split an existing big partition into multiple smaller partitions to save different kinds of files or create an additional separate partition over the unallocated space. Moreover, it supports all types of primary, logical, and LDM partitions.
Allocate Free Space
This feature ensures allocating free space from one partition to another without losing any data. Using this partition assistant, you can easily solve the problem of insufficient space, or you can also make more space for your system by reallocating the hard drive space.
Align Partition
Align Partition enables you to reorganize the set partition on a hard drive, and it is more accurate and faster than the in-built Defragment feature. It also helps in reducing data loss caused by registry files and also optimizes the speed of the hard drive which makes disk defragmentation easy.
Dynamic Volume Management

This is another great feature that comes with the AOMEI Partition Assistant Professional version which allows you to extend or shrink the volumes in unused ranges of partitions to create new volumes within the free space. And unlike traditional volume resizing limits, your data and operating system are safe as this volume management process is fully realized in Windows Kernel mode.
Quick Partition
Quick Partition enables you to quickly partition a hard drive without leaving any data trace on the drive. This feature is extremely helpful in the cases where you quickly want to create a new partition on your computer.
Command Line Partitioning
This command-line feature is basically for advanced users, which can help you to automate some repetitive tasks by executing commands in a batch file or other scripts in a more flexible way. Besides, it also gives you the ability to create scripts for automated partition operations.
Migrate OS to SSD or HDD
It is the best solution if you want to move the OS to SSD or HDD without data loss. It will copy all your personal & Windows files including the installed programs from your old hard drive to the new one. It also supports migrating OS to a larger HDD or smaller SSD drive for disk upgrade.
Some Specialized Disk Partition Converter and Wizards
MBR/GPT Disk Converter: Using this converter you can easily convert the system disk from MBR to GPT without any data loss or deleting any partitions.
Dynamic/Basic Disk Converter: This converter helps you convert dynamic to basic volumes or vice versa while creating a new partition from the unallocated space.
Primary/Logical Partition Converter: This easy-to-use converter will help you to convert between primary and logical partitions within a few clicks ( no data loss occurs).
Easy Partition Recovery Wizard: This easy-to-use wizard is very powerful in recovering accidentally deleted or lost partitions. It also allows you to recover unformatted partitions and data in all possible file systems, including FAT16, FAT32, exFAT, NTFS, etc.
SSD Secure Erase Wizard: Using this utility you can securely erase all your data from your hard drive and can reset the SSD to its factory default settings without the risk of data recovery.
Extend Partition Wizard: Using this wizard you can easily enlarge your system partition and can also help free up space on the C drive without any data loss.
Disk & Partition Clone Wizard: This wizard is specially made for cloning disks or partitions at high speed which can be used for moving or upgrading to a new disk.
App Mover Wizard: This wizard can be very helpful in moving the installed application to other partitions or drives which has more free space.
Some Comparison & Impressive AOMEI Partition Assistant Reviews
Talking about the comparison between AOMEI Partition Assistant and EaseUS Partition Master then they both got ratings of 4.3/5 and 4.1/5 respectively.
According to the user's reviews, the partition assistant of AOMEI is better for business use whereas Partition Master of EaseUS is for basic users with minimal features. Apart from that, the product quality, support, and updates are better than the EaseUS product.
Minimum System Requirements
Operating Systems: Windows 11, 10, 8, 8.1, 7, Vista, XP (all editions, 32-bit and 64-bit)
CPU: Intel Pentium 4 Dual Core GHz or higher (compatible with main frequency 500 MHz)
Memory: 512 MB or higher.
Supported Disk Type: Basic Disk and Dynamic Disk
Supported File System: NTFS, FAT32/16, exFAT, Ext2/Ext3, etc.
Supported Storage Device: Hard Disk Drive (HDD), Solid State Drive (SSD), Hybrid Drive (SSHD), and Removable storage device.
Hard Disk space: For installing this Partition Assistant, you need 80 MB. Plus, you need to leave more free space for the virtual partition.
AOMEI Partition Assistant Pricing Plans
AOMEI Partition Assistant comes in 4 different and you can choose the right one according to your needs. Here I would suggest you to check the features again and see which are useful to you because in my opinion, the standard version of this tool has all features that a basic user needs.
But if you want some extra features like Migrate OS to SSD then I would suggest you to go for the professional version. And the best part is that AOMEI company always gives some amazing discounts and offers on their products.
Standard Edition: Free
Professional Edition: $59.95
Server Edition: $179
Unlimited Edition: $449.25
Technician Edition: $699
That's it for now…
Conclusion
So, that's all about the full review of the AOMEI Partition Assistant program and you can clearly see that it is very easy to use and can easily help you with your computer troubles. The program has many handy features that will save your time and efforts while using it for disk management.
Moreover, this partition manager also works great for advanced users and provides great functionalities with easy to use interface.
Stay tuned for the latest posts…
Feel free to share your thoughts via comments and also tell us about this post on AOMEI Partition Assistant Review: Is It Really Good? [ 2022 ].
If you liked this post, don't forget to share it…