How to Install Windows 11 from USB Flash Drive?
If you are looking for this, then you are in the right place.
On 24th June 2021, Microsoft released its latest version of Windows OS.
And even after 2 weeks, only very few have successfully installed it on their Laptop or PC.
Although, I have already shared much about Windows 11 in my recent posts including how to upgrade it, minimum requirements to run, & supported processors.
But still, there are so many users who are struggling with such issues.
And we are trying our best to solve these issues. So, stay tuned.
Likewise in this post, I will show how to do a clean install of windows 11 from USB Drive on a new PC.
So let's see how it works…
How to Install Windows 11 From USB Flash Drive [ Full Guide ]
But before we dive in further, I want to give you a quick overview.
In this tutorial, we will be creating a bootable USB drive and then to install windows 11 we first boot from this flash drive & then at last we will be finalizing all the settings.
And I would suggest you to first check if your PC can run Win 11 or not. If you are eligible and can run it on your system then that's great, you can easily move further.
But before that, please make sure you have all the necessary things that are required for installing this operating system.
A USB Flash Drive of at least 8Gb or more
Windows 11 ISO File ( Use the given link to download it. )
Once you have all these things with you can efficiently perform all these below-mentioned steps.
Note:- If you are using a Laptop, Tablet, or Notebook for Windows 11 installation purposes then I would suggest please charge it properly before performing the below-mentioned steps.
So, let's get started with the step-by-step guide…
1. Create Windows 11 bootable USB

First, you need to make a bootable device from the ISO image file. And it's pretty to create one, just you need a good tool and a pen drive. If you don't know how to create bootable USB for Windows 11 then check this detailed guide.
This guide shows the exact steps using Rufus, you can also use any other tool but in my opinion, Rufus works really great. However, if you want to create installation media using the official tool "Windows 11 Media Creation Tool" developed by Microsoft then you can get it from here.
Although, the below-mentioned process is pretty easy to follow but it's a little time-consuming. And that's why I want to recommend you to directly upgrade from Windows 10 to 11 without losing data. Because doing a clean install will wipe all your applications and data present on your system but if you are doing it purposely then that's great.
Now let's move to the next step…
2. Setting up BIOS Settings
Now that you have already created a bootable USB, it's time to use it. But for that, you need to configure your BIOS settings for properly booting it. Although, it's a pretty easy task but many users find it very difficult and for them, I have published a step-by-step guide covering how to boot from USB on windows 11.
If you are an advanced user, then you can use this quick guide:-
Restart your PC & as soon as it starts booting, press the BIOS Settings key or the Boot Menu key.
After that the BIOS settings will open up, now go to the Boot Settings or Boot Menu & then change the Boot order as USB Flash Drive on 1st Priority.
Now save all those BIOS settings and then Exit.
And done! Now your PC or Laptop will boot using the USB device.
Quick Tip:- Here are some BIOS keys ( F12, F11, F2, F1, Esc ) that you can use or you can search them according to your PC's motherboard.
Now let's move to the next step…
3. Start Windows 11 Installation
In the above section, the Boot Order is already set to the USB Drive. And now to start the installation process you just need to follow the given steps.
Now insert the Windows 11 USB into your PC or Laptop, that you have created in Step 1. After that Restart your system and then press any key when the message "Press any key to boot from CD or DVD." appears.
After that, it will start loading the setup files and then Windows Setup will open up, once loading is finished.

Note:- As you know that this operating system is still in the development phase and that's why I would recommend you to first try to install Win 11 on Virtualbox and then later on your host machine.
4. Installing Windows 11 OS
Now select the Language to install and Time Zone according to your country and then click on Next.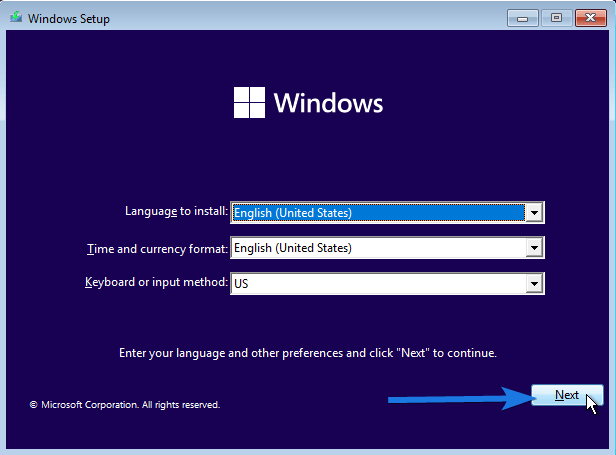 After that, click on Install now button to start the installation process.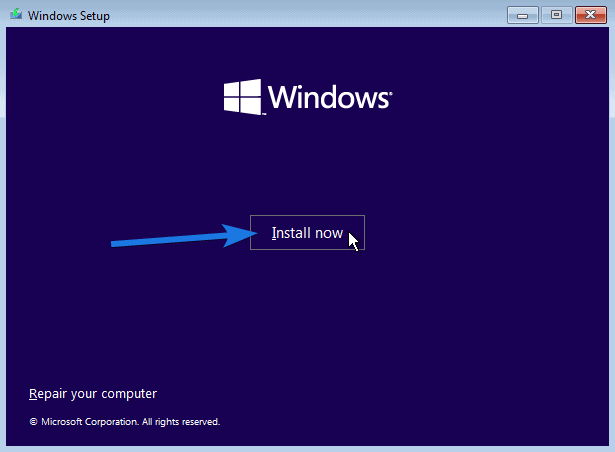 After that, the "Activate Windows" dialog box will open up, so if you have the Windows 11 product key then Enter it or simply click on "I don't have a product key".
And now the "Select the operating system you want to install" dialog box will open up, so select any version like "Windows 11 Pro" and then click on Next.
After that, the "Applicable notices and license terms" dialog box will open, so enable the "I accept the Microsoft Software License Terms" checkbox and then click on Next.
Note:- If you are facing some issues then you can check out this post on how to bypass secure boot & TPM 2.0.
5. Type of Windows Installation
After that, the "Which type of installation do you want?" dialog box will open up, so click on "Custom: Install Windows Only (advanced)".
Note:- You can also select the "Upgrade" option but here we are doing a fresh Windows 11 install from bootable USB. Before moving further, I hope you have already backed up your files because after that all your files will be deleted.
6. Disk Partitioning
After that the "Where do you want to install Windows?" dialog box will open up, so now click on "Drive 0 Partition 2" and then Format it & at last click on Next.
Apart from this, if you want to install it on some other partition then you can easily create a new partition by using the New option.
Note:- Since I have taken these screenshots while installing it on a Virtual machine that's why it is only 99 GB as storage space.
Note:- Due to some system requirements many users get stuck in this process and they should definitely check our guide on "how to install windows 11 on unsupported hardware". to fix it.
7. Copying & Installing Windows files
After that the "Installing Windows" dialog box will open up, showing all the files getting copied and ready for installation. So wait for a few minutes to complete the process.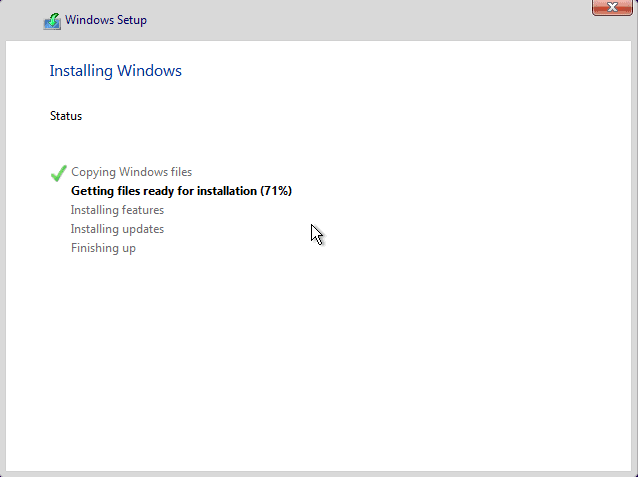 And once all the files are copied and installed, now it will automatically Restart & will show a message of "Getting device ready".
Now you have successfully installed Windows 11 on your PC and now comes the configuration part.
8. Settings up Win11 Preferences
Now after that a "Is this the right country or region" dialog box will open up, so select your Country and then click on Next.
After that, it will ask for "Is this the right keyboard layout or input method", so select the US for keyboard layout and then click on Yes.
Now if you want to add a second keyboard layout then you can easily do that by clicking on Add layout or you can simply click on Skip.
Now if you are connected to the Internet, then it will start Checking for updates if there are any.
After that the "How would you like to set up this device?" dialog box will open, so click on "Set up for personal use" & then click on Next.
9. Creating Microsoft Account & PIN
Now "Let's add your Microsoft account" and for that enter your Email & Password and then click on Sign in.
Now a "Create a PIN" dialog box will open up, so click on Create PIN.
Now it will ask for Setting up your PIN, so enter the PIN & then click on OK.
10. Finalizing Windows 11 Settings
Once you are done with the PIN creation, now it's time to finalize settings like Privacy settings and other settings for OneDrive. So now enable the Location and Find my device as Yes & then click on Next.
After that, a "Let's customize your experience" dialog box will open up, so if you want to customize them then you can do so or simply click on Skip.
After that the "Save space on your PC with OneDrive" will open up, so click on "Only store files on this device" and then click on Next.
And Done! Now it will take a few minutes for saving all these settings & once they are done, you will see Windows 11 running on your PC.
Some FAQs
How do I download and install Windows 11 ISO and USB all steps?
Can you install Windows directly from USB?
Yes, we can easily install Windows directly from a USB flash drive, just you need an ISO file and a tool to make USB bootable.
How do I install Windows 11 on a new computer with USB?
Installing Windows 11 on new PC or Computer using USB is very easy. But it's better to use an installation assistant tool given by Microsoft.
How do I install Windows 11 from BIOS?
To install Windows 11 from BIOS, just you need to follow some steps:-
1. Plug in the installation media.
2. Restart the system and go to BIOS.
3. Change BIOS settings to boot from USB.
4. Now follow the on-screen instructions to install it.
That's it for now…
Conclusion
So, that's all about installing Windows 11 from USB drive on your laptop, Computer, or PC. Also, if you got stuck anywhere in the above process then I would suggest you to again check the Win 11 system requirements that are required for running it properly.
Moreover, all the above steps are applicable for all devices and laptops like HP, Dell, Lenovo, and more. Also, you may find some steps different if you are online or connected to WiFi.
Stay tuned for the latest posts…
Feel free to share your thoughts via comments and also tell us about this post on How to Install Windows 11 From USB Flash Drive.