Do you own an Apple iPhone?
If yes then check out these 9 best iPhone tips and tricks for new users for better productivity in 2022.
If you already use an iPhone every single day, then you probably already know some of these hacks.
But this doesn't mean that this post is not for you.
Because we have also mentioned some handy and cool tricks which are known by very few people. (Especially the Tip no. 10)
On the other hand, Apple is one of the most innovative brands that always strives to improve their devices and Operating systems.
Recently they launched iOS 15 which has made their device more powerful, faster, and efficient.
But not all people know the iOS 14 tricks to make it more efficient.
Therefore in this post, we will share some best tips for new iPhone users that will help them to improve their experience.
Let's see how it helps.
9+ Best iPhone Tips and Tricks For New Users in 2022
But before we dive in further, I would like to tell you something.
If you are a new iPhone user and you have just recently moved from Android to iOS, then in the starting you will find some features & iPhone settings confusing.
But once you learned all these cool tips and tricks, you will never try to move back to any other mobile device.
So let's check out the list…
Tip #1: Hide Specific Photos
It is a very common situation to have some secret photos in your Photo Library that you don't want anybody to see. Luckily, there is an option that will allow you to hide some specific photos from your Photo Library without deleting them.
And to do so, just follow these steps:-
Go to the Photos App.
Open the album and then select the desired photos which you want to hide.
After selecting all photos, click on the sharing icon at the bottom of the screen.
Now scroll down and tap on the Hide option.
And done! all your photos are moved to the hidden album. (isn't this cool)
Tip #2: Transfer Pictures From One iPhone to Another
This is one tip that every new iPhone user strives for because sometimes transferring photos is not that easy. And if you are wondering how to transfer pictures from iPhone to iPhone, then there are very few ways that you can do it. Probably the easiest one is to use a specialized app that will not only help you to transfer photos from one iPhone to another but will also give you the ability to choose other files that you want to transfer.
On the other hand, if you don't care about editing the list of items that you want to transfer, then you can also transfer the photos by using iCloud. But the disadvantage of iCloud is that you cannot select what to sync and what to not and also it takes a longer time.
Apart from this, you can also use Airdrop for transferring the photos & if this also doesn't work for you then you can follow the above guide.
Tip #3: Use a Sleep Timer
If you are a person who really loves to listen to music on your iPhone then this trick is for you. Also, if listening to music helps you fall asleep, then you can set a timer to turn off any audio playback on your iPhone.
And to activate this feature, just follow these steps:-
Go to the Clock app.
After that click on the Timer option at the bottom of the screen.
Now click on When Timer Ends, then scroll down to the bottom & then select Stop Playing.
After that click on the Set option at the top of the screen & then adjust the timer according to you and press Start.
Tip #4: Use Apple Medical ID
This is not just a tip or trick and I want to advise every iPhone user to setup it and use it. Because in the event of an emergency, you can't imagine that how Apple Medical ID can be so important and beneficial.
If you know anyone who uses iPhone and also has some serious health issues, then please tell them to set up the Apple Medical ID.
And to do so, just follow these steps:-
Go to the Health app.
Now click on the Medical ID option at the bottom right corner of the screen to fill it out.
After that when you open the Medical ID, click on the Edit option at the top right corner of your screen and then fill out the information.
Note:- Please make sure that the Medical ID option is enabled when your phone is locked.
Tip #5: Use iPhone as Compass or Level Measure
The Compass app on your iPhone is probably one of the less used apps of all time. On the other hand, most of new iPhone users don't even know about this app and how to use it. You won't believe it, that this app is a very useful resource for the person who travels a lot to places like big deserts, oceans and also does hiking,
Apart from using it as a compass, you can also use the Apple Measure app as a leveling & measuring tool for different surfaces.
And to do so, just follow these steps:-
Go to the Compass app.
Now you can use your iPhone as a compass and can find out exact directions and locations.
After that tap the Home Screen button and Go to the Measure app.
Now you can use your iPhone as a measuring tool or a leveling tool.
Tip #6: Use Hey Siri!
Hey Siri! is one of the cool things which I really like about the iPhone. And you won't believe that this hack has helped me a lot. I always use Siri to make phone calls especially when I am driving or in a hurry. No need to go to your contacts and search for the name, just say Hey Siri call ___ & it's right there.
Probably a lot of people have encountered the situation when Siri funnily pronounces a name. But luckily, there is a way to fix that issue and teach Siri to pronounce names correctly.
Also, if you go into the iPhone Settings and then tap on Siri, there you can find many options to customize its voice, accents, and many more.
Tip #7: Control Center Customizations
There are so many iPhone tips for new users in this list but this one is my favorite. It may come as a surprise to you, but you can actually customize the Control Center on your iPhone device. Depending on the features and settings you use frequently, you can edit it the way you want.
Like I have added the calculator and screen recording feature in my Control Center. And you can also do so by just following the steps:-
Go to iPhone Settings app.
Now click on the Control Center and now find all the features which you can add or remove from the Control Center.
Now tap on the + icon to add and – icon to remove and then customize it according to your preference.
Tip #8: Use the 3D Touch
3D Touch is that one feature that looks really cool when used for Live Photos and Live Wallpaper. But it can also be used as a very productive feature to save time and to navigate faster through all the apps.
Also, there are so many other features too that you can enable from the 3D Touch Settings. Features like opening App menus faster, taking a selfie, scan a QR code, and much more.
Tip #9: Receive Calls On Your Mac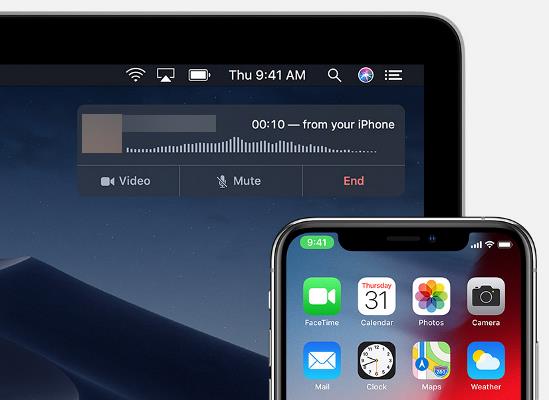 After using the iPhone, many users love to buy other Apple products like iMac, MacBook, and many more. And if you also own a Mac, then you can also take advantage of the best features that Apple provides – the syncing of multiple devices. Therefore by connecting your Mac to iPhone, you can easily receive all your calls directly on the Mac system. This not only saves your time but also makes your mac more productive and enhances the iPhone user experience.
And to do so, just follow these steps:-
Go to the Settings App.
After that click on Phone and then enable the pick to allow calls on other devices.
Tip #10: Improve Battery Charging
Most of the iPhone users face battery-draining issues and it's all because of the low battery capacity given by Apple. Although the battery is good enough according to the size of the screen but if you use iPhone for gaming then it will definitely drain quickly. But still, if you feel this battery issue without doing any gaming, then this is the best iPhone tips and tricks I can give to you & it will resolve the draining issue.
"Just enable the Flight Mode and then charge, this will definitely help."
Bonus Tip: Use Apple Earphones to take photos
Everyone knows Apple has a very good camera and its picture quality is brilliant. But some users still find it difficult to take high-quality images and I have seen most of the users complaining about this issue. And I think this is because of the shaky hands while capturing the photo and this can be resolved easily by using this quick hack.
"Just plug in your earphones and use the Volume button to capture photos."
Some FAQs
What are some cool iPhone tricks?
Here are 5 cool iPhone tips and tricks:-
1. Can measure height of anything.
2. Use Siri to open applications.
3. Find your phone using Siri.
4. Scroll top of the page by tapping.
5. Close multiple tabs in one go.
What secret things can my iPhone do?
Some secret things your iPhone can do:-
1. Use iPhone's hidden trackpad.
2. Use your phone as a scanner.
3. Tap on the Apple logo for more controls.
4. Use codes to unlock hidden features.
5. Use Siri to share the current screen.
Can you hide messages on iPhone?
How do I hide photos on my iPhone without deleting them?
If you want to hide your pictures without deleting them then follow these steps. First, open the Photos app on your iPhone > select desired photo > Click on sharing icon > select Hide option.
That's it for now…
Conclusion
So that's how by using these tips new iPhone users can easily enhance or improve their experience easily. So what are you waiting for Go ahead and use these hacks to improve your experience while using the iPhone. You can also use these tricks to connect your phone to your MacBook or iMacs and can save your time.
Stay tuned for new posts…
Feel free to share your thoughts and we would really love to know which of them you are already using from the list of 9+ Best iPhone Tips and Tricks For New Users in 2022.
If you liked this post, Don't forget to share this post with your friends & family who are big fans of the iPhone.