Want the Best Free Data Recovery Software for Windows 10?
If yes then this post is definitely for you.
Nowadays, ransomware or virus attacks are very common.
And due to this around 29% of users face data breaches every year. Moreover, 31% of IT Pros say the main cause of data loss is hardware or system failure.
And if you have also accidentally deleted files or lost them, then I can assume that you and your important data are in a serious dilemma.
But don't worry, if you act quickly and use any of these free programs.
You can easily get your deleted data back to your PC / Laptop.
So, without any further delay, let's get started…
11 Best Free Data Recovery Software For Windows 10 [ 2022 ]
However, it nearly looks impossible to get back files after these accidental deletions or hardware failures. But yes, they can be easily recovered if the files are not overwritten by any other files or data. And all this can be done by using the shadow copies of the files that are available on your PC or Laptop even after deleting or removing the files.
Here are some common reasons for data loss:-
Hard Drive Failures.
Human Errors
Software Corruption.
Ransomware & Computer Viruses.
Theft, Security Breach, and Others.
Now let's directly move to the list…
Recuva is one of the best free unlimited data recovery software for windows 10 which I personally use. Whenever I want to recover deleted photos or data I always use Recuva. And because of its powerful features and abilities, it is very well known for recovering photos within a few clicks. Using this tool, you can easily get your data back from an external hard disk, USB Drive, Pendrive, and other digital devices.
Pros:-
No size limit. portable & easy to use.
Features like deep scan & hidden partition.
Support NTFS and FAT file systems.
Support preview image before recovering it.
Cons:-
No pause & resume recovery session support.
Not available on Mac, Android, and iPhone.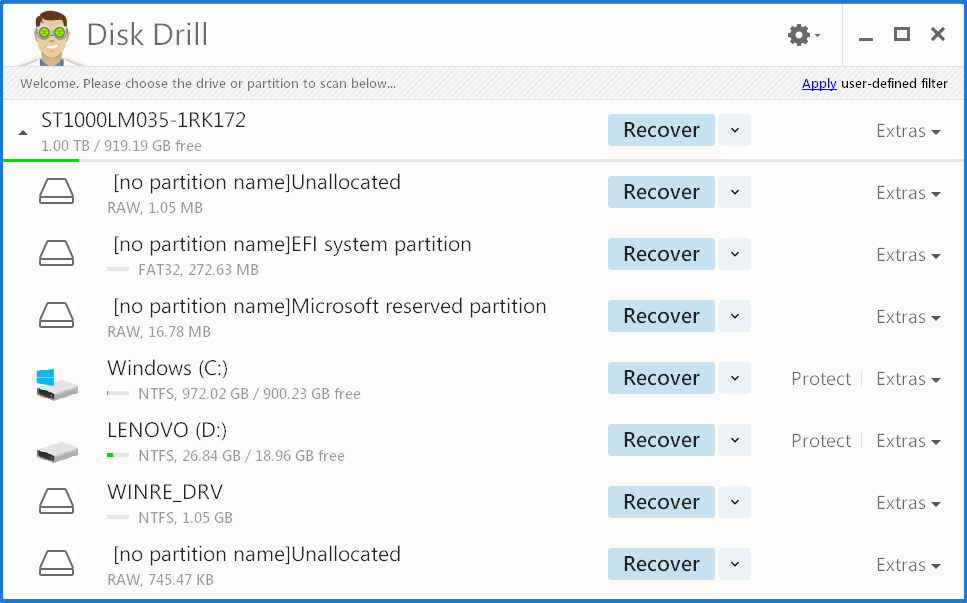 Disk Drill Data Recovery is one of the best data recovery software for windows 10 that was previously known as Pandora Recovery. Basically, it is the improved version of the pandora recovery app in terms of features, user interface, and performance. One thing which I really liked about this tool is that you can easily create a disk image and then can use it to recover your deleted data back without risking the original data.
Pros:-
Easy to use modern user interface.
Support pause and resume recovery.
Features like deep scan and vault protection.
Scans unallocated space & hidden or lost partitions.
Clone hard drive images in ISO & DMG formats.
Supports iOS and Android devices.
Cons:-
No portable version is available.
Size limit of the free version is 500MB.
No basic options like preview images.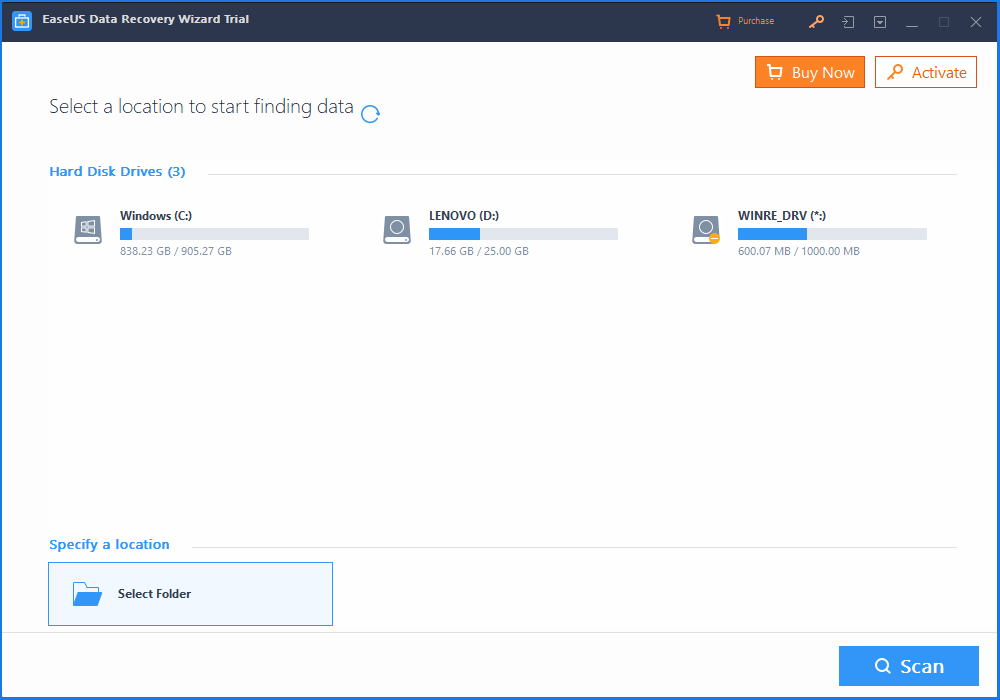 EaseUS Data Recovery is another wonderful data recovery tool developed by EaseUS company. Using this program you can easily restore deleted data from SD Card, Pen Drive, or USB within a few clicks. One special feature which I would like to mention here is that you can save your scan results and then can restore your files later without running a full scan again. Moreover, it has a very sleek user interface similar to Windows 10 Explorer.
Pros:-
Can add a user interface option here…
Available for both Windows & macOS.
Support hard disk formats like NTFS & FAT.**
Can pause and resume recovery session.
Support preview before restoring files.
Cons:-
No portable version is available.
Free size limit of 2GB. ( But much better than other tools )
WinfrGUI is one of the best free data recovery solutions that is growing very rapidly among users. And the best part is that this tool is totally built from scratch using the official Microsoft application and that's why it is a great alternative to Windows File Recovery. Moreover. this provides you with a very easy-to-use user interface whereas the official tool is a command-line program.
Pros:-
Very light-weight tool ( Just 3.69 MB )
Advanced options like Deep Scan.
Supports almost all file formats. ( .jpeg, .zip, .docx, .excel & more )
Can recover from USB, Memory Card, HDD, and SSD.
Also works with formatted and damaged drives.
Compatible with Windows 10/11.
Cons:-
Doesn't have a pause and resume option.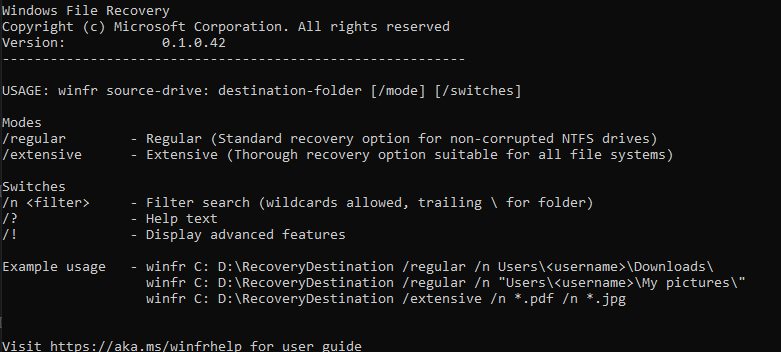 In 2020, Microsoft officially launched this tool and it is also considered as the top free file recovery software for Windows 10. But one thing which I didn't like about this tool is that it has a command-line interface which means you have to enter a command for every task. Although, beginner user struggles while using it but if you are an advanced user then you can easily recover deleted files using different commands for specific formats.
Pros:-
Official application by Microsoft.
Lots of customization options via commands.
Support file systems like FAT, exFAT, and NTFS.
Works well with the corrupted hard disk.
Cons:-
No preview option is available.
Support Windows 10 or later versions.
By default recover files to the same location.
Specific commands for different file formats.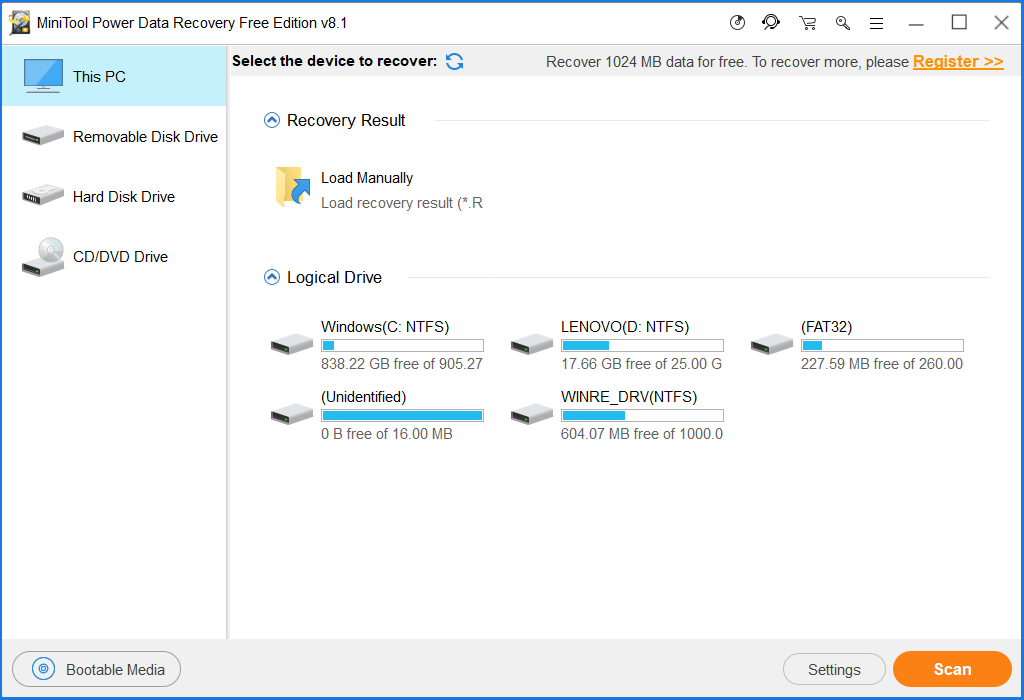 Minitool's Power Data Recovery is another superb data recovery app with a modern user interface. This recovery program quickly scans for deleted data without any issues but the only downside is that there is no portable version available which means you need to install the full version on your PC. Eventually, this may overwrite some files leading to a less efficient recovery process.
Pros:-
Supports file types like PDF, .docx, Excel & more.
Scan multiple files & folders at the same time.
Scans and retrieves deleted data quickly.
Support pause and resume recovery session.
Cons:-
No portable version is available.
Size limit of the free version is 1GB.
Remo Data Recovery is a powerful data recovery solution that can recover your lost information quickly. It has a very simple user interface and works on different devices like PCs, Laptops, and more. One which I really liked about this tool is that they provide free technical help to customers 24×7 through a live chat option and also via email support.
Pros:-
Free software updates are available for 1 year.
Supports more than 300 file formats.
Compatible with all removable devices.
Preview files health before recovering them.
Supports all versions like Windows 11, 10, 7, 8, etc.
Cons:-
Preview feature is only for photos & videos.
Portable version is not available.
For free users' the size limit is 1GB.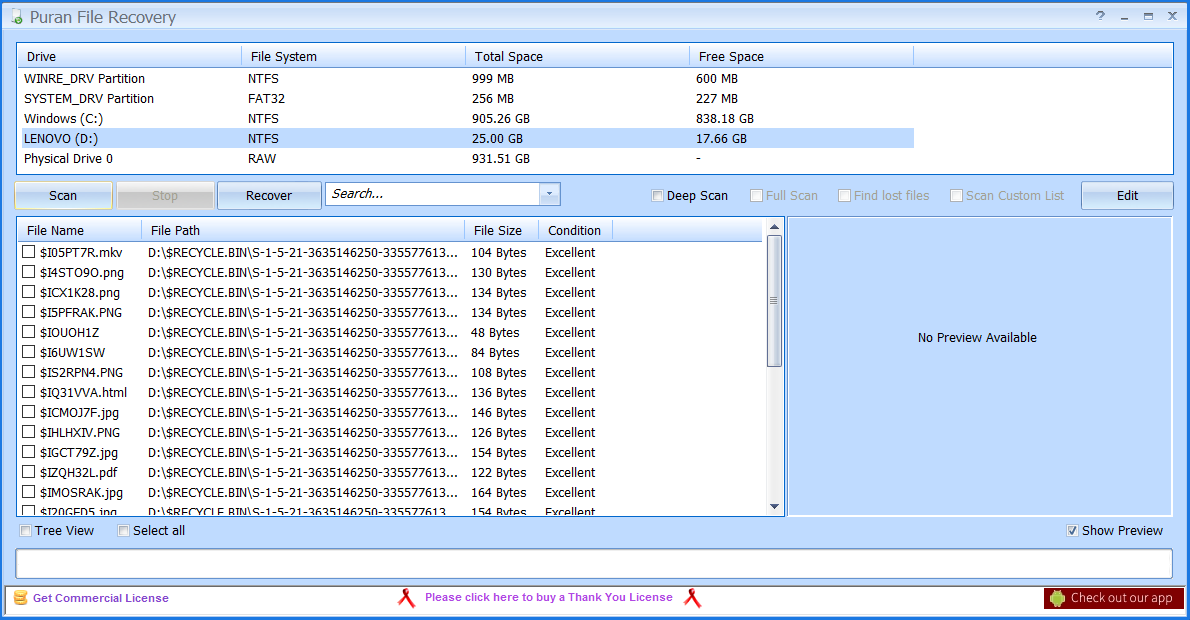 Puran File Recovery is another best free Windows 10 data recovery software on this list. It has a very easy-to-use interface and also has lots of advanced features for faster recovery. Also, this is the only software on this list that can be compared with Recuva because of its advanced features. Moreover, using this tool you can easily restore deleted files from Recycle Bin, Pendrive, SD Card, Hard disk, and more.
Pros:-
No size limit.
Support multiple file formats.
Advanced features like Deep Scan & Full Scan.
Shows preview image before file recovery.
Cons:-
Not regularly updated since 2016.
No support system from the company.
Wise Data Recovery is a great data recovery software for PC that is completely available to free download. The program has a very good user interface and also scans storage devices faster as compared to other software. One thing which I really liked about this tool is that it has a small size setup file which makes this program lighter and faster for scanning deeply buried deleted files.
Pros:-
A portable version is available
Easy to use, scans quickly & 2GB free limit.
Quality indicators that indicate file quality.
Preview image option available.
Cons:-
Files are not recovered to the original folder.
No options like Deep Scan & Hidden Partition Scan.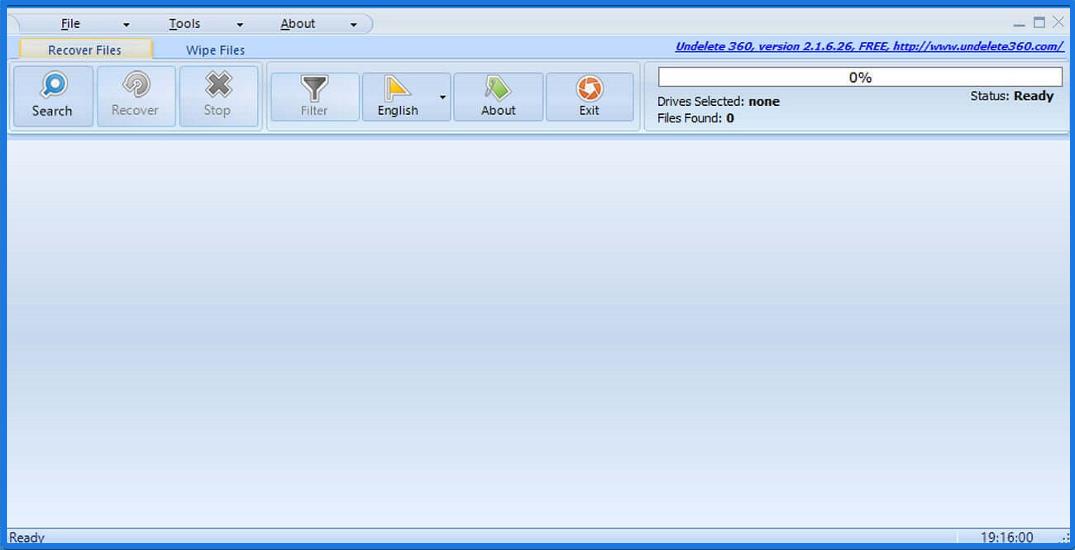 Undelete 360 is another freeware data recovery utility available for Windows 10 users. Using this free tool you can easily undelete your accidentally lost files from your computer, Flash Drive, USB Drive, SD Card, and Memory Card. Moreover, this software enables you to recover files from formatted hard drives and floppy drives.
Pros:-
Portable and no size limit.
Undelete big files from the recycle bin.
Support recovery on Windows shared network.
Compatible with all file types like videos, audio, excel, emails, documents, zip files, and WinRAR compressed files.
Cons:-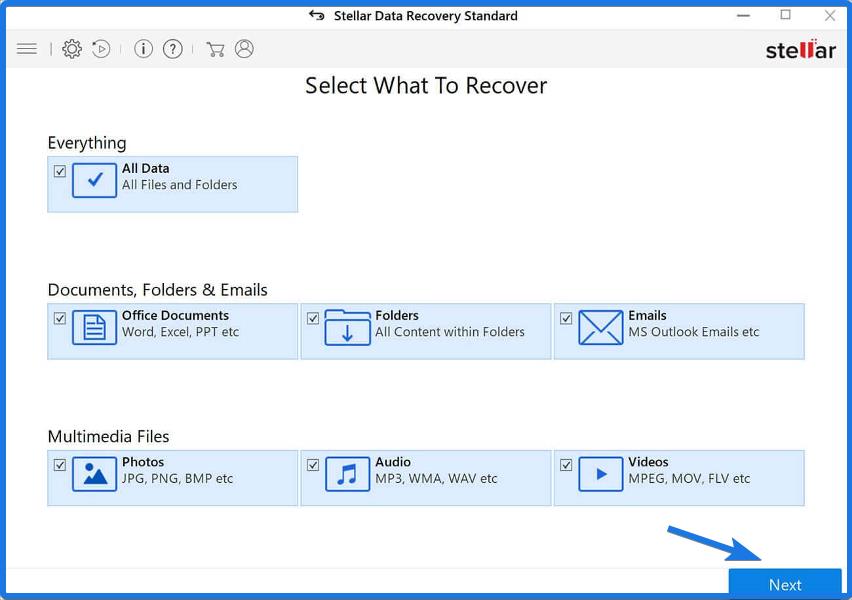 Stellar Data Recovery is one the most professional data recovery tool available in the market. This program is already famous for its performance and is loaded with multiple features for better recovery. Moreover, I really liked the simple wizard of this tool which also shows the real-time scanning files before completing the full scan.
Pros:-
Fast and easy-to-use wizard.
Fully loaded with advanced features.
Recover data from different devices like USB, Smartphones, Hard disks, and Hidden partitions.
Support Word, Excel, PPT, and many more files.
Available for iPhone & Android users.
Cons:-
No portable version is available.
Size limit of the free version is 1GB.
Files are recovered to the same folder.
TestDisk & PhotoRec is an open-source data recovery utility built for different operating systems like macOS, Linux, Windows, and many more. Earlier they were two different tools, TestDisk for recovering files like video, documents, & archives from hard disks and PhotoRec for deleted photos. One thing which I love about this tool is that you can recover unlimited data for free and is also capable of fixing booting issues.
Pros:-
Only comes in a portable version.
Free to use and no size limit.
Support more than 400 file formats.
Deeply scans missing partitions.
Also, support exFAT, HFS+, FAT & NTFS file systems.
Cons:-
No option to undelete a specific file.
Command Line Interface. ( Only for advanced users )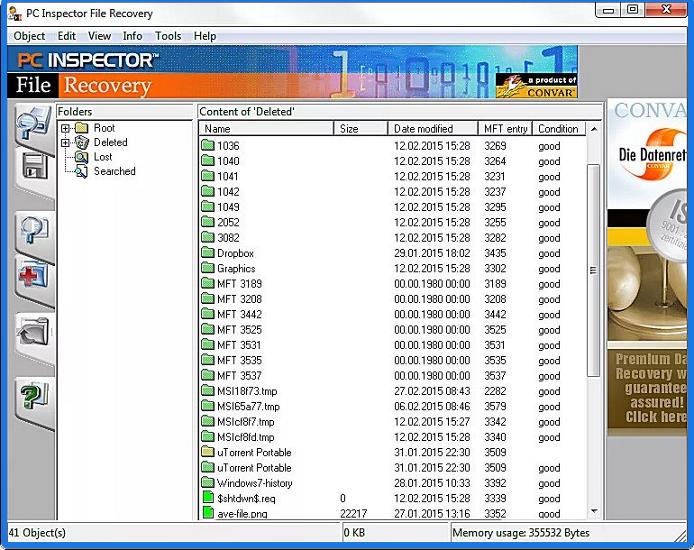 PC Inspector File Recovery is another popular free data recovery tool for windows 10 developed by Convar. Using this utility you can easily scan your partition even if the boot sectors have been erased. Basically, it scans or retrieves deleted files on the basis of date & time stamp files present on the drive. Moreover, this tool is extremely suitable if you are recovering from a corrupted hard drive.
Pros:-
Free and easy to use.
Faster and better as compared to paid tools.
Support a wide range of file formats.
No image preview support.
Cons:-
No support from the company.
Recoverit is a great data recovery software for Windows users which is developed by Wondershare company. But why this is in the last position, it's because the free version only allows users to recover 100MB of data which is pretty less. Otherwise, this is application is really great, and using it you can easily restore your lost data from SD Card, external hard drive, USB drive, and more.
Pros:-
Easy to use with 3-step recovery.
Supports different file formats like documents, emails, audio, videos, photos, .docx, and zip files.
Preview option before recovering files.
Free technical support for free users.
Cons:-
Size limit for the free version is 100MB.
Fewer features in the free version.
Pro version is a little expensive.
That's it for now…
Conclusion
So, that's all about the top free data recovery tools which are available for Windows 10 users. All the above-listed apps are free to download and available in both 64-bit and 32-bit versions.
Moreover, every tool has there own pros and cons, some work with lost partitions and some with the formatted hard disk. So, it totally depends on you and for which purpose you need them.
Stay tuned for the latest posts…
Feel free to share your thoughts via comments and also tell us about this post on 11 Best Free Data Recovery Software For Windows 10 [ 2022 ].
If you liked this post, don't forget to share…