Want a network speed monitor on Windows 11?
If yes, then you are in the right place.
When you use an Android device, you have the ability to show the internet speed quite easily. In fact, there is a pre-built feature for this.
But what if you want to see the network speed on your Windows 11 operating system?
However, there are various ways exist to monitor traffic or to keep track of how fast your internet is working.
But the worst part is that there is only one in-built tool for this: Task Manager. Despite its usefulness, you can't pin that to the taskbar.
This basically means that you have to launch the tool every time you want to check the net speed in Windows 11 OS.
But don't worry, we have found some ways to check in real-time.
So, without further ado, let's get started…
How to Use Network Speed Monitor on Windows 11 [ 3+ Ways ]
But before we dive in further, let's see a quick overview.
Fortunately, there are a number of third-party tools that enable a real-time display of the download and upload speed of your internet connection.
And if anyone of you is searching for "NetSpeedMonitor for Windows 11" then it's not working anymore. Earlier, it used to work but now it is not compatible with this latest operating system. Hoping that an update will be released to fix this issue.
In the meantime, you can also go through these alternatives. But don't feel that they are not helpful because here we have listed the best net speed monitor for Windows 11 system.
Note:- If you are having issues with internet speed, try cFosSpeed.
So, let's get started…
1. Net Speed Meter
Net Speed Meter is one of the best tools you can use to monitor the bandwidth or the real-time speed on your Windows computer's network. And the best part is that you can get this application from Microsoft Store for free and can also add this auto-startup app, so that it can automatically start when you boot up your computer.
Furthermore, this application can be customized according to your needs like changing fonts, text sizes, themes, colors, and also the speed unit can be changed from bits to bytes.
Now let's see how to install it on Windows 11:-
1. Get the app from the Microsoft Store.
2. Upon completion of installation, launch the app by clicking on it.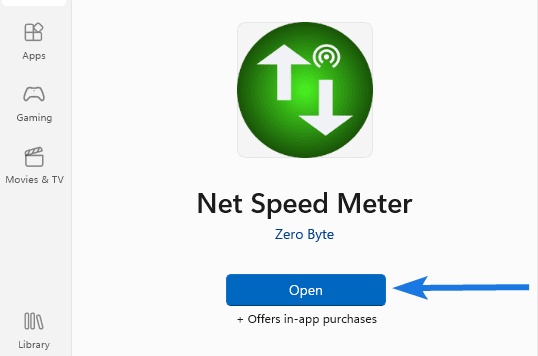 3. Now a new monitor will appear in the upper right corner of your screen, just right-click on it and select the "Keep in Taskbar" option.
4. And then you will see a network speed monitor in the taskbar.
Quick Tip:- You can also drag and drop this network monitor anywhere on the desktop screen, like a widget.
2. 8GadgetPack
Although Microsoft has added lots of new gadgets to the panel of Windows 11. But still, there is not a single widget to monitor internet speed that can be added to the panel to check it continuously.
In that case, the only option left is to use a third-party application like 8GadgetPack which can easily display the network speed in real-time on any PC. And the best part is that this app is compatible with almost all operating systems like Windows 10, 8, and 7.
And here's how you can use the 8GadgetPack:-
1. First, get started by downloading it from here.
2. Installing the software is easy, just you have to double-click on the setup file and then click on the Install button.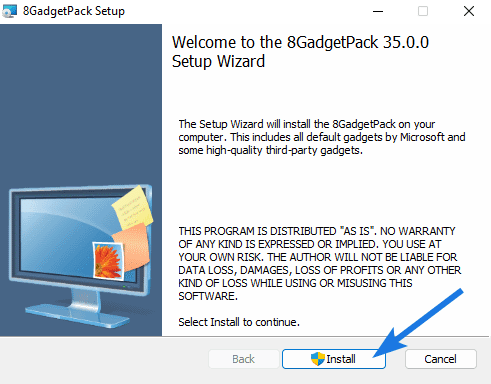 3. Once installation is done, you will see a sidebar on your desktop. So to move further, right-click on the sidebar & then select the "Add Gadgets" option.
4. After that, search for the "Network Meter" gadget or widget and then double-click on it.
And then it will automatically be added to the sidebar.
5. Now if you want to configure it, then right-click on the sidebar gadget and change the display, color & other options accordingly.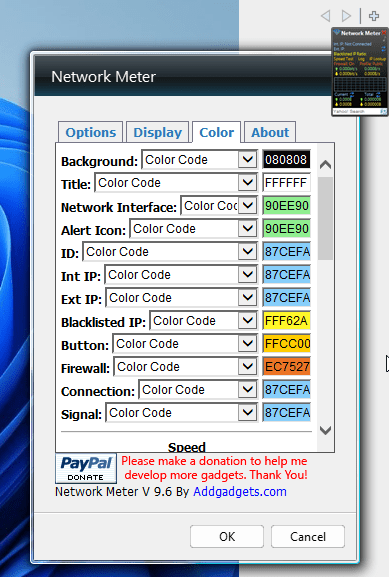 3. Traffic Monitor for Windows 11
TrafficMonitor is another free third-party tool that you can use to keep an eye on the speed of your uploads and downloads at all times with this small widget in the taskbar. In addition to that, you can also use this app as a permanent "Internet Speed Monitor for Windows 11" which also displays CPU and Memory usage.
Apart from that, you also get lots of other features like historical traffic, drag-drop, add-in taskbar, or desktop screen. For customization, options like background theme, color, and different text fonts are available.
Now let's see how to setup it:-
1. First of all, download the Traffic Monitor app from Github.
2. After downloading the zip file, right-click on it and then select the "Extract All > Extract" option.
3. Once the file is extracted, right-click on the "TrafficMonitor" and then choose the "Run as administrator" option.
4. After that, you will see a TrafficMonitor gadget opened on the desktop screen. Now right-click on it, then enable the "Show Taskbar Window" option and uncheck or disable the "Show Main Window" option.
5. Now if you want to do some customization, then right-click on the widget and click on the Options.
And then the "Options" dialog box will open up, where you can customize settings for the main window, taskbar window, and general.
Now let's see some other ways.
4. Manually Check Network Speed
However, all the above methods work perfectly fine if you want to monitor the net speed in real time. But if only need this a few times, then you can also check the connection speed without using third-party applications.
Yes, you heard it right! By using the default network settings of Windows 11 you can check the internet speed in the form of sent and received bytes. Just you have to follow the below-mentioned steps:-
First, go to the Control Panel.
Now click on the Network and Internet settings.
After that, open the Network and Sharing Centre section.
Now in the left pane, click on the Change adapter settings option.
At last, double-click on the network, and then all the connection information like speed, duration, and activity will open up.
5. Check Internet Speed Online
There are numerous websites exist that permit you to test your internet speed, making it easier than ever to find out how fast your connection is while uploading and downloading files. You just have to open your browser and then visit any of the sites listed below, I usually prefer the in-built tool of Google.
Just go online and then visit any of these websites:-
Internet Speed Test by Google.
Speedtest by Oakla.
Fast.com
That's it for now…
Conclusion
So, that's how you can easily monitor your network traffic using different widgets and gadgets in the taskbar. And I hope you have liked all the internet speed meter for PC which we have mentioned above.
As we've discussed in this blog, there are both third-party methods as well as using the default Windows settings that you can use to look for this information or stats of your connection.
Stay tuned for the latest posts…
Feel free to share your thoughts via comments and also tell us about this post on How to Use Network Speed Monitor on Windows 11.
If you liked this post, don't forget to share it.