Does Intel Core i7-6700K support Windows 11?
If you are looking for this question, then you are in the right place.
According to Microsoft, this processor is not supported for this latest Windows operating system.
But I have also seen many users running Windows 11 on Intel CPUs and according to them, they say that it is fully compatible.
Apart from that, some users have also reported that they are also getting new Windows updates even after having an Intel i7 6700K processor on their laptop, computer, or PC.
I know that this situation is very confusing and it is creating many misconceptions regarding the 6th generation CPU for Windows 11.
So, to avoid this scenario, let's dive in further…
Does Intel Core i7-6700k Support Windows 11?
If you want to know the clear-cut answer then No, Intel Core i7-6700k is not supported by Windows 11. But before going to any conclusion let's get some more detailed information about this processor.
First, if we look at the i7-6700k release date then it's September 1, 2015, which means it is around 7 years old. But looking at the specs of this CPU, it is fully powered with a 4.00 GHz processor and is compatible with the majority of the operating systems even in 2022.
Earlier we were thinking all these issues were coming due to TPM but when we checked for compatibility using the PC Health Check App then we got to know that Secure Boot and TPM 2.0 is enabled but only the Intel i7-6700K processor doesn't support Windows 11.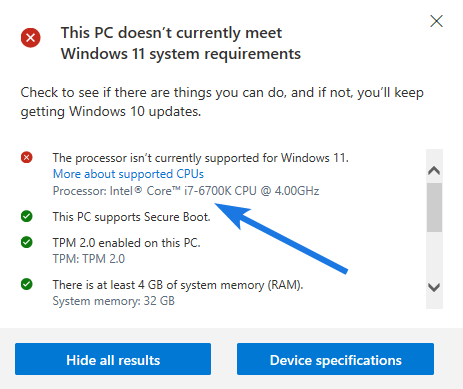 Now let's get into the detail…
Can i7 6th Gen Run Windows 11?
Yes, Intel i7 6th generation can easily run Windows 11 but currently, according to Microsoft, they are not ready for this new operating system. If we look at the minimum specs that are required for this 11th OS then they are absolutely valid and as per the given requirements.
Will an Intel Core i7 6700 Work with Windows 11?
We can't surely say that but yes it may work. Apart from that, Intel Core i7 6700 and 6700k both are different processors with different specs and performance capabilities. And if you really want to install Windows 11 on i7-6700k or want these CPUs to work then you can easily bypass requirements that are necessarily required.
Will Windows 11 Support Old Processors?
No, Windows 11 does not support old processors. Earlier when this operating system was newly released, the oldest CPU supported was the 7th generation but then after some changes, they set this criterion to the 8th gen processors and also provided a list of Intel processors that fulfills this basic requirement.
Like this CPU, the i7-6820HQ is also struggling with these issues.
Is the i7 compatible with Windows 11?
Yes, the i7 processors are fully compatible with Windows 11 but this totally depends on the generation of CPU that you are having on your system. If you are having 8th gen then it is okay but if it is 7th or 6th gen then it is not compatible. But I have also seen many users that have installed Windows 11 on unsupported CPU or hardware.
That's it for now…
Conclusion
So, that's all about the i7 6700k CPU and whether will it be ever supported for Win 11 or not. Because I know that there are so many users having this processor on their system and want to update to this new OS.
Moreover, we have tried to answer all the related queries and have also gone through forums like Reddit for discussions and other questions.
Stay tuned for the latest posts…
Feel free to share your thoughts via comments and also tell us about this post on Does Intel Core i7-6700k Support Windows 11?
If you liked this post, don't forget to share it.