How to Use Text to Speech on Windows 10?
If this is the same question popping into your mind, then this post is definitely for you.
In our previous post, we have already talked about saving Windows 10 spotlight images which is another lesser-known feature like Text-to-Speech of this operating system.
And If you don't know about it, then it is a feature that allows you to convert your text into speech in different languages and voices.
This means that using this feature you can easily make your Windows 10 computer to read text aloud for different purposes.
And to make this process even better, Microsoft has added an in-built application called Narrator.
Which is very easy to use and absolutely free.
So, let's see how it works…
How to Use Text to Speech on Windows 10 [ Turn on / Activate ]
But before we go further, let's get some more info.
Windows Narrator is a screen reader app that was developed for users with vision problems so that they can also use this operating system without any issues. Apart from that, I have seen many users have lots of queries related to and that's why I am answering one question here only.
Does Windows 10 have text to speech?
Yes, it does have this feature. Initially, it was developed to read the text present on the screen but now it has been updated with lots of features like reading every action performed on Windows, can add more voices, and also can read web pages online.
In this post, I will show you how to activate text to speech feature and use it with the Windows Narrator screen reader on Windows 10.
So without further ado, let's get started…
Turn On or Enable Windows Narrator
Generally, this application is turned off by default. So first we will turn on the narrator and then we will see how to use it with the text-to-speech in Windows 10.
Note:- If you know that it is already enabled then skip this part.
And here are the steps to follow:-
1. Go to the Start menu and then click on the Settings icon.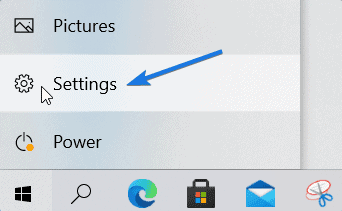 2. Now click on the Ease of Access settings button.
3. After that, go to the Narrator tab from the left-hand side section. And then, on the right-side pane, Turn on Narrator by using the toggle button.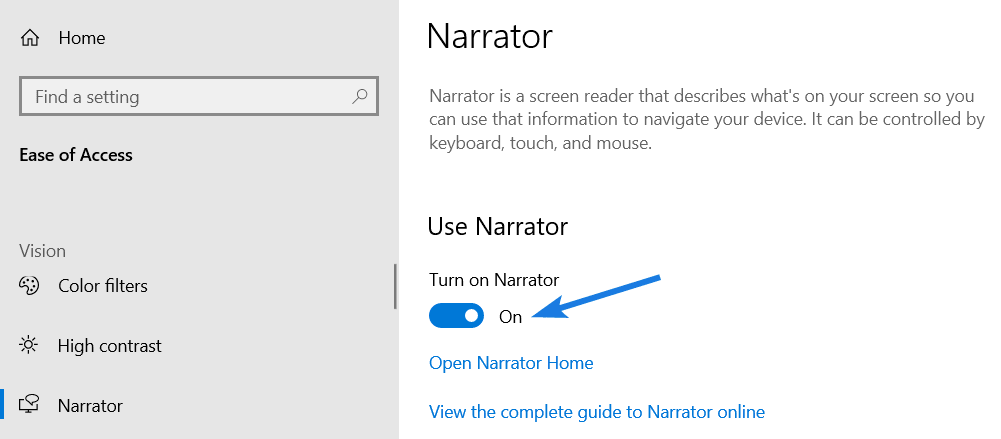 4. Now the Narrator dialog box will open up, showing the settings and keyboard shortcut keys that you can use. Once you are done, click on the OK button.
5. After that, a "Welcome to Narrator" dialog box will appear and then click on the Exit Narrator button to close it.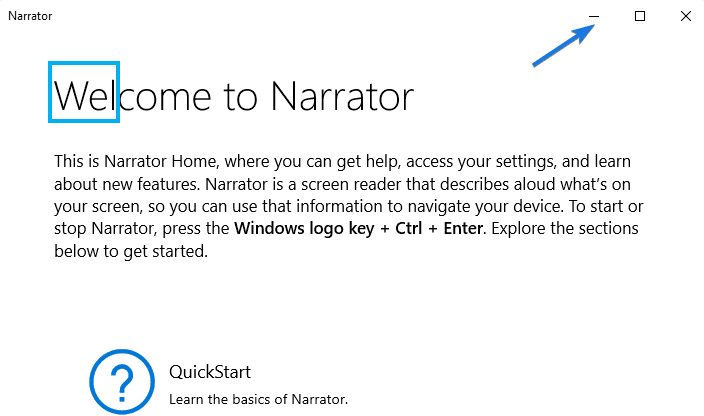 And Done! You have successfully enabled the Windows Narattor and if you want to change some preferences then go to Settings > Ease of Access > Narrator.
Now let's see how to utilize it further…
Activate and Use Text to Speech in Windows 10
However, after enabling the narrator it's pretty easy to use this text-to-speech but I would suggest you to configure or activate it fully before using it. Here we will also be taking the help of Notepad for the demo purpose.
And here are the steps to follow:-
1. First, open the Control Panel by searching in the search box and then pressing the Enter button.
2. Now go to Ease of Access by clicking on it.
3. After that, click on Speech Recognition to configure speech on your computer or PC.

4. Now on the left-hand side section, click on the Text to Speech link.

5. Here you can select the voice of your computer as Microsoft David Desktop – English (United States) and can check Preview Voice or Voice speed & then click on the OK button.
6. Now open any text file that you want to be read aloud or converted into speech in the Notepad. Once the file is opened, press Windows Key + Ctrl + Enter shortcut keys to turn on the narrator.
7. After that, the narrator dialog box will open showing the keyboard changes, so click on OK.
8. Now the "Welcome to Narrator" window will pop up, so Minimize it.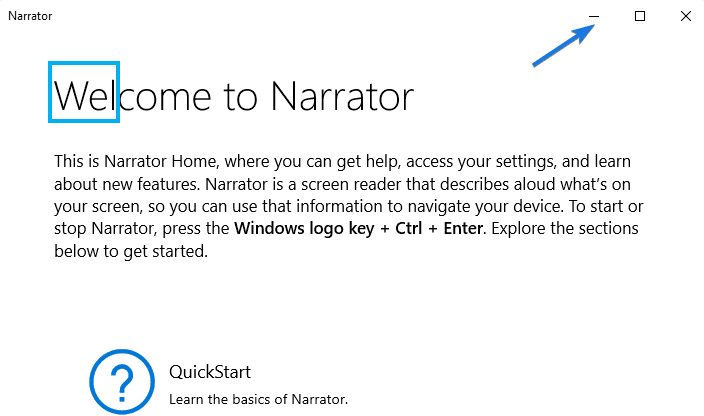 At last, go to the text file which was opened in Notepad and then press the Shift + Ctrl + J shortcut keys to read the selected text, and you are done.

Windows 10 Text-to-Speech Shortcut Keys
Although, the above two mentioned shortcuts are enough for reading text on the screen using the Windows Narrator. But if you want to use it on daily basis then here are some more shortcuts for faster navigation.
Start or stop Narrator: Windows key + Ctrl + Enter
Exit Narrator: Narrator + Esc
Read current page: Ctrl + Narrator + I
Read current paragraph: Ctrl + Narrator + K
Read current sentence: Narrator + Ctrl + comma (,)
Read current line: Narrator + I
Read current word: Narrator + K
Read current character: Narrator + Comma (,)
For more shortcuts, you can visit this source.
How to Convert Text to Speech Online Free
If we talk about the converting process then it's not that much easy in Windows 10 because for that you have to record it using third-party software and then convert it into different formats.
And in that case, online apps can work well as they have lots of features as compared to Windows Narrator and are much easier to use.
Here are the two best picks from our side:-

Both the online reader apps can easily convert text into speech with lots of voice support, languages, and speed adjuster. But the Naturalreaders has one advantage, you can directly download the converted text into MP3 format with good quality sound.
That's it for now…
Conclusion
So, that's how you can easily enable or turn on text-to-speech in Windows 10 and can use it with the narrator application. And the best part is that you can also follow the same method for Windows 11, 7, 8, and more.
Moreover, I would suggest you to online apps for advanced features like Voice tuning, WaveNet voices, and Custom Voice.
Stay tuned for the latest posts…
Feel free to share your thoughts via comments and also tell us about this post on How to Use Text to Speech on Windows 10 [ Turn on / Activate ].
If you liked this post, don't forget to share it.