Do you own an Apple MacBook or MacOS?
If yes, then check out these best mac productivity tips & hacks for maximum efficiency.
And if you are a developer, freelancer, or simply do your office work using Mac OS then you are definitely gonna love these tips and hacks.
Earlier I always use to think about why people tend to invest in such expensive computers like iMacs & Macbooks.
But then I realized that the performance and the speed they provide are absolutely amazing.
Apart from this, there are also many people who just buy Apple devices for the sleek modern design they provide.
And many people invest money in MacOS for their work so that they can enhance their work productivity.
But unfortunately, a very big part of those people aren't aware of many features and tips that could make them even more productive while using a Mac, MacBook, or any other Apple device.
Thus today, we are going to share this list of the best and most effective productivity tips for Mac OS users.
Let's see how it helps.
9+ Best Mac Productivity Tips & Hacks for Maximum Efficiency [2021]
But before we begin with the list, I would like to tell you something.
If you were a Windows user before and you just recently switched to Mac OS, then in the beginning you might feel this operating system difficult and confusing.
But once you learned how to use it with all these mac productivity tips, then you will never want to go back to another computer.
So let's get started…
Tip #1: Reduce Clutter on Your Desktop
As the desktop is the first thing you see after you start your Mac and it is the first thing that you should clean up to make your work more productive. And eventually, this will make your work easier and you will be able to find needed files faster. Also when you free up mac space from your desktop, it will perform faster because each thumbnail needs additional resources to be displayed.
Tip #2: Optimize Storage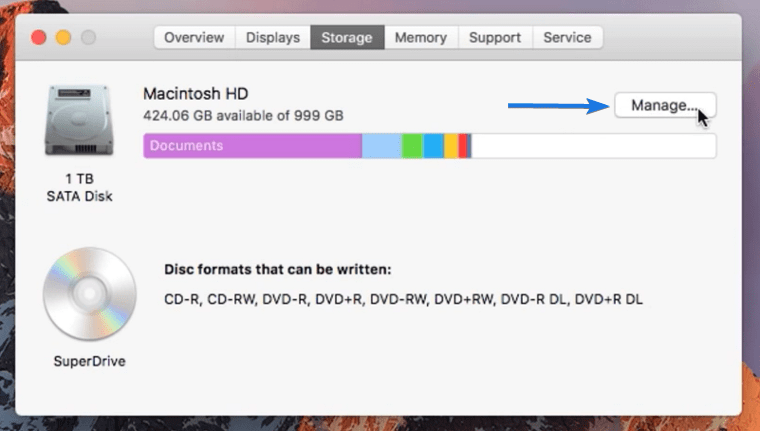 A fast and smoothly running computer is always important for productive work, especially when you are using heavy software like Photoshop or Adobe Premiere Elements. Therefore, you always need to have enough free disk space for Mac to run those programs smoothly.
And if you have low disk space, you can easily fix it by using the storage optimizations that are offered on macOS. And if you don't know about this, just follow the below steps:-
Click on the Apple Icon at the top of the screen and then click on the About This Mac option.
Now Click on the Storage tab.
After that click on the Manage option. (Next to the Colorful bar of the disk)
Here you will find various optimization options and at the end click on the Reduce Clutter option.
Now you can review all your files and can delete unnecessary files to free up some disk space.
Tip #3: Use a Desktop as Download Folder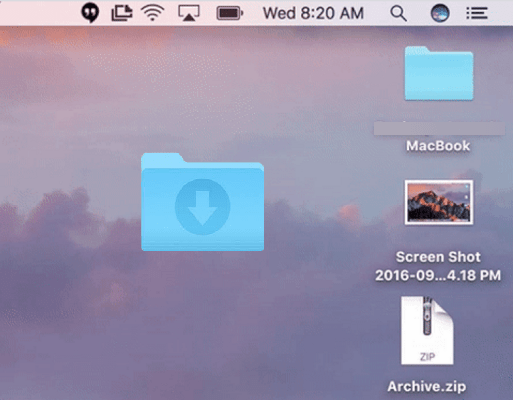 This is one of my favorite productivity hack for Mac users that has helped me a lot in saving so much time. Using desktop as a downloading folder makes your work more simple and by this downloaded files can be easily found. On daily basis, I receive lots of PDF, Excel, or Image files from my office work, and downloading them straight to the desktop always reminds me of some pending work. This also helps you from storing unnecessary old files in your default download folder.
Tip #4: Remove Apps You Don't Need

Have you ever noticed that whenever you new install a new Operating system on your iMac or Macbook, it works really fast. But as soon as you start installing new apps or files, day by day its performance is decreased.
And that's why I always recommend removing unnecessary apps that you don't need and this also applies to your phone. Apart from that, you can also enhance your experience by using these iPhone tips and tricks.
And if you like to try out new apps often and never delete them, this will make it difficult to remember which apps were productive to use. Not only this, but they also take up disk space and make your Mac slower.
Tip #5: Use Cloud Storage Services
Using cloud storage services like iCloud, Google Drive, Dropbox or OneDrive can beneficial for your productivity in a couple of ways. First of all, it will make your file sharing much easier as you will be able to share files and folders with colleagues, family, and friends by simply sending them a link or listing their email for access.
Moreover, you will be able to use and edit your files from anywhere as long as you are connected to the internet.
Note:- If you are a Dropbox user and want to know about how to create a dropbox direct download link, then check this out.
Tip #6: Empty the Trash Bin Regularly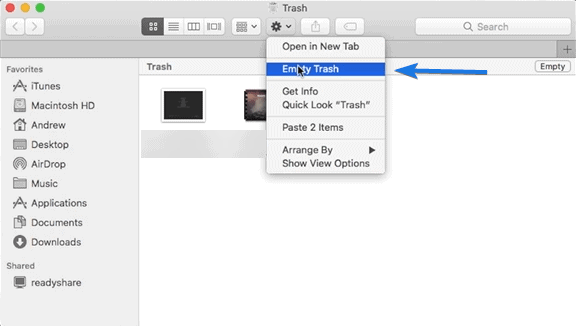 If you download and use many files on a daily basis then, empty the trash bin regularly is a good hack for you. If you want your Mac or any other computer to run smoothly then don't forget to have a look at Trash Bin on daily basis. Because after some time it would be difficult for you to remember which files were actually needed or you have deleted them accidentally.
And you won't believe I have seen most of my friends MacBook running out of space and most of the space was consumed by files from Trash Bin. Also, keeping files in the Trash Bin is the same as having them on the computer.
Tip #7: Use Mission Control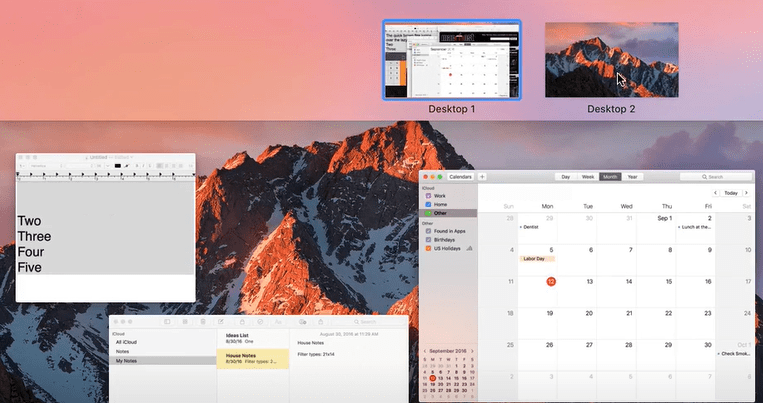 If you are new to new macOS, you will be probably using your Trackpad or mouse to slowly navigate to the Exit Full-Screen option and also for switching from one open window to another. But using this Mission Control you will be able to do this much faster and easier. And this is also one of the best Mac tips for Windows switchers who have recently moved to this new Operating system.
And to use this feature, swipe up with three fingers through the Trackpad if you are using a MacBook, and it will show you all the open windows on one screen. And the best part is that you can switch to any window anytime within few seconds, just you have to slide on the Trackpad.
Bonus Tip:- If you are using a Magic Mouse, then tap its surface two times to enable the Mission Control.
Tip #8: Avoid Distractions
If you use your Mac as your workstation or for some office work, then you definitely want that there should be no distractions at all. Especially when you are writing something or doing some graphic designing work, you need to focus on one thing at a time.
And to avoid distractions you need to turn off the notifications if you have some of them turned on. For this just follow these steps:-
Click on the Apple Icon on the upper left corner of the screen and then choose System Preferences.
After that click on Notification Menu.
Here you will find all the applications present on your macOS, so select or deselect all the notifications according to your preference.
I would say this is one of the best mac productivity tips which has helped me a lot from getting distracted and getting useless notifications.
Tip #9: Use a Full-Screen Calendar
Using a second screen as a full-screen calendar can make tasks and plan a lot easier. All you need to is to create a second and or use an additional monitor for it. And you won't believe adding another screen or using a dual monitor setup can boost your productivity and can make your work done faster. Moreover, if you are an Apple fan and own an iPad, then you can use it for the second screen too.
Tip #10: Use Spotlight Feature
One feature which I really like about macOS is that some features have a very incredible performance like Spotlight. It is one best utility or tools developed by Apple for Mac devices & it's really fast. You can also use some hacks or shortcuts in it and can use it for searching any file in your Mac system, doing calculations, and many more. And to launch it, you just need to press CMD+Space.
Some FAQs
How can I improve productivity on my Mac?
5 Best tips to improve productivity on Mac:-
1. Reduce Clutter on your Desktop
2. Use Desktop as Download Folder
3. Remove Apps You Don't Need
4. Use Mission Control
5. Use Spotlight Feature
Is Mac good for productivity?
Yes, Mac is considered good for productivity because it becomes very easier if you have all apple products like iPhone, iPad, and more.
Is Mac or Windows better for working?
Yes, both Mac and Windows are better for working. And if we don't count the cost of products then Mac would be much better if you follow these hacks.
What cool things can you do on a Mac?
There are plenty of cool things you can do on a Mac but mainly I like these two, using a calculator directly from spotlight and giving commands to Siri.
That's it for now…
Conclusion
So that's how by using these productivity tips for Mac you can easily maximize your efficiency while using your Mac OS machine. So, what are you waiting for Go ahead and use these tips to boost your productive work for free. And also these hacks are easy to use and can be used by any beginner to advanced user.
Also checkout our new post on Best mac productivity apps.
Also, comment down below, we would love to hear from you which of these you already know from the list of 9+ Best Mac Productivity Tips & Hacks for Max Efficiency.
If you liked this post, Don't forget to share it with your friends, colleague, and family members.