iSunshare Windows Password Genius Review?
If you are looking for some honest reviews, you are in the right place.
We all like keeping our devices secure by using passwords.
But what if we forget them, I know it is a very unusual situation.
And to solve this issue, companies like iSunshare create utilities such as Windows Password Genius and more.
It is one of the most trustworthy Windows password removal tools which can help to bypass Windows login passwords without losing data.
Moreover, using this tool you can easily remove your Windows local or Microsoft account password without any difficulty.
And the best part, you can also create a new administrator account to log in to your Windows computer when locked out.
Now let's dive further into this review…
What is iSunshare Windows Password Genius?

iSunshare Windows Password Genius is a professional Windows password recovery tool, which is well-known and trusted by users all over the world. By now, this tool has helped millions of people to get into the locked Windows computer with no data loss when they forgot or lost the password.
But Why do you need this tool?
When your Windows machine is locked with a strong password and you did not create the password reset disk before, then this tool is a good choice to help you remove the forgotten password within a few clicks. One thing which I really liked is that It has a 100% success rate and also supports the majority of computer brands like Hp, Dell, Acer, Lenovo, Asus, and more.
Key Features of iSunshare Windows Password Genius
Although, we have already talked much about this tool in the above sections but here we are going to discuss some advanced features too.
Supports all Windows user accounts: Enables you to remove or reset the user passwords of the local administrator account, Guest account, Microsoft account, and Domain account.
Create new Windows accounts: It also helps you to create a new administrator account without locking in.
Supports all Windows OS: This software works smoothly on Windows 11/10/8.1/8/7/Vista/XP/2000/NT, Windows Server, and Raid Computer also.
Fast, Safe, and Easy to use: It is designed with an intuitive user interface so that everyone can handle it without special skills.
Support USB flash drive & CD/DVD: You can easily reset your Windows account password using a USB drive without reinstalling the operating system.
Technical Specification
Generally, this Windows password recovery tool can work on any computer or laptop with no special requirement for the hardware. And here is the brief system requirement for your reference:-
Processor: All Intel or AMD CPU processors.
Memory: 256MB or more.
Storage Space: 300MB or more.
Windows System: Windows 11, 10, 8, 7, XP, and Windows Server 2016/2012/2008/2003 (32-bit or 64-bit).
Mac System: Mac OSX 10.0 or the latest version.
Android System: Android 1.0 or the latest version ( Require Root Permission )
However, this tool has everything which is required but I have seen some users really don't trust it fully. And to clarify this doubt, I would like to answer a short question with a quick answer.
Q. Is iSunshare Windows Password Genius Safe?
Ans. Yes, Windows Password Genius is totally safe to use and is also trusted by millions of people who have used this tool on their PC.
Now let's move to the next part…
How to Use iSunshare Windows Password Genius?
It is extremely simple to use iSunshare Windows Password Genius, just you have to follow the given steps and that's all. Below we have shown how to bypass, remove or reset passwords on Windows 11.
And here are the steps to follow:-
1. Download and Install
Here you need to find a working Windows PC or Mac system to download and install iSunshare Windows Password Genius from the official website. Apart from that, the trial version is also available, which is free to download for everyone.
2. Create a Password Reset Disk
After launching the software, you will see two options to choose the media type, USB and CD/DVD. So now choose accordingly but I prefer using a USB device.
Now plug the USB device into your computer and then select it as the target from the drop-down menu. After that, click on the Begin burning button and it will start creating the password reset disk.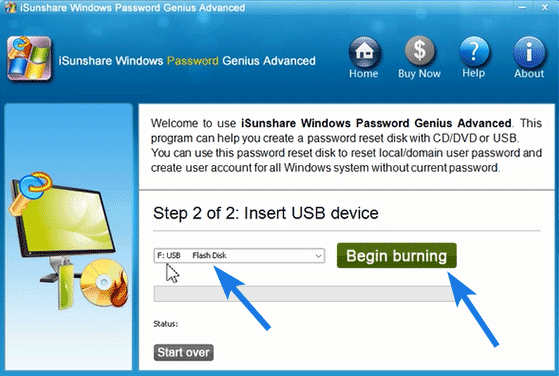 In no time, it will ask for confirmation. So, click on the Yes button to agree to format the USB drive. Please make sure all your data on the USB is backed up before performing this task.
After that, the software will begin burning the files to the USB drive. When it is finished, you will get a bootable USB disk with iSunshare Windows Password Genius on it.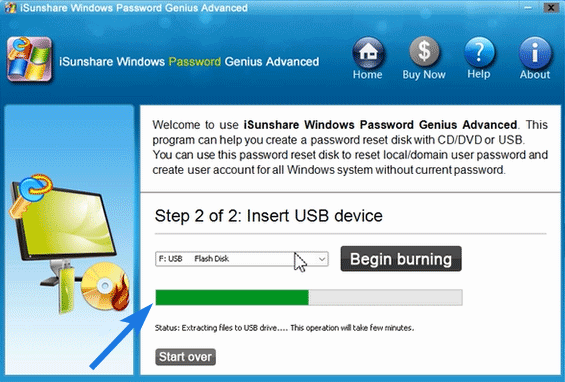 Note:- After you created the password reset disk, you can use it to boot any Windows computer to unlock it. And you will be happy to know that, it can be used for a lifetime once it is created.
3. Boot Reset Disk from USB/CD/DVD
Now insert the Reset Disk into your locked computer that you have created by following the above steps. After that, restart the computer and press the boot key ( F12 / F8 / Del… ) to enter the Boot Menu. Once you are in the menu, select the boot device as a USB Disk and then press Enter.
4. Remove / Reset Forgotten Password
In no time, you will see the iSunshare Windows Password Genius interface running on your computer screen. Now, select the Windows 11 operating system and then the user account which you want to unlock.
Next, click on the Reset Password button & then confirm your operation.
Instantly, the password is removed from your selected user's account. Now you can unplug the USB device and then click the Reboot button to log in to your Windows 11 without a password.
Now let's move to the pricing part…
iSunshare Windows Password Genius Pricing Plans
Now that you know how useful iSunshare Windows Password Genius is, you must be curious to know about its price. Currently, it supports 3 different operating system which includes Windows, Mac, and Android, so you have multiple options to create a password reset disk.
Furthermore, this tool comes in 4 different versions:-
Standard for $29.95
Professional for $39.95
Advanced for $49.95 ( This is the version which we have used to show all the above-mentioned steps )
Raid for $89.95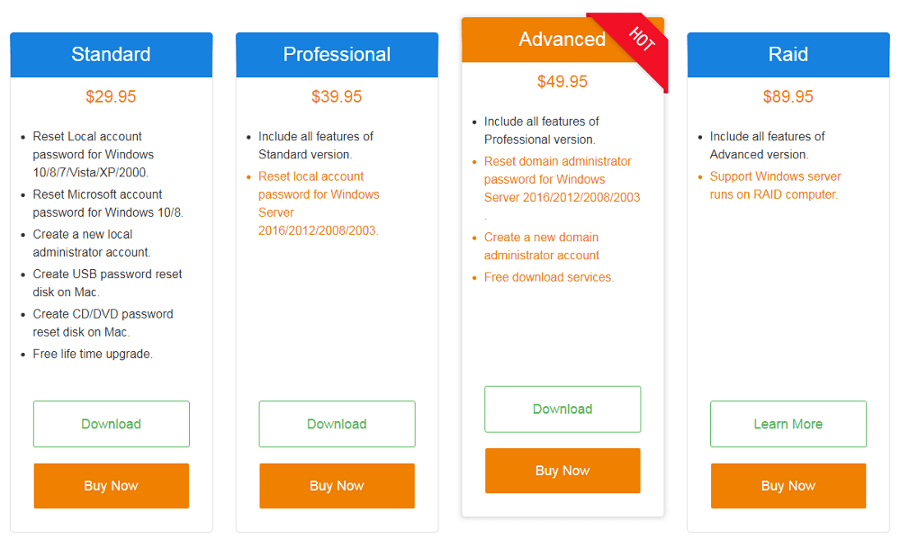 Note:- There is no limitation for using this tool and you can unlock unlimited Windows PC or laptops. Also, once purchased, the registration code can be used for a lifetime.
That's it for now…
Conclusion
So, that's all about the full review of this password recovery tool and you can see how easy it is to reset or remove the locked Windows computer password using this software.
Moreover, there are lots of free utilities like ophcrack and chntpw which we have used to reset forgotten Windows 10 password. But they are very time-consuming and have a very low success rate as compared to this professional tool.
Stay tuned for the latest posts…
Feel free to share your thoughts via comments and also tell us about this post on iSunshare Windows Password Genius Review [ Updated 2022 ].
If you liked this post, don't forget to share it…