New Microsoft's Windows 11 is here.
And you won't believe that this time they have installed some new massive features to it.
And if you also want to experience and use them, then this post is for you.
In this post, I have shared all the information related to How to Download and Install Windows 11 Free on new PC.
Since around 2015 many tech professionals have been eagerly waiting for this new release of the Windows Operating System.
And now the time has come, as Microsoft has officially done an announcement on Windows 11 and it is ready to use.
Moreover, Windows 11 release date is yet not confirmed but I think they have already rolled out the beta version.
And there are so many leaked beta versions are going online. But if you want to install the official version of ISO then it will start with the Windows Insider Program after some time.
So, let's get started…
How to Download and Install Windows 11 For Free on New PC [ 2022 ]

Although Windows 11 is in beta state and for the official version you need to wait for the official launch from Microsoft. I know there are so many ISO leaks are buzzing on the internet online but the official version is yet to come. But don't worry because here you are definitely going to learn how to install Windows 11 from USB and download its ISO file which is 100% working.
But if you are not sure to use such a leaked build of an ISO file then you should wait for a few times to be officially released from Microsoft. Till then you can join the Windows Insider Program to get notified about all new updates and releases. Although, firstly the Preview beta version will be released and then the Official version will be released.
But before we move further let's get some more knowledge about official Windows 11 and its release.
Microsoft's Windows 11 OS
Although, Windows 10 was working great and billions of users are using it amazingly. But now the time has come and the wait is over as Microsoft has released its new version of Windows. Although, it is not officially released but the announcement has been done for the Windows 11 beta update. On 24th June 2021, it was officially released by Microsoft at 11 AM. And after all the users are searching to download and install. But for them I want to suggest that it is not an official release, just released the beta version.
Moreover, Microsoft has stated that Win 11 ISO file or the operating system file will be provided for users for free who have a genuine Windows 10 installed on their computer. So, yes there will be a free release for users who are previous, and upgrading to Windows 11 will be free.
Now that you have known much about this OS, now let's move to the download part.
Download Windows 11 ISO File [ 64 bit and 32 bit ]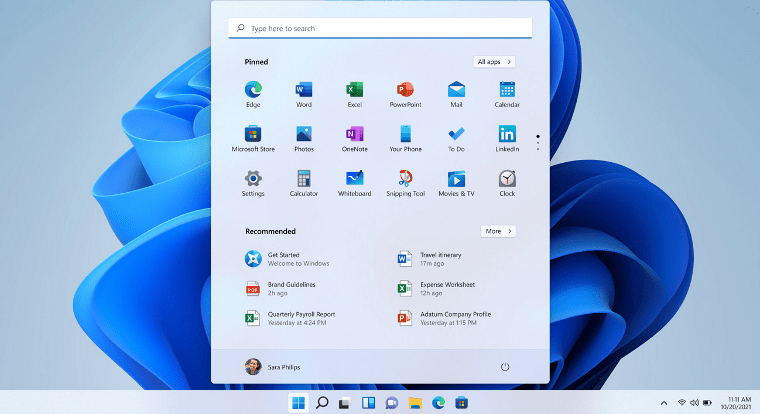 Till now I have already shared much information about this Windows OS but now here I will tell you something specific about Windows 11 ISO File.
Many people have started for the Official ISO but they are unable to find it because the official release is yet to come. But if you want to use then you can do it using the beta version release. Although you may find some bugs which need to be fixed but yes you will experience them earliest. Talking about Windows 10 ISO leaks, not all ISO are viruses or may affect your PC but you should be careful while using them.
Similarly, like previous versions of Windows, this operating system will also be released in different languages like English, Spanish, Italiano, French, German, etc. And all these releases will be of 32-bit and 64-bit with versions like Home, Pro, Basic, Single, etc.
Note:- I would recommend you to first install it on Virtualbox and then on your main computer or PC. So, that all your important data files remain safe.
But before you download any ISO file, I will suggest you to check your system requirements and also check if your PC is eligible for this.
How to Download Windows 11 for free?

Although, we already know that this version of Windows was already leaked and after that, so many users started searching for "Windows 11 Download 64 bit ISO File" but didn't find anything. Also, many users have also searched for different sites like Reddit, Google Drive, Archive, Mega, and many more.
And they are still searching for some good source to download it.
But I would suggest you not to trust any site because all these ISO files are modified by some unknown developer. You don't believe that if they want they can easily all your information or can inject some viruses into your PC.
So be aware and if you want to install it then install it on any new PC which doesn't contain your important data files.
By the way, from here you can get or download Windows 11 ISO File.
Note:- We don't support piracy of any material and we recommend you to download the official version from Microsoft.
Windows 11 Insider Preview Download [ 64 bit or 32 bit ]
Today, Microsoft officially launched the Windows 11 Insider Preview 10.0.22000.51 update for Windows 10. And tech geek is only talking about this new Windows OS and really want to experience it on their PC. And if we talk about the reviews by the users who already used Insider Preview Build on their laptop or PC are amazing.
And if you also want to update from Windows 10 to Windows 11 Insider Preview 22000.51 build then follow these steps:-
1. First, Go and Sign into Insider Preview Program. ( Sign up if you are not a member )
2. Once you are on the Insider Preview Page, download the SDK and other files from it.
3. Now install the SDK file and then Check for new updates and there you will find Windows 11 Insider Preview 22000.51 build file.
4. At last, download the update and then install it. Reboot your PC and Done.
Now let's move to the next part…
How to Get and Install Windows 11 on PC?

Installing Windows on any PC is pretty simple, just you have to follow the given steps below.
1. First, download the ISO image file from the above link.
2. Now, create Windows 11 bootable USB using this detailed guide.
3. Once a bootable USB is created, insert it into your Computer/PC.
4. Now boot from USB and then it will start loading Windows files.
5. Now choose the 64-bit or 32-bit version and then click on Install Now button.
6. After that, follow the on-screen instruction like Keyboard Input, Language, Date and Time, and other settings.
7. Now manage the disk partition for Windows OS and then in the product key section, check "I don't have a product key" and Next.
8. At last, Windows 11 is finalizing settings & it is installed successfully and ready to use.
Note:- And if you get an error like this "Your PC does not meet the minimum hardware requirements for Windows 11" then please enable TPM or TPM 2.0 and then check if your is compatible or not.
Now let's move to the next part…
How to Install Windows 11 Update Manually?

In the above section, I have already shown you how to install it using an ISO file. But here I will show how to upgrade to Windows 11 From Windows 10 for free using the update checker.
Although, it is very easy but some users still find it difficult.
And for them here are the steps:-
1. First, download & install the PC Health Check app from the given link.
2. Once you have checked your compatibility using the PC health Check app and your PC is totally compatible with it.
3. Now Go to Windows Update settings and then Check for New Updates.
4. In those updates you might find Windows 11 Preview Update, so click on download and then Install it.
5. Once it is downloaded, now click on Install and Restart Now.
Note:- Please make sure you are connected to the internet and all the necessary files are downloaded correctly.
Windows 11 System Requirements
Although, Win 11 is much more advanced and faster but the best part is that it can easily run on any device running Windows 10.
Just you need to fulfill these minimum system requirements and you are all set. So let's check them out…
CPU: Single Core Processor of at least 1.4 GHz speed. (64-bit or 32-bit)
RAM: 2 GB – 4GB ( Minimum required )
HDD or SSD: Free Disk Space Storage of at least 20Gb.
GPU: Intel Integrated Graphics ( Supports Directx 12 )
Display: HD Screen Resolution of 1600 x 900 ( 16:9 )
Now let's check the compatibility to run.
Check your PC is eligible to Install & Run Windows 11
Although, it is very clear that Win 11 doesn't require many specifications but still some users are facing difficulty while installing it on their PC.
And for this, Microsoft has officially created a utility to check if your PC is compatible with this new Windows OS. And if the upgrade checker tool says not eligible then I would suggest you check this post on how to install windows 11 on unsupported PC which will definitely help you.
Note:- Please make sure to turn on TPM in your BIOS and then check for eligibility or compatibility.
Windows 11 Features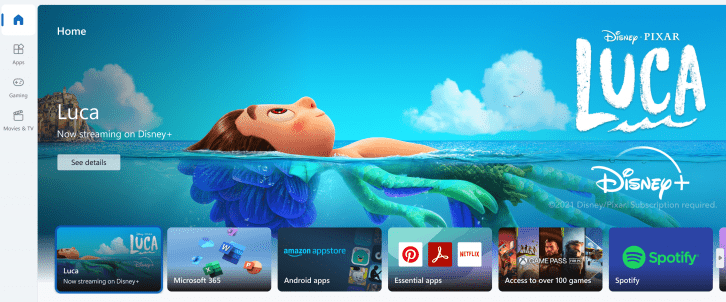 Now that you have already checked whether your system is compatible or not. Now let's see what great features Microsoft has added to this new version of Windows 11.
New Advanced Modern User Interface.
New Start Menu for faster navigation with beautiful round edges
Updated New Icons, Taskbar, Search, Folder Icons, Download Icons, and many more icons for customization.
New Boot Loader, Animations, Effects while switching between two Applications. You may also experience this while Minimizing and Maximizing Windows.
Improved Multitasking with easy split-screen to do more tasks simultaneously.
New widgets and gadgets are added for more productivity.
Touchpad gestures are improved significantly for touch devices.
Beautiful glassy round corner Star Menu with amazing features.
New Haptic sounds and tones for different functions.
Improved and faster processing of tasks. ( Lightning fast Apps )
New Dark Mode is added to all the applications.
Xbox passes for games with an improved gaming experience.
And the best part is that you will be able to run android apps without using any Android Emulator like BlueStacks.
Now let's move to the next part…
Windows 11 Leak News & Stories
Although, Windows 11 release date in India was 24 June 2021 for the preview beta build release. But if you check on the internet you might feel that it was leaked before it and users are using the beta version on their PC. According to me, this might be the beta version that was developed by developers for testing and now some other developers have tweaked it and using it according to them. Also, torrent sites may find various releases of Windows 11 files but the official one is yet to come.
Apart from this, there are so many rumors and news about the leaked version of the Win 11 operating system.
Windows 11 Real, Free, or Paid?
The time has come and the beta version of this Windows is rolling out and you may see the official release and features on the Microsoft website. Also, I have seen many users searching for questions like Is Windows 11 real? , Will it be a free upgrade? , What would be the price, and when it will be officially released?
And the answer to these questions is Yes Windows is Real, Yes it will be a free upgrade for genuine Windows 10 users, Price is not fixed but assumed to be around Windows 10 price, and for the official release, it may come in the 2022 year.
What are Windows 11 TPM and TPM 2.0?
Windows 11 TPM basically stands for Trust Platform Module which is an international standard for a secure cryptoprocessor. This is basically a physical chip used in your computer to store encrypted information. Moreover, this will help you to be more secure and improve your privacy.
There is also a second version TPM 2.0 which advanced version of TPM and this chip must be available on your device. So that you can use Win 11 easily and securely with features like Secure Boot, Drive Encryption, Fingerprint, and other securities.
Some FAQs
How do I download and install Windows 11?

How do I get Windows 11 for free?

If you are a Windows 10 user then you can easily get Windows 11 for free by just checking for new updates.

How can I get Windows 11?

To get Windows 11 you need to join the Insider Preview Program & then you will get all updates on Windows 10.

Should I download Windows 11?

Yes, you can download Windows 11 Insider Preview ISO file but from some reliable & authentic source.

How to check if I can run Windows 11?
That's it for now…
Conclusion
So that's all about the free installation of Windows 11 and also how to download or get the ISO file right now to manually update or upgrade from Windows 10. In this post, we have tried to cover everything about this new Windows operating system.
Moreover, we have also discussed the new features and what you will be getting in all editions like Pro, Home, and Basic.
Stay tuned for the next post…
Feel free to share your thoughts via comments and also tell us about this post on How to Download and Install Windows 11 For Free [ 2022 ].
If you liked this post, don't forget to share.