Want to reset forgotten Windows 10 password?
If yes, then you are in the right place.
In one of my posts, I have already talked about how to create a password reset disk USB tool. But in your case, this may not help you.
As a tech-savvy, I have been asked this question many times by my colleagues, friends & family members.
How to recover or reset my Windows 10 password?
As this scenario really creates a mess, if you are a windows 10 user and you have forgotten or lost your password.
And this is the worst part of Windows 10, where it asks the users to change the password from time to time.
Although this is for the security reasons. But still, this irritates the user most which is not good.
But don't worry we have a free solution for it.
As resetting Windows 10 password is not a rocket science, the only thing you need is a correct tool and a process to follow.
Let's see how it works…
Recommended: If you are a professional and don't want to waste your precious time then I have a tool for you.
PassFab 4WinKey: Most Reliable Password Reset Tool (1000% Working)
Reset Forgotten Windows 10 Password [Linux Live CD / USB]
Note:- This method only works for Windows 10 local accounts. For a connected Microsoft account, you can reset your password from here: https://account.live.com/ResetPassword.aspx.
But before we begin.
Please make sure that you have all the things mentioned below:-
1. Ubuntu Linux ISO: I know there are lots of Linux variants out there, but it's hard to tell which one is better. In my opinion, Ubuntu Linux would be a good choice as it supports the Linux Live CD & has a very easy-to-use fancy UI which is great for new users.
Here Live CD will help you to reset your forgotten Windows 10 password without losing data. This means that no new files or Operating system will be installed on your PC, all OS files will RUN Live.
2. Another working PC or Mac: This will help you to create a bootable Linux media which will help you to create a windows 10 reset boot disk.
Once you have all these things, you can move further.
So Let's get started with this step by step guide.
1. Download Ubuntu Linux ISO
First, Go to the Ubuntu official website and download a copy of the Linux Ubuntu ISO file. (Which is absolutely free)
And if the download speed is slow, then you can pick up the official mirror site near to your GEO location. (Which will boost the download speed)
2. Make a bootable USB / DVD
After downloading the Ubuntu ISO file, the next step is to make a bootable USB or DVD from it.
But I prefer USB as it is fast and also these days many laptop computers don't have a DVD drive on them.
And to create a bootable USB from a Linux ISO file, you need a bootable USB software for that like UNetbootin.
Download and install UNetbootin.
3. Boot PC from Ubuntu Live CD
Once your bootable USB device is ready. Insert it into the Locked computer for which you want to reset windows 10 password.
Now start the CPU & once it starts booting Press the Boot menu key and choose the inserted USB device from that menu.
After that, it will start loading the Ubuntu files and you will see a black screen indicating Ubuntu booting from USB. Once the Ubuntu OS is loaded properly, you will see two options like Try Ubuntu & Install Ubuntu on the screen.
Here you have to choose Try Ubuntu for running it as a Live Operating system. And after that Live Linux Ubuntu will start.
4. Configure Ubuntu Software Center
Once you are on the Ubuntu Welcome Screen. Now Open the Ubuntu Software Center from the left-hand sidebar or click on the Settings icon & open System Settings.
And then Click on Software & Updates. And in the Ubuntu Software tab, Enable this option "Community-maintained free and open-source software (universe)".
Note:- Enabling the above option will allow the machine to install the packages from non-official sources. Because the tool "chntpw utility" which we are going to use in this tutorial to reset your Windows 10 password is from a non-official source.
But this doesn't mean this tool is from an untrusted source. So click on Close and then click on Reload to Update Cache.

Note:- Please make sure while downloading the software you, must be connected to the internet.
5. Install chntpw Utility
chntpw utility is an amazing package that will help you to edit, reset, or change your Windows password. So, to install the chntpw, Open the Terminal app and type the following command:-
sudo apt-get update
sudo apt-get install chntpw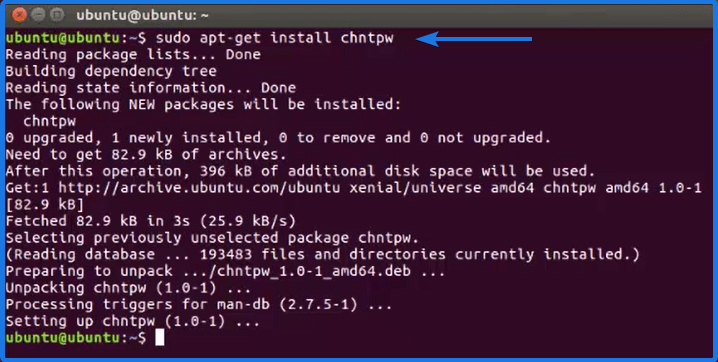 And once the installation is completed, close the terminal app.
6. Mount & Open Windows 10 Partition Drive
Now Click on the Files icon from the left-hand sidebar or you can also Open the Examples folder from the desktop. This will open the Ubuntu File Explorer.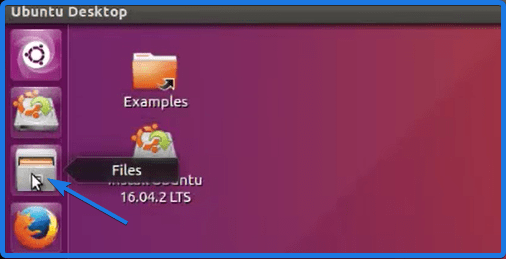 And now under the Device tab, you will see all the partitions present on this machine. So, to mount & Open the Windows Partition drive, click on the Local disk where the Locked Windows 10 files are present.
7. Locating SAM Registry Hive File
Now navigate to the given windows folder location:-
Windows/System32/config
And in the config folder, search for a file named SAM.
Note:- Basically SAM is a registry file which contains all the Windows user name and password. Whether it's a local admin account, Guest or the Default Administrator account.
8. Using chntpw to find Admin Account
Now Right-Click in the folder and open the Terminal app within the Config folder.
Now in the terminal, type the following command " chntpw -l SAM "and press Enter. And all your Administrator account and the local account will show up here.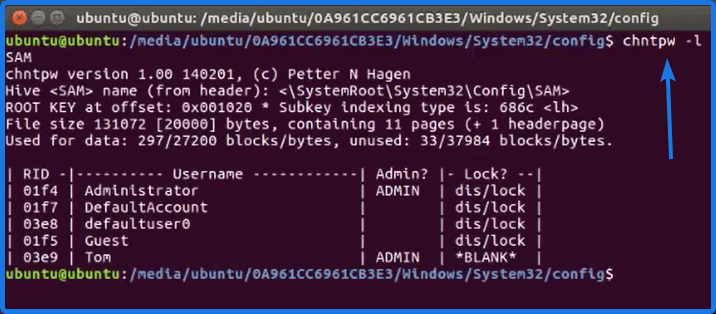 Once all the list of account are available, type the following command " chntpw -u user_name SAM " and press Enter.

Note:- Don't forget to change the " user_name " with your own Windows 10 Local account username. Like here I have changed it to "Tom".
9. Reset Your Forgotten Windows 10 Password
After that, a User Edit Menu will open up & showing different options like Unlock user account, remove user from a group, etc. But here we will choose Option 1, which will clear and reset the password. So, type " 1 " and press Enter.
After you will be notified, that the Password is Cleared.
10. Confirm Writing Password Hive File
Now again the User Edit Menu will show up, this time type " q " to quit the menu and press Enter. After that, it will ask to confirm to write the hive files and save the changes you have done. So, type " y " which means yes and press Enter.

After that, eject the USB, CD or DVD and Reboot your computer. And you will see you are logged in to your Windows 10 without entering the password.
And done! You have successfully reset your forgotten windows 10 password.
And if this method still doesn't work for you then you can contact a technology specialist or an expert. He will help you in fixing this properly without any issue.
Some FAQs
How do I bypass Linux password on Windows 10?
It's pretty easy to bypass the linux password on Windows 10, just you have to use the chntpw utility and then locate the SAM registry hive file and then remove the password.
How do I bypass a password on Windows 10 when its locked?
In order to bypass a password of locked Windows 10, you can use the Reset this PC option or can try other methods like using CMD ( Command Prompt ).
How do I reset my laptop password with a USB drive?
It's pretty easy to reset your laptop password if you have a Reset Disk created with the help of a USB drive. Just insert the USB and then follow the instruction to reset it.
Why do I need a USB flash drive to reset my password?
You need a USB flash drive to reset your password because it is a much more convenient way these days. Also, Windows only provides a USB drive as an option to create a password reset disk.
That's it for now…
Conclusion
So that's how you can easily reset your windows password using the Chntpw utility. Whether it's Windows 10,7,8, it works on all the operating systems. However, sometimes you may face issues due to some patches made by Microsoft while giving updates to their users.
Also, check out our new post on reset windows 7 admin password using the command prompt (CMD). And the best part of this post is that it works with all the Windows OS.
If this also doesn't work, then check out these alternatives.
Alternative Solution for Windows Password Reset
Ophcrack: Another free utility that uses rainbow tables to crack password hash. Basically, it is a recovery tool which means it will not remove or reset your password. Instead, it helps you recover the password. However, for a complex password, it could take days to find the original password.
Windows 10 Password Reset: A cross-platform GUI program that works on Windows and Mac. It first creates a password reset disk with USB or CD/DVD, which contains a macro to be able to edit SAM file. After the program is being loaded, it lists all user accounts. Then you can reset the password to blank by clicking the 'Reset Password' button. This is more user friendly and much faster than Linux Live CD and Ophcrack.
Hiren's BootCD: Hiren's BootCD is another tool that can help you here to remove your password from windows 10. It is basically a Preinstallation Environment which means you have to download the ISO file from the given link and using it burn it to a CD / DVD disk. And then use this CD to boot and once it is booted, Run the NTPWEdit app to change or remove the Password.
And Done! Finishing it…
Feel free to share your thoughts and also tell us if you know any better way to Reset Forgotten Windows 10 Password with Linux USB / CD.
If you liked this post, Don't forget to share this post with your friends who really love these kinds of tricks.