Black Friday Deal:– Visit the given link and then enter the Coupon code [Get $5 OFF].
Coupon Code: PASSFAB20205 (Expiring in few days)
Important Note:- To make this work, please use the above given link & then enter coupon code.
Glad you landed on this amazing post.
Because this post is going to save you a lot of time and your important data also.
And I can assure you that after reading this post review, you are definitely gonna love this tool.
PassFab 4WinKey is one of the most reliable tools in the field of password recovery utilities.
If you have forgotten your password or got stuck on the windows login screen, then this tool is definitely gonna help you.
Using this tool you can easily remove or reset your windows local admin password without losing data.

And the best part of this tool is that it is recommended by more than 2,568,000 users worldwide.
But before we go to any conclusion, let's see the full review of this tool & explore some of its awesome features.
---
What is PassFab 4WinKey?

PassFab 4WinKey is the best professional windows password recovery tool packed with lots of advanced features. In simple terms, this tool will help you to reset your windows login password when lost.
But why do you need this tool?
I know that there are lots of freeways like this to reset your windows password. But these ways will only help you in wasting your imp. time and sometimes you also may end up losing your data.
Note:- This doesn't mean that the freeway is totally useless, the only thing is that they may not work all the time. But this 4WinKey tool guarantees a 100% success rate.
And here this tool comes in to save you.
Basically, this tool will help you in simplifying the whole process shown in the above link. Just a few clicks and you are ready to go.
---
Key Features of PassFab 4WinKey
Now that you understand why PassFab 4WinKey is important to use when you have lost your windows password.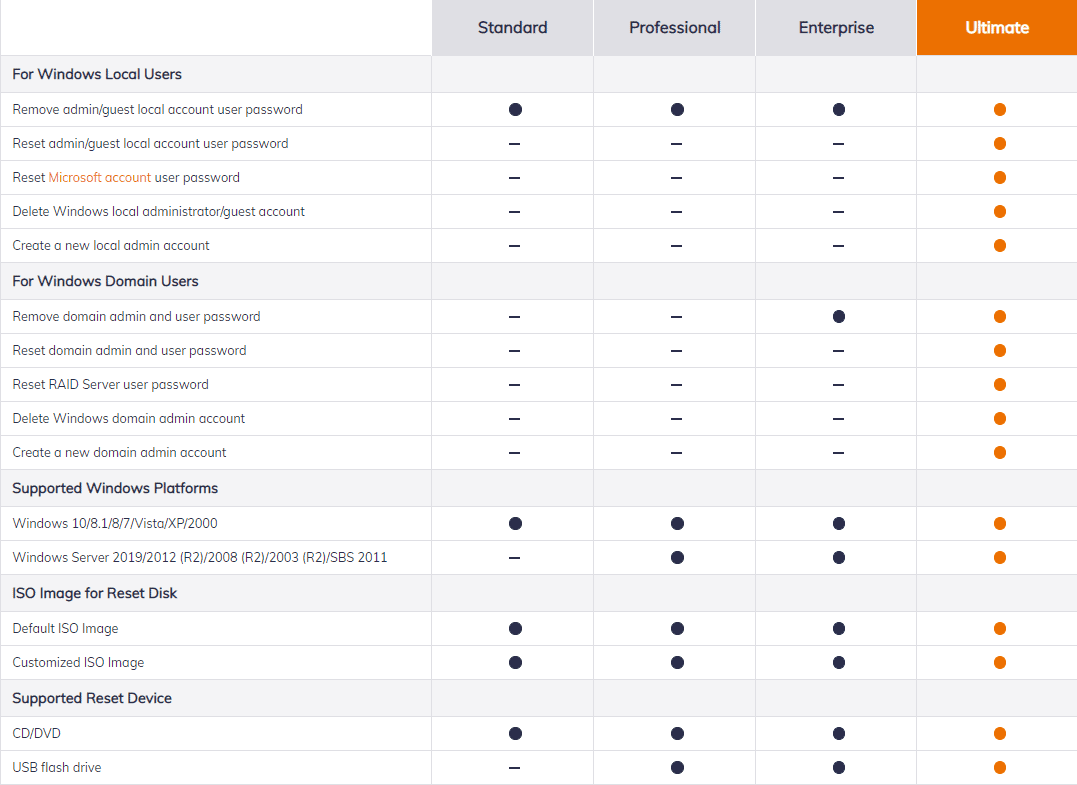 But that's not all. Let's see some more features:
Fast, Reliable & Easy to use.
Remove or Reset local admin user password
Remove or Reset guest account user password
Reset your Microsoft account password
Create or Delete local administrator account
Support all the above 4 features for Windows Domain user
Support Windows 10,8,7 and all the Windows Server also.
Supported Devices: ISO, CD/DVD & USB flash drive.
Note:- The best part of this tool is that it not only reset the local account password but also helps you in resetting all other the windows 10 security options.
Like Security Key Password, Picture Password, Windows Hello Face, Fingerprint & Hello PIN.
---
Technical Specification
Let see some Technical specification for PassFab 4WinKey.
Basically, the 4WinKey tool is a very light tool for setup file 2Mb and that's why it doesn't require much RAM memory.

But still, I will mention all the requirement to brief my readers.
RAM: At least 1 Gb (recommended).
Hard Drive Space: 200Mb Free Space (Minimum).
CPU: 32 bit or 64bit Architecture.
GPU: Nvidia & Intel HD graphics also work well.
Drives File System: FAT16, FAT32, NTFS, NTFS5
Support Drive hardware: SATA/RAID/SCSI drives
Windows System: Windows 10, 7, 8, XP & older versions also.
Mac System: macOS 10.15 Catalina to 10.8 Mountain Lion version.
Note:- All PassFab tool supports almost all the Computer Brands including Dell, Hp, Lenovo, Acer, MacBook, iMac, etc.
And almost all these computer brands fulfill the above Technical specifications fully. So Let's see how to use it.
---
How to Use PassFab 4WinKey?
Using PassFab 4WinKey is pretty much simple, just you have to follow this 3 Step Process and you can easily unlock your Windows PC.

But here I have added one more step to make it more convenient.
So, let's move further & follow this guide.
1. Download & Install PassFab 4WinKey
First Download & Install the PassFab 4WinKey from the given link. Once you have downloaded this tool successfully, install it properly.
After installation is done, Launch or Open it.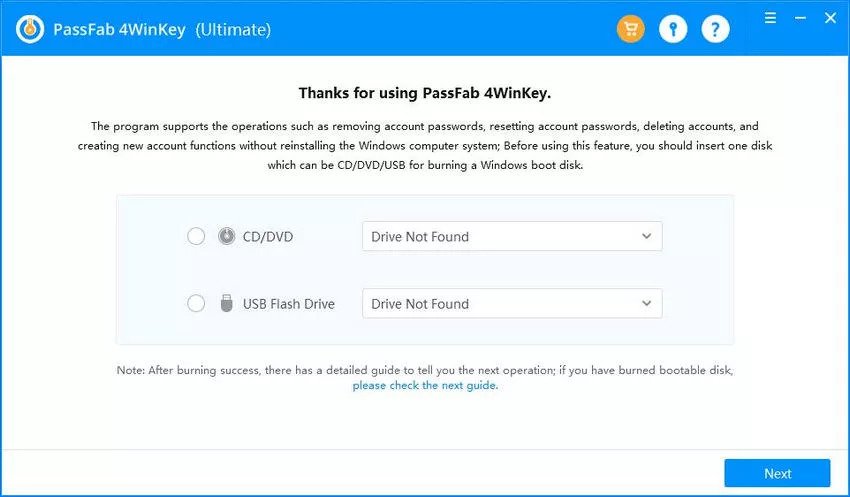 Note:- Here you will require a working Windows PC or Mac to download & install this tool and also to create a password reset disk.
2. Create a Windows Password Reset Disk
After launching it, you will see the welcome screen of the 4WinKey tool. And here you have two options, One is a CD/DVD and another one is USB Flash Drive. So, choose the USB Drive and click Next.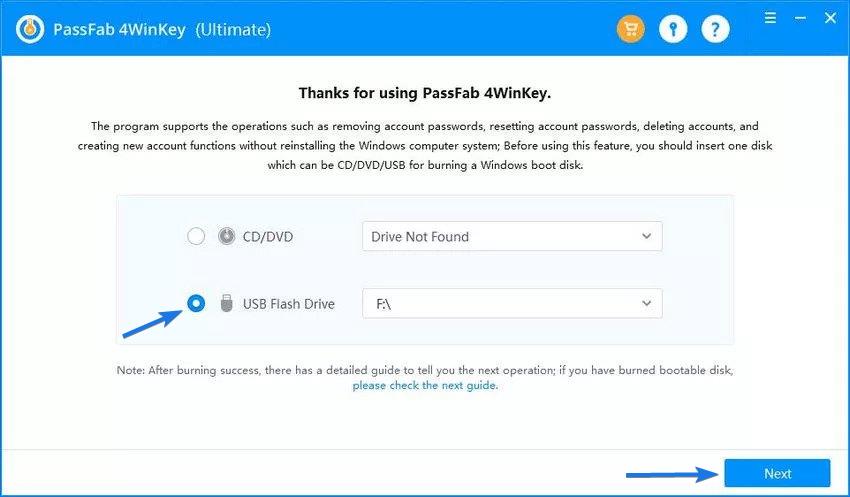 Note:- Here I have chosen the USB Flash Drive Option because it is fast and more reliable. But if you want, then you can also choose the CD/DVD.
After clicking on Next, it will ask for confirmation. So again click on Next.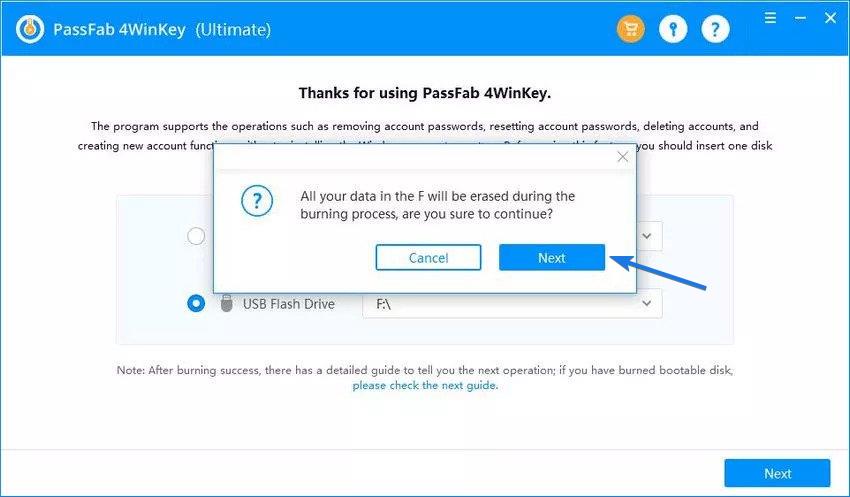 Note:- This action will delete all your files present on your drive, which means the selected USB drive will be erased fully.
After that, it will start burning the files to the USB disk. And finally, this will make this USB disk bootable and will be converted into a Windows password reset disk.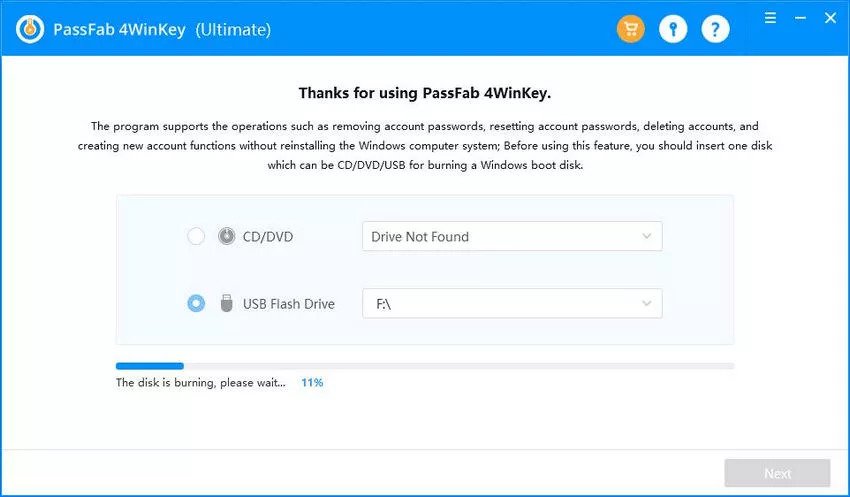 That' it! You have successfully created the password reset disk.
So, let move further and use this reset disk.
3. Setting Up Boot Menu for CD/DVD/USB
After the Windows password reset disk is created successfully in Step 2. You will find a 3 step guide that will help you to boot a locked windows system from CD/DVD/USB flash drive.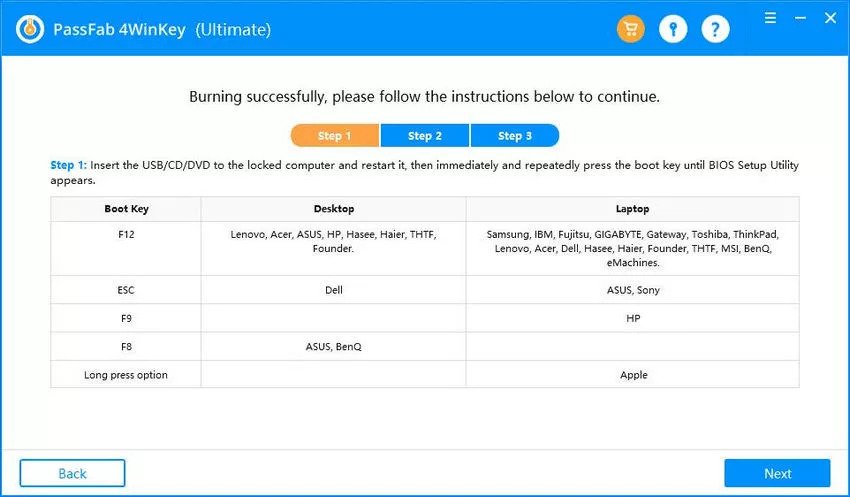 In Step 1, you will find the Boot Key for different brands of Computer & Laptop manufacturers. Once you have got the Boot Key for your computer manufacturers, let's move further.
In Step 2, you will find the Boot menu options and how to use them to set the USB flash drive as 1st priority.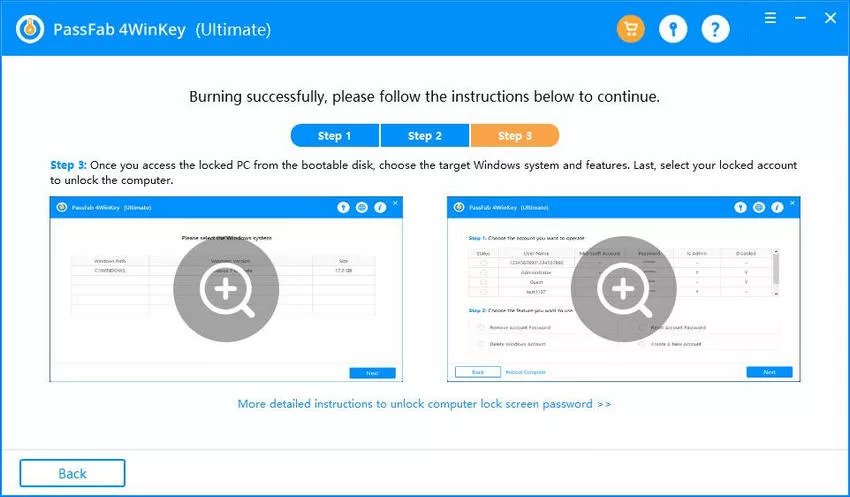 In Step 3, you will find the different options to reset or remove the Windows local admin password. And also, how to access the locked PC using the bootable disk and choose the target windows system.
And now I hope you have analyzed all things and got the right Boot menu key for the computer brand to boot from it. So let's move further.
4. Remove or Reset Windows Login Password
Insert the USB flash drive (Password Reset Disk) into your Locked Windows computer for which you want to reset the password. And if the PC is running, please shut down it.

Now Restart the CPU and start pressing the Boot Key until you are in the boot menu. And Once the Boot menu is opened, now select the USB drive (Password reset disk) from it and press Enter.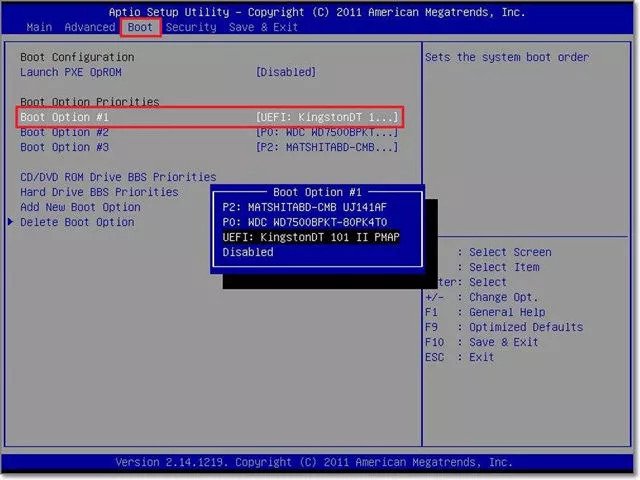 After that, it will start loading the Windows files to reset and the PassFab 4WinKey interface will open up. Now select the Windows System from the given options of which the password you have forgotten. And click on Next.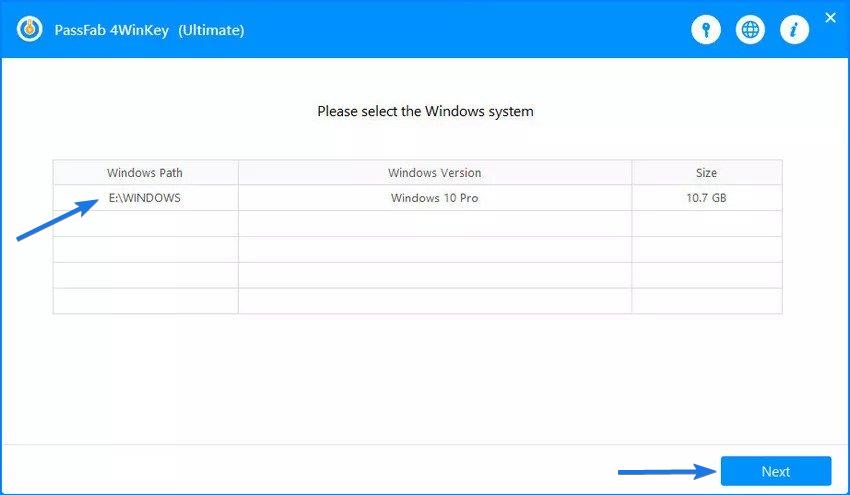 On the next screen, you will find all the accounts listed here whether it's an Administrator, Guest & Default admin account. So, choose the account for which you want to reset the password.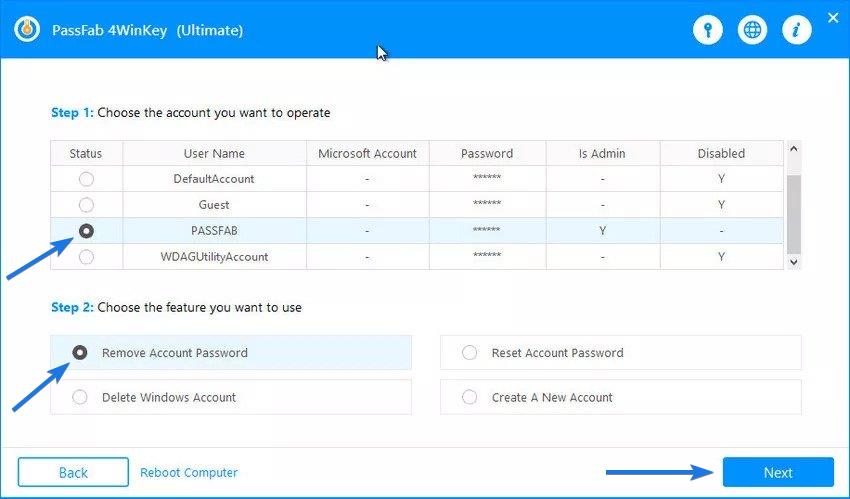 And in Step 2, you will find the four different options listed below. So choose one of them and then click on Next.
Remove Account password (I will choose this one)
Reset Account password
Delete Windows Account
Create a New Account
And at last, you will get a message that windows account password has been removed, please reboot the computer. So, click on Reboot.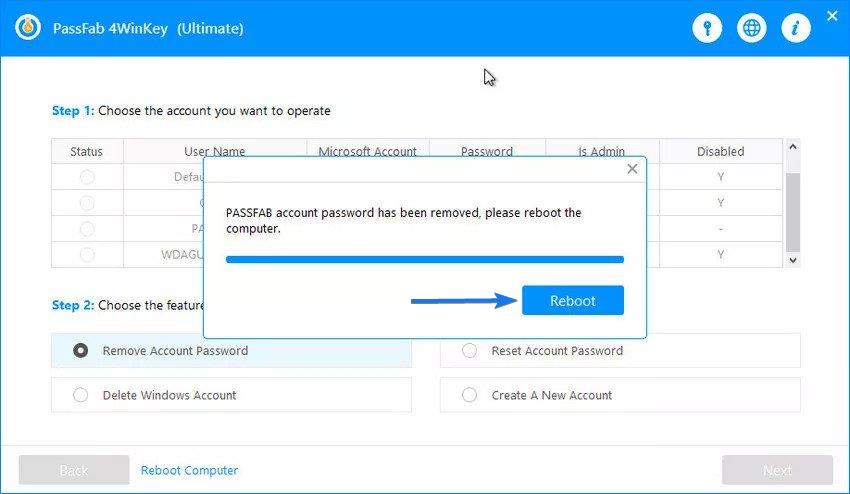 I think now you have realized the true value of this tool. So, let move to the next part of Plans & Pricing.
---
PassFab 4WinKey Pricing
Standard Version: $19.95
Professional Version: $29.95
Enterprise Version: $39.95
Ultimate Version: $69.95
Q. And if you are confused about which version should I choose?
Ans. It totally depends on you. But in my opinion, if you are sure that you want to reset the windows local admin password, then the Professional version is a great choice with USB support for just $29.95 only.
And if you are not sure whether it's a local account or a domain account, then the Ultimate Version is the best choice packed with all the advanced features for just $69.95 only.
Note:- One thing which I really like about this tool is that it also comes in a Mac version also. This means that if your Windows computer is locked, then you can easily use your MacBook to create a reset disk.
---
How to Get PassFab 4WinKey?
And now that you have already made up your mind to save your time and your important data from losing. Here is a special discount link.
Step 1: Click on the special discount link and after clicking on that you will be redirected to the official buying page.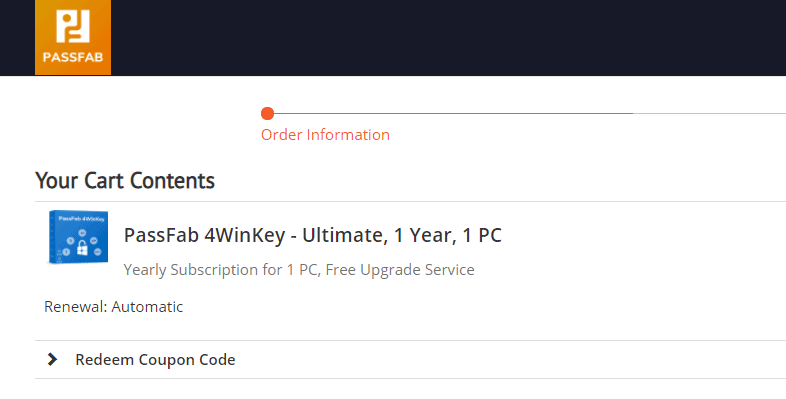 Step 2: Now enter your details like (Email, First & Last Name and Address) and then move to the payment information section.

Step 3: Now in the payment section, enter the credit card details or you can also use the Paypal payment option.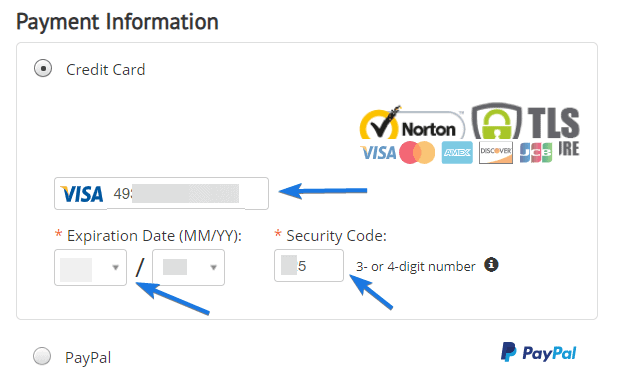 Note:- All the transactions are 1000% secured by the most trusted Norton Security and TLS encryption. So don't worry you are safe. 🙂
Step 4: Now Scroll down and click on the Buy Now button.

Some 4WinKey Free Bonuses…

30-Day Money-Back Guarantee
Free Customer Support
Lifetime Free Updates
And done! You have successfully grabbed the PassFab 4WinKey at a discounted price.
---
PassFab 4WinKey FAQs
Is PassFab 4WinKey safe?
Yes, PassFab 4WinKey is 100% safe, and they don't force you to download unwanted third-party tools.
Is PassFab 4WinKey free?
No, PassFab 4WinKey is not a free tool, it's a Paid tool. But it's not that much expensive, you can easily afford it.
Is PassFab legit?
Yes, PassFab is 100% legit. It was founded in 2010 and provides exceptional 5 stars customer service 24/7.
Will PassFab 4WinKey cause data loss?
No, it doesn't cause any data loss. But it is known for resetting windows password without losing data. [100% Success Rate]
Conclusion
So that's how you can easily get the 4Winkey tool at a good price and can use this to unlock your Windows computer. Not only this, this tool has a wide range of features like Create/Remove/Delete Windows account.
And if you are searching for an alternative to this then PCUnlocker is a good choice. But one thing which I don't like about PCunlocker is that it has a very outdated user interface.
At last, PassFab 4WinKey is undoubtedly the Best Windows Password recovery tool available in the market.
Feel free to share your thoughts and also tell us if you liked this PassFab 4WinKey Review and comment down below for more reviews.
If you liked this post, Don't forget to share.
All images Credits to PassFab.