Do you depend on the Sound BlasterX AE-5 sound card for top-notch audio output from your PC? Then, you probably understand the significance of having a functional sound card. But, here's the thing: after upgrading to Windows 11, some users have encountered a frustrating problem. Their Creative Sound BlasterX AE-5 is not recognized by the operating system.
This issue is typically related to an audio connection problem, and it can be a headache to resolve. So if you're experiencing these issues, don't panic. There are several troubleshooting steps you can take to get your Sound BlasterX up and running again on Windows 11, and we're here to help you through it.
In this article, we will explore some of the potential working solutions to help users get their issues fixed as soon as possible.
So, without further ado, let's get started…
Sound BlasterX AE-5 Not Detected after Updating to Windows 11
There is a possibility that your SoundBlasterX AE-5 sound card doesn't detect on the restart, so you can try disabling HD Audio in the BIOS settings. This is a common fix for the problem, but if it doesn't work, there may be other solutions you can try.
Method 1: Unplug the Power Cord
If your SoundBlasterX AE-5 isn't working, start by checking if your computer has power. And this can be done by unplugging the power cord for a few minutes, then plugging it back in. This can help fix any hardware problems that may be causing the issue. If you still have no sound, try the other solutions listed below.
Method 2: Reconnect Sound BlasterX Device
To address a connectivity issue with the Sound Blaster, try unplugging all cables from the device including microphones, headphones, and then reconnect it. And please make sure that it is plugged into the correct port, and that all connections are secure. This can help Windows detect and restore its functionality.
Method 3: Switch or Change PCI Slot
If you are still experiencing the same issue, consider checking the condition of the PCI-E slot that the Sound Blaster is plugged into. If the current slot is faulty or damaged, it may not allow being detected by Windows 11. Similarly, if the software drivers fail to recognize the audio device, it may be beneficial to switch to a different functioning PCI slot. This simple switch can sometimes help.
Method 4: Uninstall & Reinstall Sound Blaster Driver
Still, left with no sound with your Creative Sound BlasterX AE-5? Then reinstalling the driver software may be your next move. Here are the steps to do so:
1. Open Device Manager and locate your Sound Blaster device under the Sound, video, and game controllers category.
2. Right-click on the particular device and select the "Uninstall device" option.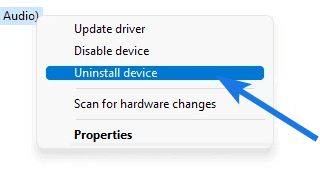 Quick Note:- Make sure to enable the "Delete the driver software for this device" check box and then click on the Uninstall button.
3. Once the driver is uninstalled, restart your computer.
4. Now download the latest driver from the Sound Blaster support website.
5. After that, Install the driver software by following the on-screen prompts.
6. At last, restart your computer again to apply changes.
These steps can often resolve any conflicts or issues with the previous driver installation and help get your Sound Blaster up and running as it should.
5: Uninstall Third-party Software
Third-party software can sometimes interfere with the functionality of your sound card and cause issues. If the issue still persists, try trashing those applications. To do so, follow the given steps:
Open the Control Panel.
Click on "Programs" and then "Uninstall a program."
Now search for a third-party app that you want to remove and think can cause problems with this device.
After that, right-click on it, and then select "Uninstall".
Now restart your computer.
By doing this, you'll remove any software blocking your Sound Blaster from working correctly.
Bonus:- Rollback Windows Update
If the issue started after a Windows 11 update, try rolling back to the previous version of Windows to see if that resolves the issue. Here are the steps to do so:
Go to Settings by pressing "Windows key + I".
Now click on the "System" tab.
After that, go to the "Recovery" options.
Now under the "Previous version of Windows" section, click on the "Go Back" button.
Now follow the on-screen instructions to complete the rollback process.
And if you to see this process in more detail then check here. Also, note that rolling back to a previous version of Windows may take some time, and you should make sure to back up any important files and data before proceeding.
Once the rollback is complete, check if the issue with your Creative Sound BlasterX AE-5 has been resolved or not.
Conclusion
By following these steps, you should be able to quickly fix the issue of your Sound BlasterX AE-5 not being detected after updating to Windows 11 and enjoy high-quality sound from your device once again.
Stay tuned for the latest posts.
And feel free to share your thoughts via comments and also tell us about this post and which method worked best for you.