Can I install Android OS on my PC?
If this is the same question that is revolving in your mind?
Then this step by step guide is definitely for you.
Also Read: How to Install Chromium OS on Virtualbox
According to theverge, Android is the most used Operating system with 2.5 billion active users.
But why this is so much popular? I think it is because of its compatibility & wide range of application support.
And that's why people also want to run android on their PC.
So that they can also install android apps on PC easily & take advantage of these powerful apps on their computer.
And I think you are also excited too.
So Let's see How…
Install Android OS on PC Using Virtualbox
But before we dig in further.
Please make sure that you have downloaded & installed Virtualbox and Android x86 ISO file from the given link.
Virtual box: Download Link
Android ISO for PC: Download Link
I know the ISO file size is big. Meanwhile, you can go through how we created a windows 7 virtual machine on Virtualbox.
This step by step tutorial is divided into two parts: First, we will create an android virtual machine using Virtualbox and then we will install android on Virtualbox PC.
Now I hope you have downloaded the files & installed Virtualbox properly.
So Let's go further…
Create Android Virtual Machine using Virtualbox
Note:- Please make sure that VT-x (Virtualization feature) or AMD-V is enabled in your BIOS settings of the host system (Windows 10).
Also Read: How to Enable Text to Speech on Windows 10
1. Open Virtualbox
After installation is completed, Open Virtualbox by Right-Clicking on it & select Run as administrator.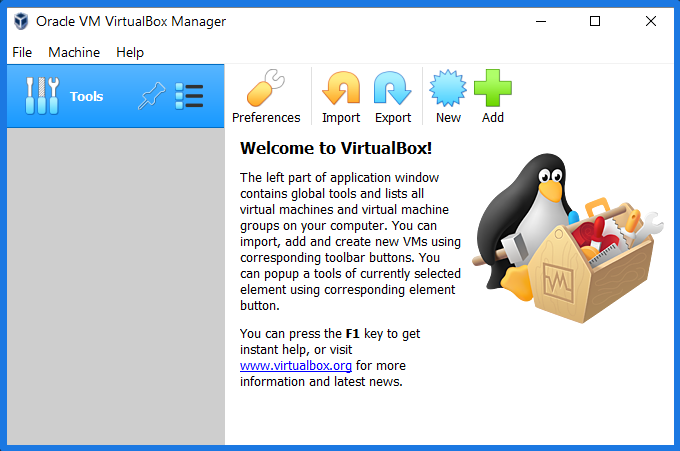 2. Create a new Virtual Machine
Click on the "New" button to create a new android virtual machine.

Now type the name as Android x86 9.0, type of OS as Linux and version of OS as Linux 2.6 / 3.x / 4.x (32 bit or 64 bit). And Click on Next.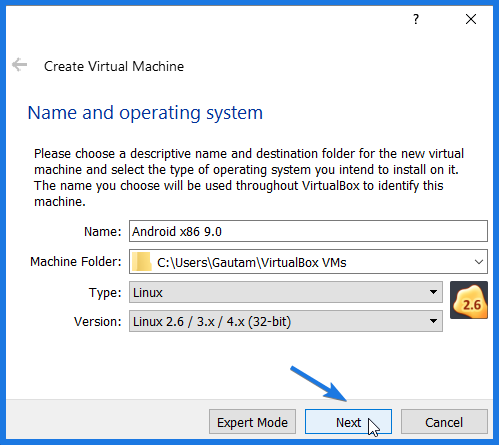 3. Memory Size (RAM)
Now Select the amount of RAM to be allocated to the android VM. As to Run & install Android x86 on Virtualbox PC properly 2048Mb is enough.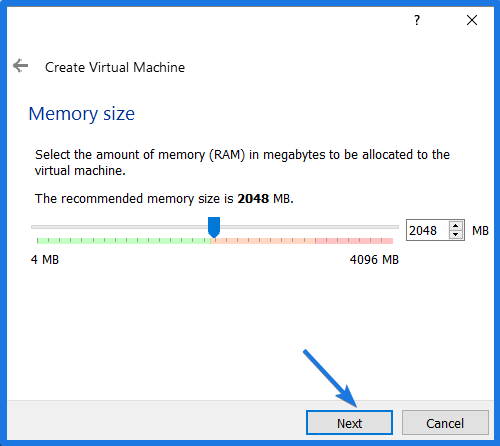 4. Create a Virtual Hard Disk
Now the next step is to create a virtual hard disk for this virtual machine. And the recommended size is 8Gb. So click on Create.
Nex step is to select the VDI (VirtualBox Disk Image) option as a Hard disk file type.
Now select the type of storage on the physical hard disk as Dynamically allocated. And Click on Next.
Now Select the File location and size of this android VDI hard drive.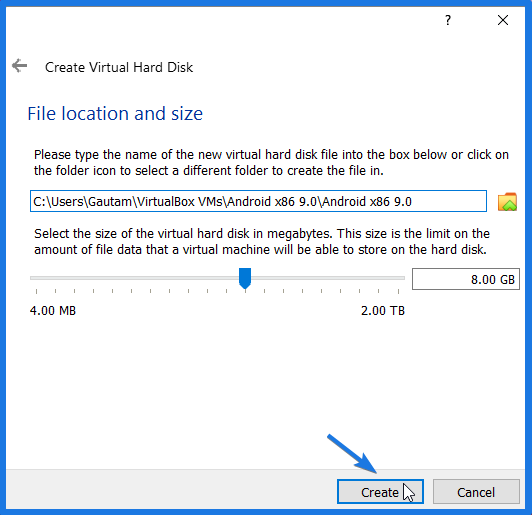 5. Configuring Android Virtual Machine
Note:- Some of these settings are Mandatory to run & install android on PC properly.
Now your Android x86 Virtual machine is ready & here comes the configuration part. So click on Settings.
Now in the next screen Go to System, then in the Processor tab increase your processors to at least 2. And also Enable PAE/NX feature.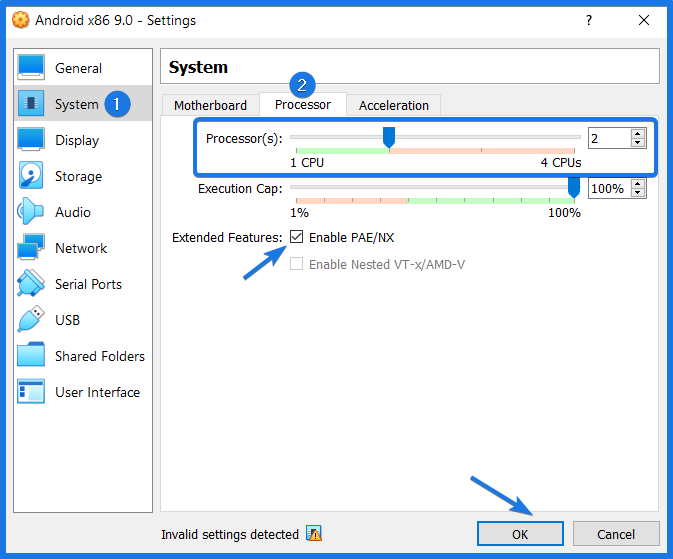 In the Acceleration tab, Enable Nested Paging & Paravirtualization Interface as default.
Next step is to set up display settings, So go to Display and increase your Video memory to at least 128Mb or more. And in the Graphics controller change VMSVGA to VBoxVGA.
Optional:- You can also Enable 3D acceleration for 3D graphics but using VBoxVGA with 3D acceleration is forbidden by Virtualbox. So, don't Enable it.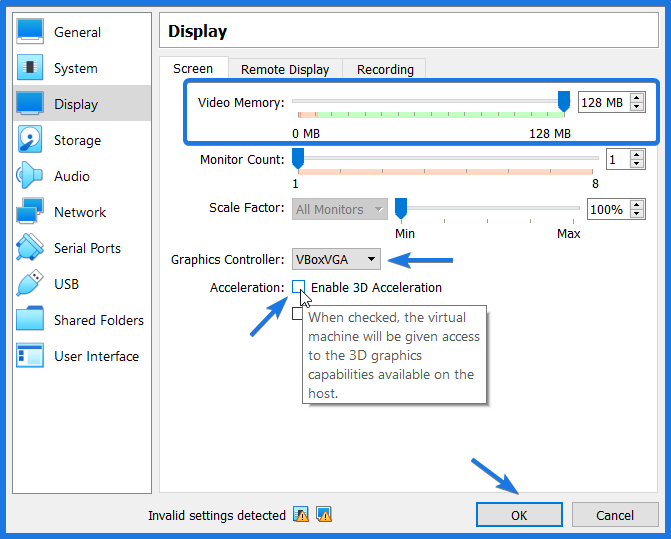 Now Go to Storage & then in the Storage Devices section, click on the Empty Dvd Icon and then in the Optical Drive section click on the Cd icon to Choose a disk file… So that you can install android on Virtualbox from ISO file easily.
Now Browse to the Android x86 ISO image file, then Select & Click on Open.
Tip:- You can also boot from USB in Virtualbox instead of booting from the android ISO file.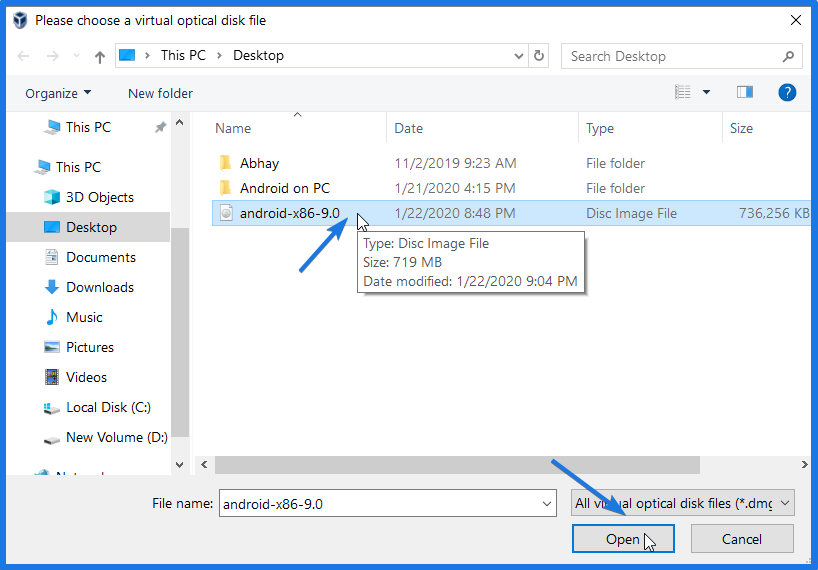 That's it! You have successfully created an android virtual machine in Virtualbox.
And now the next part of this tutorial.
Install Android x86 on Virtualbox PC
Note:- I am showing this installation process using Virtualbox. But it is the same as it is installed on a normal PC which means that this process is also valid if you are installing on PC without using Virtualbox.
And to install android on PC first you need to start the Cpu and similarly, here you need to start the android Vbox that you have created.
1. Start & Run Android 86x
Click on Start & it will start booting and loading the android x86 files.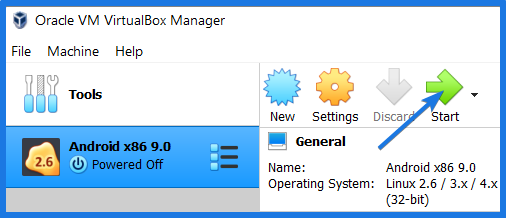 Now, wait for a few minutes to start the installation process & properly load the android screen.
2. Install Android-x86 to harddisk
Here you can see the installation Option as install android x86 to hard disk. But we will choose the Advanced Options… by pressing Enter.
Now select the Auto Installation – Auto Install to specified harddisk by pressing Enter.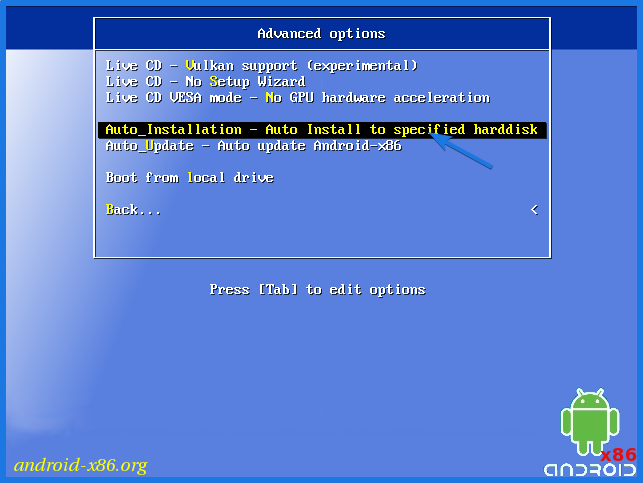 3. Use Auto Installer
After choosing Auto Installation, the installer will erase the whole /dev/sda and install Android-x86 to it. So select Yes and press Enter.
Now on the next screen, you will see Android-x86 is installed successfully. So select Reboot and press Enter.
Now it will start rebooting and loading files automatically.
4. Remove USB or ISO file
If you are installing android on PC using USB drive then Remove your USB from it.
And if you are installing android on Virtualbox then remove the ISO file from settings of Virtualbox.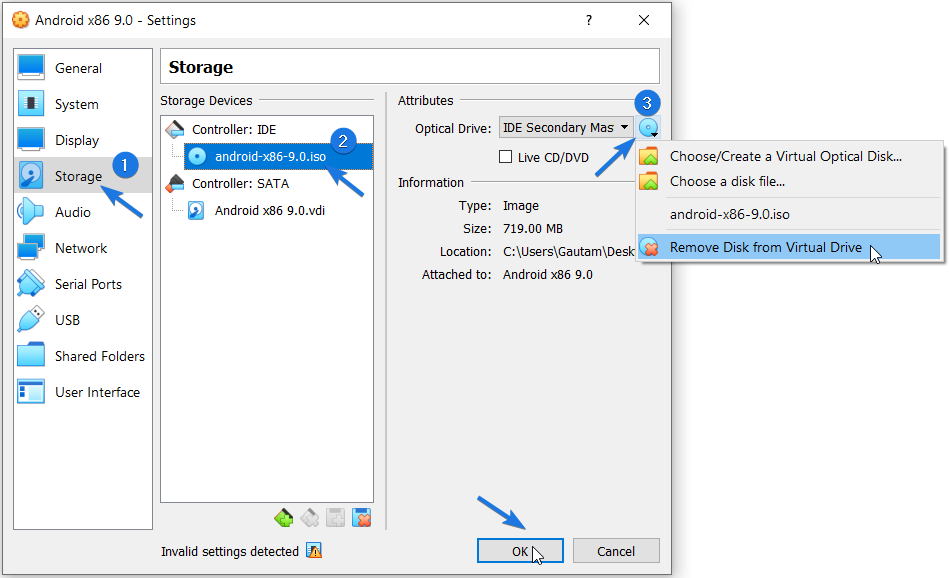 5. Run Android on Virtualbox PC
Now Click on Start to run android in Virtualbox and if you have installed android on PC then Start your CPU.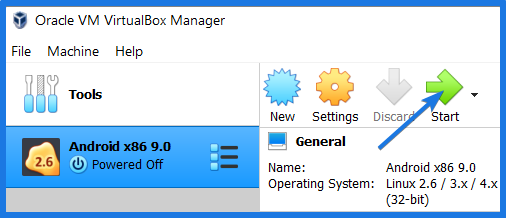 Now it will start booting the installed android OS.
Wait for few 2-3 minutes while the android logo appears.
And Done! You have successfully installed Android 9.0 on Virtualbox PC.
Some FAQs
Can I run Android OS on virtual machine?
Yes, you can easily run the Android operating system on a virtual machine by booting it from the ISO Image.
Can Android OS be installed on PC?
Yes, Android OS can be easily installed on a computer or PC by using the official Android emulator given by Google.
Can we install Android in VirtualBox?
To install Android OS in Virtualbox, just follow these quick steps.
1. Download & Install Virtualbox
2. Open it & Create a Virtual machine
3. Configure it properly
4. Install the Android-86x operating system.
How can I get Android OS on Windows?
You can easily get the Android operating system running on a Windows PC, just you have to use software like Virtualbox, VMware, or the official Android SDK.
That's it for now…
Conclusion
So that's how you can easily install an android OS on a virtual machine in Windows 10 using Virtual Box. And you can also follow the same method for QEMU & VMware.
Stay tuned for the next post on How to install Remix OS on Virtualbox PC.
Feel free to share your thoughts and also tell us if you know any better way to Install Android OS on PC Using Virtualbox Windows 10.
If you liked this post, Don't forget to share this unique trick with your tech buddies.