Want to download Windows 11 ADMX Templates?
If yes, then this post is definitely for you.
You admit it or not, but we all love these new features of this latest operating system.
And to continue giving this experience to users, Microsoft is trying very hard to release new functions as soon as possible.
Recently, they released the latest Administrative Templates for Windows 11 22h2 version. With this, the company has added new settings and also updated the ADML or ADMX files.
Furthermore, all the issues present in the in-built template were fixed and resolved successfully.
So in this post, I will show you the full process of downloading and installing the .admx templates on your Windows 11 and then copying them to the Central Policy Store ( Group Policy ).
So, without further ado, let's get started…
What are Administrative Templates?

Administrative Templates are those registry files or templates, which the company releases to add new settings to their operating system. Whether it's Windows 11, Windows 10, or any other version, they all have their different templates. By adding them, you can access the newly updated administrative settings and permissions using Group Policy Editor.
However, these ADMX templates are compatible with the 22h2 version but since the newest version is Windows 11 23H2, there will be separate templates and functions respectively. Apart from that, the Microsoft Edge Browser and the Windows Server 2022 will also have different language-neutral.admx files and language-specific.adml files for it.
How to Download and Install Windows 11 ADMX Templates & Files?
In the above section, we have already discussed everything about the administrative templates but before going to the installation process, you should know that the permission of the Group Policy Management Editor (gpme.msc) is required for running these Windows 11 22h2 ADMX files.
Recently, Microsoft has made the latest 3.0 version available for downloading purposes but don't worry the process of all these templates are same. So, let's directly move to the steps and follow the instructions carefully.
1. First, download administrative templates (.admx) for Windows 11 2022 Update (22H2) – v3.0, by opening this page. Or you can directly go to the Microsoft Software Center and search for this specific file.
2. Once you are on the given page, select the Language as English and then click on the Download button.
3. After downloading the .msi file, please save it on your computer.
4. Now double-click on the "Administrative Templates (.admx) for Windows 11 July 2023 Update V3" installer. Once you are on the "Setup Wizard", click on the Next button.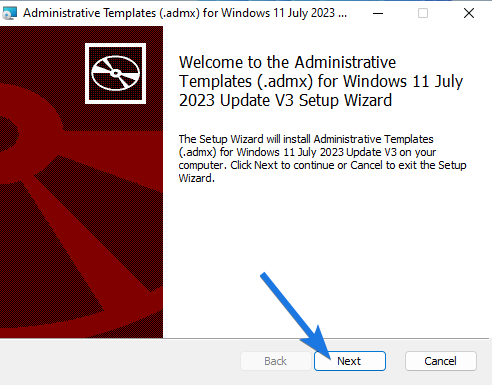 5. After that, enable the "I accept the terms in the License Agreement" checkbox and then click on the Next button.
6. Now set the location by clicking the Browse… button, where the .admx files should be installed. By default, the location is set to " C:\Program Files (x86)\Microsoft Group Policy\Windows 11 July 2023 Update V3 (22H2)\PolicyDefinitions\ ", so now simply click on Next.
7. After that you can see the setup is ready to install and now to begin the process click on the Install button.
8. Once the installation is done, simply click on the Finish button.
Now if you want to check if the .admx template files are correctly installed then go to the given location of the folder.
Location:- C:\Program Files (x86)\Microsoft Group Policy\Windows 11 July 2023 Update V3 (22H2)\PolicyDefinitions\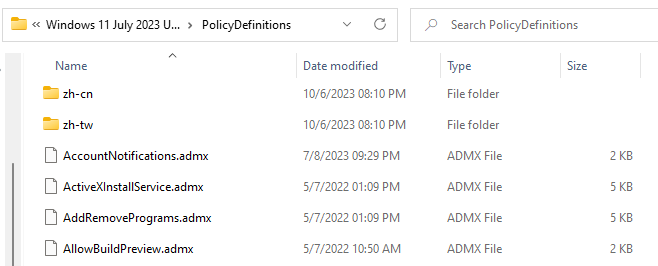 Language Options for Administrative Templates
Since these templates are released universally for all Windows 11 users, that's why these files and policies are also available in different languages.
cs-CZ Czech – Czech Republic
da-DK Danish – Denmark
de-DE German – Germany
el-GR Greek – Greece
en-US English – United States
es-ES Spanish – Spain
fi-FL Finnish – Finland
fr-FR French – France
hu-HU Hungarian – Hungary
it-IT Italian – Italy
ja-JP Japanese – Japan
ko-KR Korean – Korea
nb-NO Norwegian (Bokmål) – Norway
nl-NL Dutch – The Netherlands
pl-PL Polish – Poland
pt-BR Portuguese – Brazil
pt-PT Portuguese – Portugal
ru-RU Russian – Russia
sv-SE Swedish – Sweden
tr-TR Turkish – Turkey
zh-CN Chinese – China
zh-TW Chinese – Taiwan
Copying Windows 11 22h2 ADMX and ADML Files to the Central Policy Store
At this point, I believe that you have already installed the administrative templates on your system. And here comes the most important part, which is copying the Windows 11 admx files to the Central Policy Store.
Now if you have an old Central Store which is already present then it's great. Otherwise, you have to create a new directory in the sysvol folder of the given location.
Location:- \\<domainname.com>\SYSVOL\domainname.com\policies\PolicyDefinitions
Note:- Don't forget to make a backup of the previously existing files before copying the new administrative template files to this folder. Or you can simply create a new folder with the name "PolicyDefinitions22h2" and then paste the updated files into it.
All this is to be solely done in the domain controller and also make sure you are copying the files in the correct language like "en-US English – United States". Once everything is done, now these latest templates can be accessed using the Group Policy Editor.
That's it for now…
Conclusion
So, that's all about how you get these admx templates for Windows 11 on your computer, laptop, and PC. Also, we recommend our every user only download files from Genuine sources and also the updated versions.
Apart from that, we have also seen users searching for queries like " if these administrative templates are backwards compatible " and for them, we want to clarify that they also support Windows 10/8.1/8/7.
Stay tuned for the latest posts…
Feel free to share your thoughts via comments and also tell us about this post on Windows 11 ADMX Templates / Files: Download & Install Now.
If you liked this post, don't forget to share it.