Do you want to create a bootable ISO from folder or files extracted from Windows Cd or Dvd?
If yes then you are in right place.
But before we begin let's see how this post helped me a lot.
A couple of months ago, accidentally my pc got infected from some viruses due to which my windows got corrupted.
And all my files got deleted so I decided to do a clean Windows 7 install.
But unfortunately, at that time I was not having any copy of the Windows 7 DVD to install it.
So I borrowed it from my friend and then install it on my Pc.
After the installation is done, I copied all the windows installation files from that DVD so that I can use it later.
And after a few weeks, I realized that instead of creating a bootable iso from Dvd I copied all the installation files like some normal file.
Even though I could easily get that Dvd again but I decided to create a bootable ISO from that folder or copied files.
And then I searched for this post and learned how to make bootable ISO from a folder or extracted files.
And you can also do so.
Also Read:- Copy file names from Windows folder as Text
Let's see How…
Create Bootable ISO From Folder / Files
In this tutorial, I will be using a Cd/Dvd burning tool called ImgBurn. ImgBurn is a simple Cd, Dvd, ISO burning Utility with lots of advanced features as compared to other tools.
Whenever I need to do any sort of bootable ISO burning work I always use ImgBurn. Download Link…
So Let's get started with this tool and follow this step by step Guide
1. Download and Install ImgBurn
Download the Imgburn tool from the given link and Install it properly. And after installation is done Open this tool & Click on Create image file from files/folders.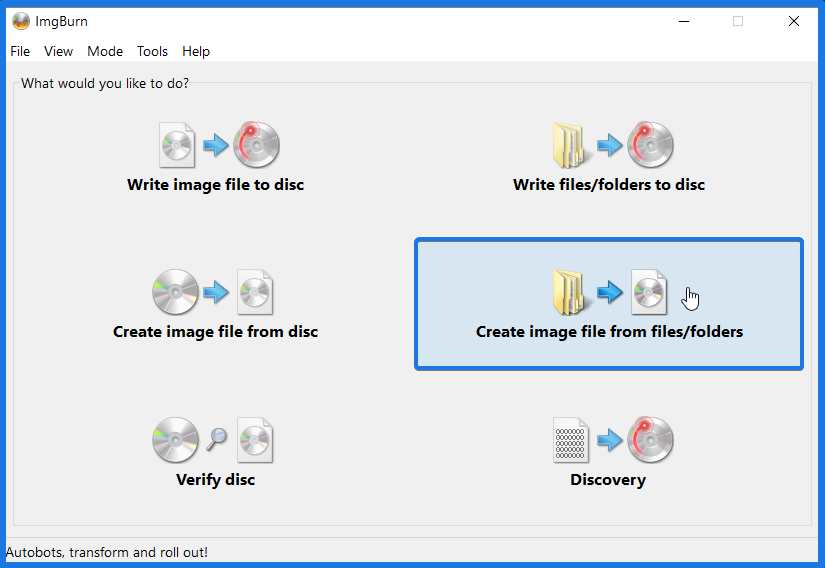 2. Select Windows Installation folder/files
Now Click on Browse for a folder… in the source section and then select that folder which contains all the windows installation files copied from that Dvd.
After that Select the Destination path where you want to save & create bootable ISO from folder/files.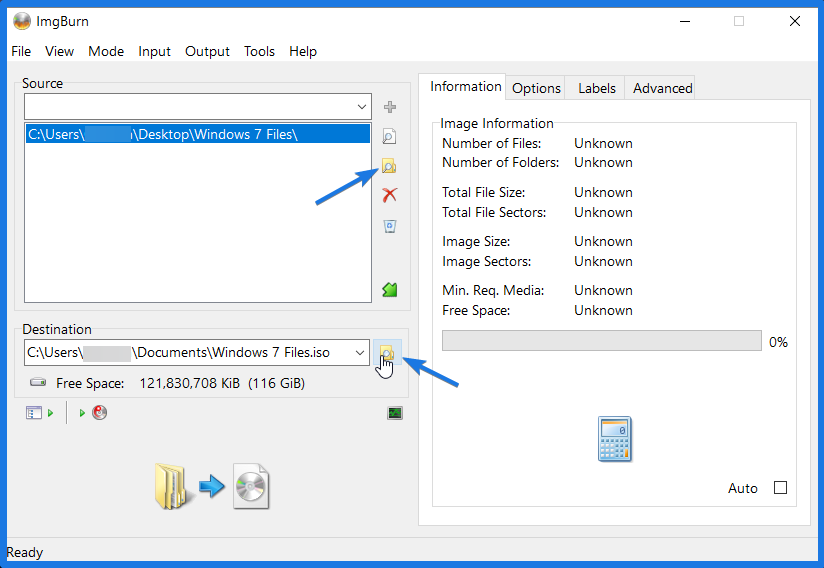 3. Make ISO Image Bootable
On the Right-hand side Click on the Advanced tab and then Click on the Bootable Disc tab. Now in the Options click on the Make Image Bootable checkbox & choose Emulation type as None (Custom).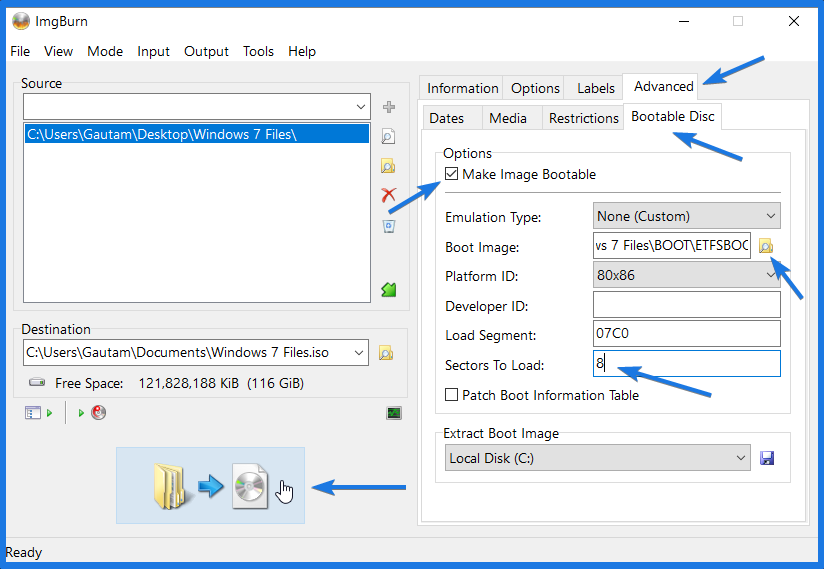 Now Select the Boot Image File from the BOOT folder present in the Windows installation folder and from that folder select ETFSBOOT file. And in Sectors To Load field type 8.

4. Advanced bootable Settings
Finally, Click on Build and Now it will show some warnings for incorrect UDF settings. But you have to just click on Yes and it will automatically adjust the correct settings for you.
That's it! Wait for 4-5 mins and your bootable ISO file is ready.
Bonus Tip:- You can also create bootable USB from ISO file that you have created.
That's it for now…
Some FAQs
How do I make a bootable ISO from a folder?
If you want to make a bootable ISO from folder then you need to install the ImgBurn app and follow this article.
How do I create a Windows 10 ISO file from a folder?
It's pretty to create an ISO file for Windows 10 from a folder using ImgBurn, just you need the copied installation files from DVD.
Can you create ISO image from files?
Yes, you can easily create an ISO image from Windows installation files and folders copied from the disc.
How do I create an ISO file from a bunch of files?
To create ISO file from a bunch of files:-
1. Download & Install the ImgBurn tool.
2. Select Installation files of Windows OS.
3. Configure Bootable ISO Settings and Done.
For a full step-by-step tutorial, you can check this article.
Conclusion
So that's how you can easily convert folder or files to an ISO file copied from the Windows installation disc. And you can also follow the same procedure for Windows 8 & Windows 10. So what are you waiting for? Go ahead and Use this awesome method to make your own ISO file from the files extracted from the Dvd.
Feel free to comment below and also tell us if you know any better way to create bootable ISO from folder or files.
If you liked this post, Don't forget to share this with your friends on your favorite social media platform.