Want to know how to use UltraSurf VPN Proxy Server?
If yes, then you are in the right place.
UltraSurf VPN is one of the best free proxy program available in the market.
Back in 2002, when the Ultrasurf was newly developed by Ultrareach company, it was an impressive tool.
But due to its lack of advanced features, now it is getting vanished.
Day by day new companies are coming up with powerful free VPNs and Online proxies that are more advanced.
But this doesn't mean this tool is useless now.
It still does its job perfectly & gives you the ability to access all the blocked sites banned by your government or ISP.
And the best part of this proxy VPN tool is that it is completely free, lightweight and easy to use.
Let's see how it works.
Note:- If you are professional and security & privacy really matter to you then I suggest you to check out this budget friendly VPN.
How to Use UltraSurf VPN Proxy Server
But before we dive in further.
Let's get to know more about the Ultrasurf VPN pros & cons faced by different users.
Pros:-
Available in more than 150 countries.
Simple plug & play tool. (Not much configuration needed)
No registration process required.
Gives you Unlimited bandwidth.
Makes your connection private & mask your IP address
Best freeware VPN Software.
Cons:-
Only available for Windows & Android (Beta).
No Mac version is available.
Sometimes faces slow speed due to high demand.
And now let's move to the settings & configuration part and see how you can easily set up a proxy in Ultrasurf VPN software.
So let's follow this step by step guide.
1. First download the App from the given link. Download Ultrasurf VPN for Windows

Note:- But if you are downloading this app by using a private connection provided by college & office staff, then it might not download.
And in that case, you can try the Ultrasurf Alternative download link.
2. Once the file is downloaded, Open it or Run it by double-clicking on it.
And now the Ultrasurf will start connecting to the given IP.
And once it is all connected, it will automatically open up the default browser with a new Ultrasurf security tab.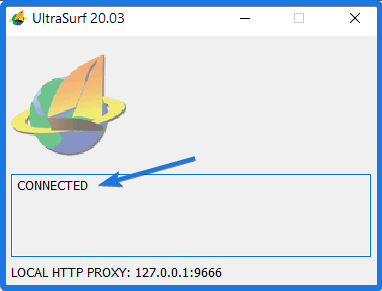 That's it! You are completely anonymous & to confirm that you can go to speedtest.net online and you will see your IP address is now changed.
Although it doesn't provide you the feature of custom location servers but still this is the most easy to use VPN I have ever used.
Note:- No bandwidth limitation, anonymous browsing with high security.
UltraSurf Proxy VPN Server Settings for Firefox, Chrome & Microsoft Edge [Updated]
Basically in the recent releases, Ultrasurf service has stopped giving the options to manually change the Proxy settings.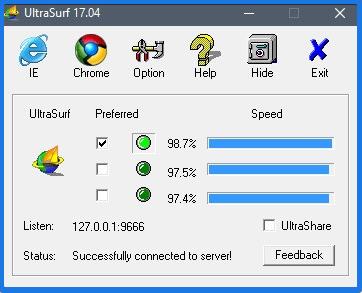 Earlier they used to provide the custom option for Chrome & Internet Explorer to manually set up proxy servers.
And now by default, the Ultrasurf Proxy Server will automatically connect to the Local Http Proxy: 127.0.0.1:9666 for the default browser.
So if you want to use Ulrasurf on Google chrome then make it the default browser first and the same goes with the Internet Explorer (Microsoft Edge).
Note:- Also due to security purposes I think the chrome browser has stopped the feature to setup manual proxy network server settings.
But still, you can use the manual proxy settings on the Firefox browser.
So let's see how to set up it properly.
UltraSurf Proxy Settings for Firefox Browser
Note:- These Settings are mandatory to apply to use Ultrasurf VPN Proxy on the firefox browser. But for Google chrome, it automatically detects the suitable settings.
1. Open the Mozilla Firefox browser.
2. Now Go to Option (Settings) or simply click on the Gear icon.
3. Now in the search bar, type "Network Settings" & click on the Settings button.
4. Once you are in the Connection Settings, Enable the "Manual proxy Configuration" & type "127.0.0.1" for proxy and for port type "9666" & then click OK.
Note:- Here you can also use other proxies according to your preference.
And Done! let's move to the Android App part.
How to use Ultrasurf VPN Proxy on Android Mobile App
Using Ultrasurf on Android mobile is much simpler than the above ones. Just you have to install the app & tap on "Switch to connect".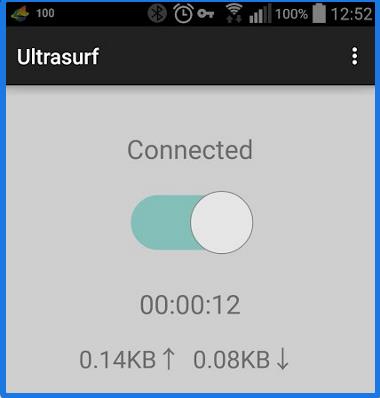 Download Ultrasurf android app link Play Store link
And done! You are ready to go and use the internet anonymously without any Sign-up or registrations.
And the best part of this VPN Proxy is that it creates a private secure tunnel giving you a private virtual IP address with no bandwidth limitation.
Note:- This app is still in the beta version. So, sometimes you might face some bugs and issues. Otherwise, this works like a charm.
And done! Let's move to the Bonus part.
Bonus: Ultrasurf Chrome Extension for Ultrasurfing Online
Yes! you heard it right. Ultrasurf is also specially available for the google chrome users. This means that you can also use this on Mac OS by installing the chrome browser on it & using the Ultrasurf extension.
Basically, this chrome extension works under the project of Ultrasurfing. And can be easily used as a free VPN extension online.
Just you to follow a couple of steps:-
1. Download & Add to Chrome from the given link.

2. Once the extension is installed properly, tap on the On/Off button.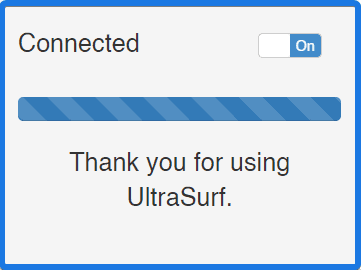 And done! You are connected & completely anonymous.
Some FAQs
How does Ultrasurf VPN Work?
Ultrasurf VPN works by creating an encrypted tunnel between the user's system and proxy server. This helps users to access sites anonymously and bypass firewalls safely.
How do I connect to Ultrasurf?
Connecting Ultrasurf is very easy, just you have to follow some steps:-
1. Download and Install the Ultrasurf app.
2. Click on Connect button & you will it is now connected.
3. For Advance settings, go to Network Settings and then set the Manual proxy configuration as 127.0.0.1.
What port does Ultrasurf use?
Generally, Ultrasurf uses 9666 as the default port. Using this port users can browse the sites anonymously using the proxy servers.
Is Ultrasurf a free VPN?
Yes, Ultrasurf is absolutely a free VPN available for Windows, Android, Mozilla Firefox, and Chrome Browser. Moreover, it has no bandwidth or time limitations but you may get a lower speed as compared to normal.
That's it for now…
Conclusion
So that's how you can easily set up an Ultrasurf proxy on windows 10 PC, firefox, chrome browser & android device. So, what are you waiting for Go ahead & use these awesome VPN clients for free and watch all your favorite Netflix web series & unblock your favorite site blocked by the government.
Also if you know any better VPN program than this, please comment down below. We would really love to know.
Also, check out our new post on using Ultrasurf with a firestick.
Feel free to share your thoughts and also tell us if you know any better way to How to Use UltraSurf VPN Proxy Server in 2020.
If you liked this post, Don't forget to share this helpful post with your tech buddies.