How do I create a windows 7 password reset disk?
If this question is still popping in your mind then you are at the right place.
If you are a windows user whether it's Windows 10 or Windows 7, it's a must step to create a password reset disk.
As sometimes we forgot our password & due to which we lose our precious data.
And we don't want it to happen.
But if you have already done this mistake and forgotten your windows password then this post will not help you.
But don't worry. I have a great tool for you that will definitely help you to reset your Windows password.
Even if you don't have the password reset disk, the above tool will help you.
I know there are lots of other ways also like reset windows 7 password using cmd.
But why use CMD & waste so much time when you have such a great tool already there.
And if you are the lucky one and still have a working PC, then this is the right to create a reset disk.
Because Microsoft windows itself gives you a feature to reset windows password using reset disk.
So Let's dive in further & see…
Create Windows 7 Password Reset Disk USB
But before we begin.
Please make sure that you have a spare USB drive, a working PC and you must be knowing the current user account password.
So in this post, I will show you how to create or make a password reset disk using USB flash drive.
So Let's get started.
1. Plug in your USB flash drive into your computer.
2. Now Click on Start & search for Reset Disk and then select Create a Password Reset Disk.
3. Now the "Forgotten Password Wizard" dialog box will pop up. So Click on Next.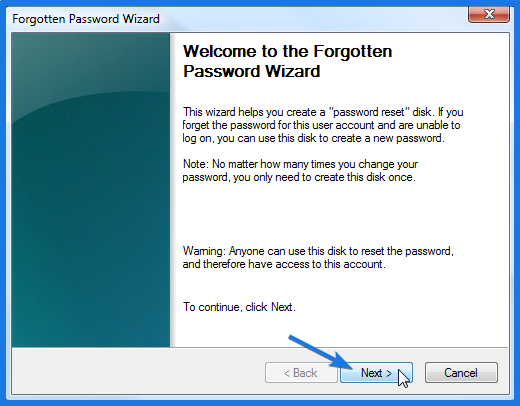 4. Then you will see a message "I want to create a password key disk in the following drive:" .So select the USB drive from the drop-down menu & Click Next.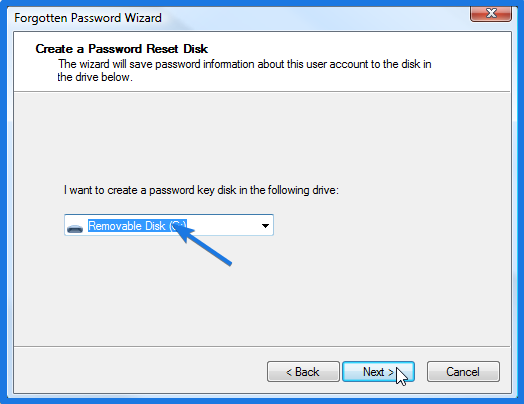 5. Now it will ask for the Current user account password and then click on Next.
And Finish!
Bonus Tip:- And if you open that USB, then you will find a file called userkey.psw and you can backup this by copying it to a different USB drive.
But How to Use it? Let's see…
Bypass Windows 7 Password Using Reset Disk USB
1. Insert the Windows 7 password reset disk USB into your PC that you have created earlier.
2. Now Restart your Pc and at the Windows 7 login screen you will find a link called "Reset password…". Click on that.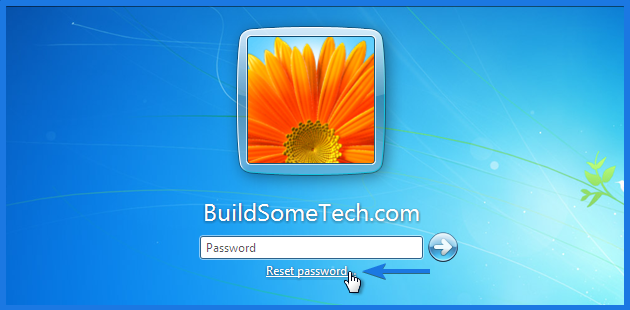 3. Now the Password Reset Wizard will open up. So click on Next.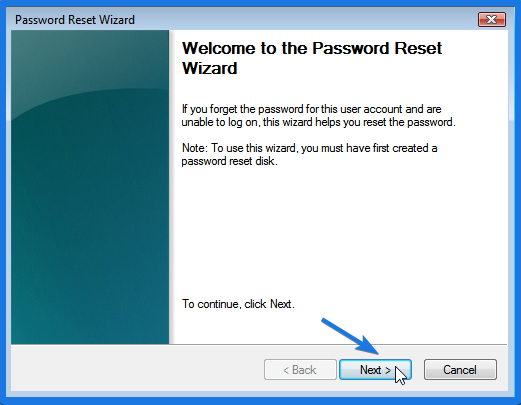 4. Now from the dropdown menu, select the Password Key disk and Click Next.
5. Now Reset the User Account Password and then type a new password & Click on Next.
That's it! And Finish.
Conclusion
So that's how you can easily reset or bypass Windows 7 password without logging in by using Reset Disk but also without using the Cd or any kind of password recovery software tool.
And this process is applicable for all Windows 7 editions like Pro or Professional, Ultimate & Enterprise.
Stay tuned for the next posts on Password reset disk windows 10.
Feel free to share your thoughts and also tell us if you know any better way on How to Create a Windows 7 Password Reset Disk USB.
If you liked this post, Don't forget to share this with your friends.