How to reset windows 7 password?
If this is the same question that you are searching for then you are in the right place.
I know windows 7 is gone but some users are still using it.
In the previous post, I have already talked about how to reset windows 10 forgotten password.
But some users are still replying to me that they are finding really difficult in resetting or recovering windows 7 password.
So I decided to write one post for them also.
I know it's pretty simple if you have created a password reset USB disk earlier.
But what if you haven't. Don't worry I have a solution.
Let's see how it works…
Recommended: If you are a professional and don't want to waste your precious time then this password reset tool is for you.
Reset Windows 7 Password Using Command Prompt
In this post, I will show you how to factory reset windows 7 login password without logging in using command prompt (CMD).
Also, learn to reset the administrator password without having the reset USB disk.
So Let's get started with this step by step guide.
Note:- This process is a little time-consuming but it will definitely work & will reset your password without losing the data.
1. Launch Startup Repair
Note:- This is the most important step of this whole process to launch a repair startup, and you can easily do this by Powering on your computer & as the windows logo appears at startup shutdown it or remove the power cable of CPU.
This will lead to a startup fault and windows error recovery will be executed after restarting the CPU.
And Now when you this Error Recovery screen, Select Launch Startup Repair (Recommended) and Press Enter.
2. Now Startup repair will execute and start searching for the problems…
3. After waiting 4-5 mins, you will get a message to use System restore as the Startup Repair is unable to find any problem.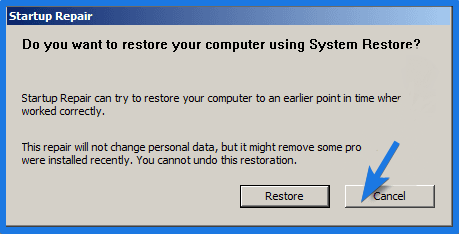 But it's of No Use in order to reset windows 7 password, So Click on Cancel.
4. Now Windows will automatically try to repair the problem. So wait for 2-3 mins. And then it will show a popup saying "Startup Repair cannot this computer automatically".
And then the important step, Click on View problem details.
5. Now Scroll down the View problem details section and at the bottom, you will find a link of a file erofflps.txt. So, Click on that link.
6. This will open up the text file in notepad which useless. But it will help you to Open up the Windows 7 system files to reset the password easily. So Click on File and then select Open.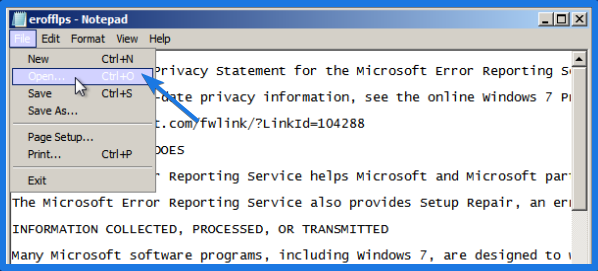 7. Now the Windows dialog box will appear, So Click on Computer. And then Go to Local Disk drive.

Open Windows Folder.

And then go to System32 and then in Files of type section, Select "All Files".

8. And now in System32 folder, search for Utilman file and rename it to Utilman 1.
Now again search for cmd file in that folder and rename it to Utilman.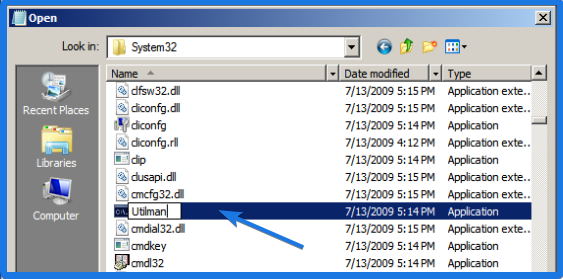 9. Now Click on Cancel and Close all running windows including Sartup Repair by Clicking on the Finish button.
10. Reset Windows 7 Password Using Command Prompt CMD
Now it will automatically Restart Windows 7 and load it properly.
And when you are on the Login screen, You will still find the Account locked asking for the password and unable to logging in. Now Click on the Ease of Access icon at the left bottom of the screen.
Now Command Prompt CMD will open up and you have to type the below code and press Enter.

control userpasswords2
And the Last step, Now User Accounts dialog box will open up showing all User Name and Administrator. So click on Reset Password.
Now leave the New Password as Blank and Click Ok. And Close all windows.
And Done! It's not a hack but a simple trick…
Some FAQs
How do I bypass Windows 7 password from Command Prompt?
For bypassing Windows 7 password just follow the given steps. First, enter the safe mode with the Command prompt and type the "net user buildsometech 123456" command, then hit Enter & you will see a success message.
What is the Command Prompt to reset password?
Command Prompt is an inbuilt windows application or a tool that can also be used to reset passwords, assign new passwords, and other tasks using commands.
How can I reset the Administrator password in Windows 7?
To reset the local administrator password in Windows 7, you need to use the Utilman file as a command prompt as shown in this detailed article.
How can I change my Administrator password using cmd in Windows 7?
It's pretty easy to change the windows 7 administrator password using cmd, just you have to follow the given steps. First, open cmd.exe as administrator and then type the "net user buildsometech abc" command & press Enter to reset it.
Conclusion
So that's how you can easily reset, recover or bypass windows 7 password without logging in and also without using the install disk, Cd, or any software tool.
And this method also works with all Windows 7 editions like Pro or Professional, Ultimate & Home premium.
Stay tuned for the next posts…
Feel free to share your thoughts and also tell us if you know any better way on How to Reset Windows 7 Password Using Command Prompt CMD.
If you liked this post, Don't forget to share this with your friends.