Does Intel Core i7-6500U Support Windows 11?
If you are looking for this, then this post is definitely for you.
However, this latest operating system from Microsoft is really awesome. Whether, it's in terms of design, performance, or security.
But because of improved privacy and security features, this OS has created problems for many users.
Furthermore, I have also seen many users searching for queries like "Why is my i7 not supported by windows 11?" on the internet.
And that's really weird because this is not the first time when Microsoft released some major upgrades for their systems.
But the worst part is that this not only happens to Intel i7-6500U users but there are plenty of other i7 users with different generations.
So, without further ado, let's get started…
Does Intel Core i7-6500U Support Windows 11?
If we look at the hardware and other specs of this processor then this can easily run Windows 11. But due to the old generation of the chip, it's not compatible or supported fully. And if you look at the benchmark of Intel(R) Core(TM) i7-6500U CPU @ 2.50GHz then you would be surprised to know that this old processor still performs very well.
Generally, most of the users face issues with the TPM 2.0 and Secure Boot but here in this chip everything is supported but not the generation. Here, I have shared one screenshot which clearly shows that "This PC doesn't currently meet Windows 11 system requirements." and it's only because of the unsupported CPU.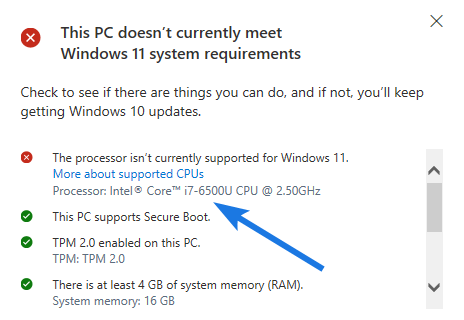 Does Core i7 6th Gen support Windows 11?
No, according to Microsoft the Intel i7 6th generation is not supported by Windows 11. And that's not only the case with this generation but there are plenty of processors like i7-6920hq which are also facing these types of issues and cannot be fixed. So, this basically means that you cannot run this OS on the systems having these chips. And you won't believe that when the Win 11 was officially released there were chips like i5-6500 which were added to the processor's list and were fully supported.
Can Core i7-6500U run Windows 11?
Yes, Intel Core i7-6500U can easily run Windows 11 by using some registry hacks provided by the Microsoft community. But if we look at the official list of CPUs then it will show that this processor isn't currently supported for this operating system. Moreover, it is only happening because of the lower generation chip, and because of this many machines like Dell Inspiration 5559 have become useless if they really want to upgrade their Windows OS. And to get rid of this problem, many users have permanently shifted to Apple and Ubuntu.
Will Intel i7 be supported for Windows 11?
Intel i7 processor is fully supported for Windows 11 but the only difference is with the generation they are having on their system. If your system has a chip of 8th gen or later then you can easily run it on any i7 chip. And because of this, many users with old processors like i7-4800mq and i7 4710hq cannot install Windows 11 on their system. Apart from that, there are some exceptions like Surface devices having lower CPU generation can still run this operating system without any upgrades.
Can I run Windows 11 on i7 6700K?
Yes, you can easily run Windows 11 on an Intel i7-6700K processor by following the method given in this detailed guide. However, it is not fully supported by this operating system but you can still use the hack which is provided by Microsoft. In starting days of the release, there were plenty of users who were facing unsupported CPU issues and after looking at this condition the company itself provided some registry hacks to bypass these requirements. Many devices like Lenovo IBM X270 have faced this problem but now they easily experience it by following the above guide.
That's it for now…
Conclusion
So, that's all about the i7-6500U CPU and how it can run Win 11 operating system. Although, the given method works perfectly fine and I have also used it for older processors but the only problem is that some users have faced low performance and lags while using it.
In that case, I suggest you stick to Windows 10 instead of buying a new computer or laptop. Because for this operating system, you will be getting regular updates till 2025 from Microsoft.
Stay tuned for the latest posts…
Feel free to share your thoughts via comments and also tell us about the post on Does Intel Core i7-6500U Support Windows 11?
If you liked this post, don't forget to share it.