Why is Intel Core i7-7700 not supported for Windows 11?
If you are searching for this query, then you are in the right place.
When Microsoft rolled out there latest operating system, plenty of users were excited to experience it.
But when they actually tried installing it, they got lots of compatibility issues related to TPM 2.0, Secure Boot, and processors.
One such issue which was mostly searched by them was "Is i7 7700 Compatible with Windows 11?" and many more like them.
All this was happening because of the new system requirements and due to which many users were really upset.
Although, fulfilling these requirements was pretty easy but I know that replacing a processor like the Intel i7-7700 is very hard.
At that time no option was left but then after realizing this problem, the company itself shared some hacks to fix it.
So, without further ado, let's get started…
Why is i7-7700 Not Supported for Windows 11?
However, this is a very qualifying CPU that was released in late January 2017 but now because of the latest system requirements it is worthless. And if we look at the other specs of this processor then it has 4 cores, 8 MB smart cache with a good 1060 graphics. But according to Microsoft, this Intel(R) Core(TM) i7-7700 CPU @ 3.60GHz is not fully compatible with Windows 11.
And that's not the only case with this chip but there are plenty of processors which are very popular among users like i7-7700hq which is also not working for now. Furthermore, if anybody checks for compatibility then it clearly shows that it fulfills all requirements like Secure Boot, TPM 2.0, and 16 GB system memory but except the CPU which is mandatory to install it.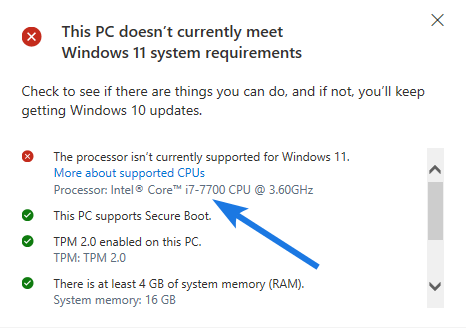 Can Intel i7 7th Gen Run Windows 11?
No, the Intel i7 7th generation cannot run Windows 11 because it does not meet the requirements given by Microsoft. However, when this operating system was launched some 7th gen CPUs were added to the list but then after looking at various criteria like DCH Design Principles, they were dropped. And that's not the only chip dropped but there were plenty of processors like i7-4770 and i7-3770 which were also removed even if they were from different generations.
Can Intel Core i7-7700 Run Windows 11?
Yes, the Intel i7 7700 can easily run Win 11 operating system but it is not supported by the list of processors given by Microsoft. However, there were some exceptions for surface devices but most of the other machines which work with Windows still follow the same list. And because of this many high-performing Alienware laptops become unusable even if they were fulfilling all requirements except the right generation. Moreover, I have seen many users still searching for "When will Windows 11 support i7-7700?" and looking for some correct answers.
Can I install Windows 11 on i7 7700K?
Yes, you can easily install Win 11 on i7-7700K by following the different hacks and tricks which we have shown in this detailed guide. In that guide, I have shown 4 different ways to get this operating system even if it is not compatible with Windows 11. And if you follow all the steps mentioned in that guide, then you can easily perform the installation on any unsupported device like a desktop, laptop, or computer. Also, you won't believe that we have also shared a screenshot that clearly shows the operating system running on this chip.
Does Intel i7 work with Windows 11?
Yes, the Intel Core i7 processor works perfectly fine with Windows 11 but it must fulfill the correct generation requirement. Although, this was done to increase the security of the machines but most of the users were not prepared for that hardware upgrade. However, many hacks were introduced to install this operating system forcefully but the majority of users really want it through the Windows Update method. And because of this, many users were irritated and commented on the forums that are going to move to some other OS.
That's it for now…
Conclusion
So, that's about the compatibility of the i7-7700 processor with Win 11 and why it is not supported by this latest operating system. And the best part is that we have gone through all the forums and discussions like Reddit while creating this guide on a specific chip.
Moreover, we have tried to answer all queries related to this topic, and please let me know if anything more should be added.
Stay tuned for the latest posts…
Feel free to share your thoughts via comments and also tell us about this post on Why is Intel Core i7-7700 not supported for Windows 11?
If you liked this post, don't forget to share it.