Want to download steam for Windows 11?
If yes, then you are in the right place.
Everyone knows that the gaming industry is thriving these days and you won't believe that there are 3.24 billion gamers in the world.
And to keep up the pace, new games are launched on a daily basis.
And that's why we also shared a detailed guide on Steam workshop downloader using which you can easily get the mods for free.
But here, we are going to share the links to the official app.
Because I have seen many users have reported that they are facing issues while installing it. But don't worry we will help you out.
Here I will show how to download steam on Windows 11 pc or laptop, and then we will move to the installation part.
So, without further ado, let's get started…
What is Steam?
Steam is one of the most popular video game platforms provided by the Valve corporation. This is the same company that developed some awesome games like Counter-Strike, Dota, Portal, Left 4 Dead, Half-Life, and many more. Moreover, this platform has around 30000+ games in different categories like action, adventure, strategy, sports, etc. ( Some of them are free and some are paid )
When the Steam Client was launched in 2003, it was only to provide updates to their official games but then they started expanding and added some popular third-party games. As the users liked this platform more, the company decided to convert it into a Steam Community where gamers can interact and now they are planning something big for cloud gaming.
Steam Download Windows 11 PC [ Latest Version for Free ]
In the above section, we have talked about the platform but here we will be discussing about the latest version of the Steam app. Although, it's pretty easy downloading this application but I have seen many users have questions like Can I run Steam on Win 11, and will it be better?
Yes, you can easily run this app and you won't believe that it's even faster and more optimized for gaming than Windows 10 OS. Here we have provided some free direct links to the file which is compatible with all PCs.
Quick Note:- Use this main link to get the file, where we have provided the setup files for both operating systems.
Now let's move to the next part…
How to Download and Install Steam on Windows 11?
However, the installation part of this application is pretty easy but I have seen plenty of users are having some problems and that's why I have created this detailed part on "how to install steam on Windows 11" properly. And If you have already installed it, then you can also use these below-mentioned steps to update it to the new version.
And here are the steps to follow:-
1. First, download the Steam app from the given link.
2. Once the file is downloaded, double-click on the "steamsetup.exe" installer file.
3. After that, the Steam Setup wizard will open up, so click on Next.
4. Now select your preferred language, like I have selected "English" and then click on the Next button.
5. After that, choose the Destination Folder or Location and then click on the Install button. Now the setup will start installing it, so wait for a few minutes to get it completed.
6. Once the installation is done, click on the Finish button.
Now let's move to the next part…
How to Use Steam on Windows PC?
Till now, we have downloaded the Steam application and also seen the installation process but here I will show you how you can use this app or platform effectively. Some good features which make the gaming experience better are Discussions, Workshops, Broadcasts, and the digital marketplace.
Apart from that, if you are a hardcore PC gamer then this is the only app that you need for your Windows 11 system. Here you can interact, make friends, and can explore different categories of games from the store. Now let's see how to set up, install, uninstall and play free games.
Now let's dive in further…
Run and Setup Steam Account
In this part, I will show you how to run steam and then set up the account so that we can start using it.
1. First, open the Steam Windows application.
2. Now click on the "Create a Free Account" button or if you have an existing account then use it to log in.
3. Now enter your details like Email Address, Country of Residence, enable the checkbox, and then click on the Continue button.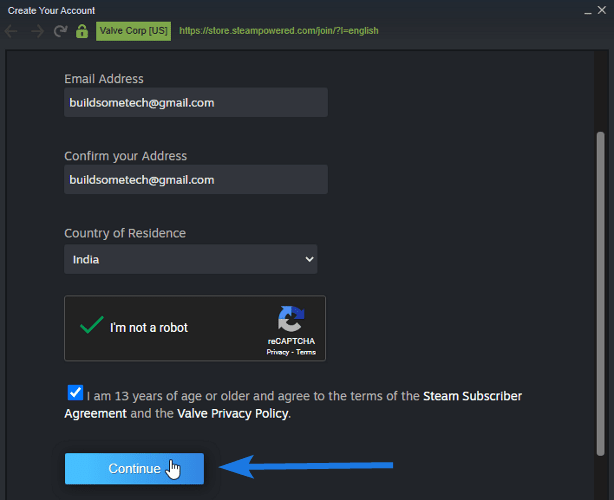 4. After that, it will ask you to verify your email address.
5. Now a new dialog box of "Create Your Account" will open up, so enter the Steam Account Name, Confirm Password, and then click on Done.
6. Once your account is ready, enter the Account name & Password and then click on the LOGIN button.
Install & Play Games Using Steam
Everyone knows that there are 1000s of games that you can free download and play using the steam client. But how to actually install them is a bit tricky, so here we have created this quick guide that you can follow.
1. Once you are logged into Steam, go to the Store section.
2. Now search for your favorite game & then click on Add to Cart button.
Quick Note:- If you are looking for free games, navigate to Store and then go to the Free to Play section.
3. After that, click on Purchase for myself button and then use the Steam wallet, Paypal, or Credit Card to complete the payment.
4. Now navigate to the Library section, select the purchased game and then click on the Install button.
5. After that, select the folder location for the installation & then Continue.
6. Once the game is fully installed, you can start playing it.
Important:- Sometimes steam also installs some additional third-party software that is required to run those games, so don't remove them.
Uninstall Games From Steam
Once you are bored playing the same game, it's time for uninstalling them from your PC because the installed files also take up some space in your Windows system.
And to do that, here are the steps:-
Open the Steam app.
Now go to the Library section.
After that, navigate to the game that you want to remove.
Now right-click on the game, go to the Manage option and then click on Uninstall button.
At last, it will ask for confirmation.
That's it for now…
Conclusion
So that's how you can easily download the steam app for PC, Laptop, and Computer that is running Windows 11 operating system. Apart from that, if you want to get it on Android mobile phones or smartphones then I would suggest you to get the apk file.
Moreover, this application can smoothly work on both the 64-bit and 32-bit version architectures without any issues.
Stay tuned for the latest posts.
Feel free to share your thoughts via comments and also tell us about this post on Steam Download Windows 11 PC [ Latest Version for Free ].