Searching for Steam Workshop Downloader?
If yes then you are in the right place.
According to Accenture, the global gaming industry value has exceeded the $300 Billion mark and is still overgrowing.
And if you are a hardcore gamer then you probably knew about it.
Similarly, there is one platform called Steam or you can also say Steam Community which is also growing rapidly among users.
And the best part of this community is that you can get different mods of games built by developers.
Earlier there was a free site called "steamworkshopdownloader.io" using which you can easily download those custom mods freely. But now it is not working or may be banned.
And that's why users are looking for some alternatives which they can use in 2023 and the upcoming year.
So, without wasting more time, let's dive in further…
What is Steam Workshop Downloader?

Steam Workshop is one of the biggest gaming content platforms which allows gamers to experience new games and their mods. This workshop is not only for gaming players but also for the game developer so that they show their creativity, imagination, and skills by developing news or their amazing custom mods. And the best part, this workshop provides all the tools to create, publish and add new elements to games.
Talking about the Steam Workshop Downloader, it is a type of tool that can help you in downloading different mods, wallpaper, and more content online using your laptop, mobile, computer, or PC. On this platform, you can find all your games in different categories like battle, action & many more. Moreover, this online tool is also popular with the name "Steam Community Downloader", so don't get confused about that.
Here are some popular games at the workshop:-
Rocket League
People Playground
Ravenfield
9 Best Steam Workshop Downloader Alternative
One of the biggest online tools which allows you to easily download all the games, mods, and other contents by just copy-pasting the URL directly from Steam is now down. And that's why the majority of users are searching for alternatives to "Steam Workshop Downloader io" so that can again start enjoying these latest mods and games for free.
Here we have listed almost all the working alternatives:-

WorkshopDL is one of the latest downloaders which is working for all steam community mods. Using this application you can easily get the mod files by just copy pasting the file URL from the workshop. One thing which I really like about this app is that it has a graphical user interface that allows us to download files without entering multiple commands. Furthermore, this program is compatible with games from different platforms like Epic games Store, GOG, and many more.
2. Steamworkshop.download

It is one of the best alternatives that you can try to download mods of games, just you have to enter the link of that game or mod and then click on the download button. Moreover, this website supports more than 200 games and its custom mods that are barely available online. But sometimes, it's also down or not working and in that case, try the other given ways.
3. SCMD Workshop Downloader 2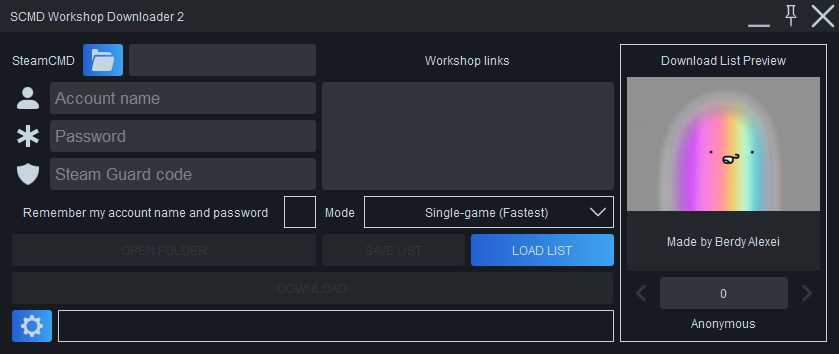 Another recently built application that uses the official SteamCMD client at the backend for downloading the mods or other items from Steam Workshop. It was developed by Berdy Alexei and has all the function scripts that are required for getting the mods files. Apart from that, it has a great user interface and can help you to download 300 MB files easily.
4. Steam Workshop Downloader 2023 [ New Way ]
Of all the mentioned methods, this one is different. Here, they are using some computer application which is known as SCMD Workshop downloader and they have recently added and updated this new app. You just have to download the installer from the given link and then copy-paste the workshop links and tap on the download button.
5. Tampermonkey Script for Steamworkshop

If you already know about Tampermonkey then it's and if not then, it is a very popular userscript tool for desktop browsers. Basically, this helps users to add any javascript program to web pages online and modify them according to their needs. For using this script, you can search the above title and then download the Tampermonkey Script by ArjixGamer from the official site.
6. NetherWorkshopDownloader3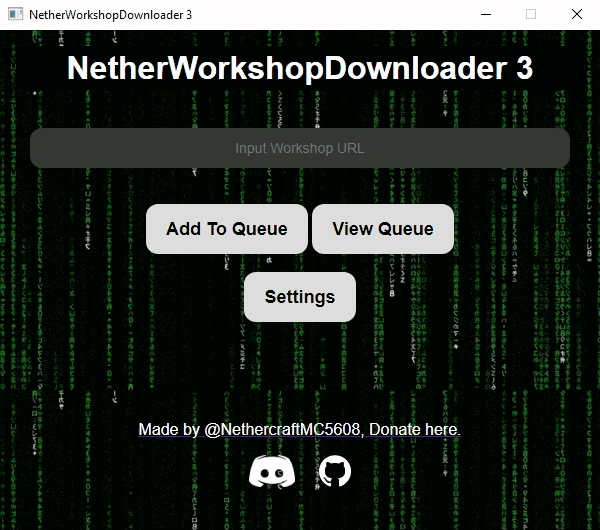 If you want to download workshop mods for free then this amazing tool can easily help you and that's not all, you can also get the game cheats and other files from the Steam community. Furthermore, the API used in this application is pretty fast and can easily download mods by allocating multiple servers for saving files at a faster speed. There are also other options for customization, Universal detection, Virus checking, multithreading, and Data saver.
7. Steam Workshop Downloader

Similar to the Steamworkshop.download, this is also a great alternative by Gramvio.com which you can use to free download the workshop content like mods. Apart from that, you can also download other elements like characters, missions, stories, weapons, themes, maps, and much more. If the links or the mods are not working properly then you can also directly contact the developers or get support from here.
8. Workshop Downloader – Online Steam Community Downloader

This website is also a good example of a Steam downloader which is known as 4hub.info. Though the above ways can easily help you but if somehow all sites are down then you use this as a backup site. And the best part is that this website also provides you with different types of online downloading tools for Facebook, Instagram, SoundCloud, TikTok, Twitch, Reddit, and many more.
9. Using Steam Workshop Downloader Extension

Like Tampermonkey, this is also a browser extension that can be used for any type of content that is available in the community. Moreover, it is also known as a steam addon downloader which works on the majority of web browsers like google chrome, Mozilla Firefox, Microsoft Edge, and many more. Just you have to add the extension then it will unlock the download links.
How to Use Workshop Steam Mod Downloader Online?
If you don't know how to use them for downloading all the content from the community then follow the given instructions. Plenty of users are using this online tool to download steam workshop mods manually from the official website. And to help you in a better way we have written this quick guide which is pretty easy to follow:-
Two games which we have recently downloaded using these tools:-
Now let's follow the given steps:-
Go to the official website of Steam Community.
Now search for your favorite or its custom mods by developers.
Once you are on desired mod page, copy the link of that page from the address bar of the web browser.
Now go to any of the steam downloaders of your choice.
Finally, paste the copied link and then click on the Download button.
If you are facing any problem then let's see how to fix it.
Steam Workshop Downloader Not Working [ Fixed ]

Earlier, we used to download the mods and other files easily by just getting the URL of the mod file. But now things have changed, recently many of big downloading have been removed or banned by the official organizations. And that's why many users started searching for queries like "steam workshop downloader io not working" and then after trying the alternatives they are getting some error like "free space left".
Here I will suggest you some ways to check and fix issues:-
Clear Downloaded Cache: Most of the problems occurs due to cache problems. We download plenty of files on a daily basis but never thought of deleting their cached files and in this case, clearing the cache can help you.
Check Internet Connection: This sounds very silly but the majority of times we are so busy at work and never check if the internet is working properly or not. And fixing it can easily help you in downloading files from the internet.
Check Download Region: We have seen that most of the games and files are only accessible with specific regions, I don't know if they intentionally blocked them and manually added a geo-restriction. In that case, you try using NordVPN which will help you to access them.
Delete Corrupted Mods File: Most of the files which we download online are not 100% working and sometimes we also get corrupted files on our PC. So, it's always better to check and download files from official sites.
Using Big Picture Mode: Sometimes we are using applications in full-screen mode due to which we don't see which apps are running in the background or while files are downloading. To fix this, you can switch to normal mode then both the status bar and taskbar will be visible.
That's it for now…
Conclusion
So, that's all about the steam workshop mod downloader and other alternatives which you try if any of them are not working. Apart from that, if you also love to play on the desktop then check these best free games for Windows 10.
Moreover, all the above-mentioned sites work on all devices like mobiles, laptops, computers, or PC.
Stay tuned for the latest posts…
Feel free to share your thoughts via comments and also tell us about this post on Steam Workshop Downloader io: 5+ Best Alternatives For You.
If you liked it, then don't forget to share it.