Want to download Amazon App Store Windows 11?
If yes then you are in the right place.
On 5th Oct 2021, Microsoft announced its latest Windows OS for all users.
However, the users were very much excited to experience the Android Apps on their PC or laptop.
And at that moment, there was no Android-related support was given.
But recently, Microsoft has released its most-awaited feature of Windows 11 to the Insider Preview Program users via a beta channel.
Although, it's not like what everyone was expecting as they have released a subsystem for android. But it's better than using any third-party app like Bluestacks and other emulators.
In this post, I will give you Amazon App Store download links from Microsoft Store for installing it on your Windows 11 PC.
So, let's get started…
What is Amazon App Store?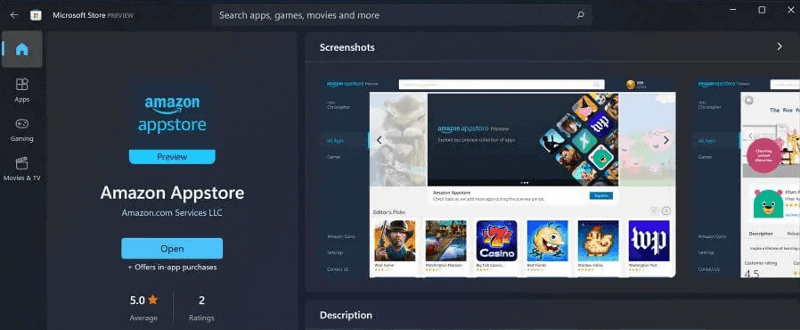 Amazon App Store is a hub of android applications that can be installed and run on the Windows operating system. Basically using this app store you can easily download and install applications directly on your PC. And the best part is that this store also contains apps for Amazon Fire OS operating system as well.
Microsoft decided to not use the google play store. Currently, not everyone can use this app store or the Windows Subsystem for android, it's only for the users enrolled in Insider Program on the beta channel. Only users in the United States can try this feature. It will be made available for everyone very soon as it is in the beta phase right now.
This app store will contain all of the android games and apps you use on your android phone. It will be integrated into Microsoft Store and you will see an option as Android apps.
Now let's move to the next part…
Amazon App Store Windows 11 Download Link [ Official Microsoft ]
You can easily download the Amazon app store in Windows 11. There are not any hard rules. You can either go to the Microsoft store and search for the Amazon AppStore. If it doesn't appear, try updating your Microsoft store, you may be using an old version.
And if it doesn't work for you then check out the given links:-
Amazon AppStore Google Drive Direct Link
The above link will directly take you to the Microsoft Store. But keep one thing in mind that your PC should fulfill the requirements and if it doesn't then you will not be able to install this app store.
Now let's move to the next part…
How to Download and Install Amazon App Store Windows 11?
Microsoft has tried its best to make it easy to download android apps on Windows 11. They have partnered with Amazon for their apps store. You can easily download the apps from the Amazon app store. Apart from that, this support is only available on the latest Windows 11 insiders beta build.
So, let's see how it works…
1. First, Open this Amazon App Store link.
2. After that, Microsoft Store will open up so click on Install button. Now click on the Download button and then wait for some time.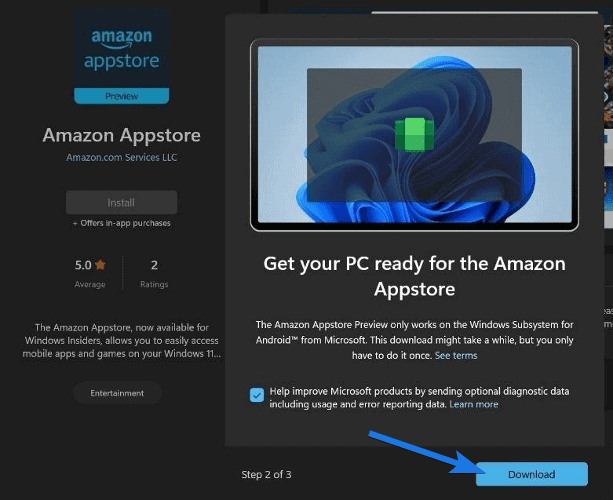 3. Once the download is finished, follow the on-screen instruction and then click on the Restart button.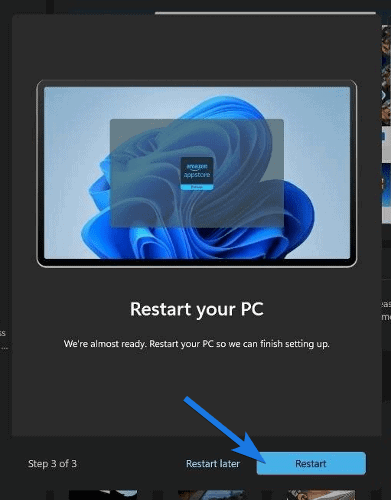 4. Now, open the Amazon AppStore and then log in with your Amazon account or you can also create a new Amazon account.
Note:- Please make sure, you have selected the US ( United States ) as your country region in Windows 11 settings.
5. At last, you will see lots of apps on your screen. So, click on it to download and install the application on your PC.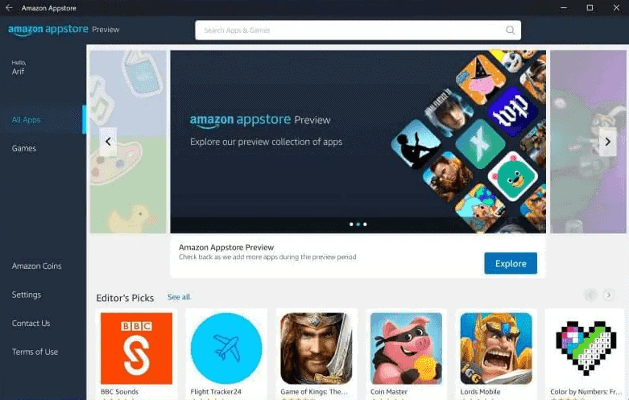 And Done! But if this quick guide doesn't work for you then you can check out this detailed guide on how to run Android Apps using Amazon AppStore in Windows 11 computer.
Now let's move further…
Some Minimum System Requirements
Although, installing amazon appstore is pretty easy task and once you are done with this, all these applications will automatically appear on home screen or in the start menu. But if you are facing any issues then I would suggest you to check the below requirements:-
You should be registered for the Windows Insider program.
The Windows 11 version should be – beta 22000.282 or above. If you are using a lower version, just go to settings and look for updates.
Internet connection should be good.
Your PC's region should be the US, you can change it from settings.
You may need to enable virtualization for your PC's BIOS/UEFI. Click here for a guide on how to enable this on your PC.
You must log in with your US amazon account on the app store.
Moreover, if this still doesn't work for you then I would suggest you to install Windows Subsystem for Android instead of Amazon AppStore.
That's it for now…
Conclusion
So, that's how you can easily download and install this new Amazon App Store from Microsoft Store and from direct links. Moreover, we have tried to cover each and every detail related to this topic and if you think we miss out something then please let us know…
And here is a pro tip to change your region or location. ( Use VPN )
Stay tuned for the next posts…
Feel free to share your thoughts via comments and also tell us about this post on Amazon App Store Windows 11 Download [ Official Microsoft ].
If you liked this post, don't forget to share…