Do you want Microsoft PC Health Check App?
If yes then you are in the right place.
Nowadays, every tech geek is amazed by the features of Windows 11.
And that's why everyone trying to download it as soon as possible.
But recently I got the news that Microsoft is going to take down the "PC Health Check Software" temporarily.
And this is very bad news for the users.
Because this is the only Readiness tool that can help you to check if your PC or Laptop is compatible with the new Windows OS.
And the worst part is that there is no other Win 11 Compatibility Checker tool to download online which can help.
But don't worry we will help you out.
So let's get started…
Also check out, How to install windows 11 using Virtualbox.
What is PC Health Check App?

PC Health Check App is basically a utility given by Microsoft to check for compatibility with Windows 11 for any device. By using this software you can easily tell if your Laptop or PC is eligible for an upgrade or not. Not only this, but you can also check what hardware requirements you need in order to update to the new Windows OS. In simple words, this is Windows 11 compatibility checker that helps you to see if your current PC meets the requirements to run Windows 11
And it is very easy to use, just you have to install the app and then click on Check Now & done. After that, it will start scanning your Computer system and then it will show you if your PC can run Win 11 or not.
But now you won't be able to use this app because it has been deleted or removed from the official Microsoft website.

But worry here are the official download links.
PC Health Check App Windows 11 Download Link [Official Microsoft]
Also, if you go and check the official Windows Twitter handle then you will find that a tweet has been made by them "We just made updates to the Windows 11 PC Health Check App. It now provides more detailed info on requirements not met. This should help in cases where folks assumed CPU compatibility issues were TPM related."
I don't know if the app is in the development phase and will return back in few days. Earlier users can easily check the compatibility online for PC but now the Health Check App is offline.
But somehow we managed to save this "WindowsPCHealthCheckSetup.msi" installer file and here are the official Google drive links.
PC Health Check App Windows 11 Download Free
And if this works for you, please share it. 🙂
Now that you have already downloaded the software app, now let's see how to use it and Install it.
Also check out, WhyNotWin11 ( PC Health Check Alternative )
How to Download and Install PC Health Check App Windows 11?
Although, there is no brainer in this and I know you can easily install it. But there are so many users who are really facing difficulty while using it. I don't the real reason for this but maybe they are not that technical users.
But no worries, just follow this quick guide.
Step 1: Download PC Health Check App for Windows 11 using above link.

Step 2: Once the file is downloaded, double click on it and then Install.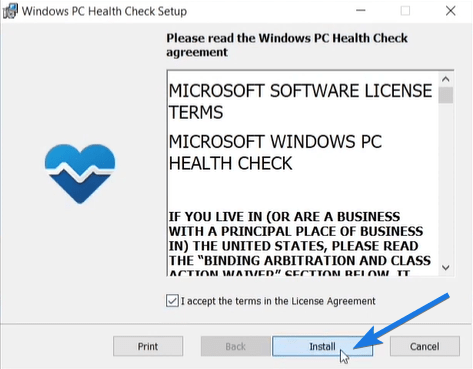 Step 3: Now click on "Open Windows PC Health Check" and then click on Finish.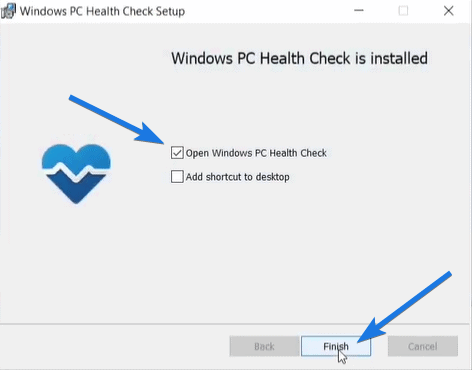 Step 4: Now "PC health at a glance" will open showing all your computer specifications and then Click on Check now.
Step 5: After that it will start scanning your PC and then if you are eligible or compatible it will show a message "This PC can run Windows 11".
This means you can easily install Win 11 on your PC, but if you find an error related to "TPM 2.0 or anything else" then you should check the below-mentioned system requirements.
Windows 11 System Requirement & Other Details
Although, we have already covered all the system requirements in one of my recent posts but still here I will give you a quick overview.
| Windows 11 | System Requirements |
| --- | --- |
| Release Date | 24th June 2021 |
| CPU | 1-1.5 GHz Processor or later |
| RAM | 4 GB – 8 GB Recommended |
| Storage | 50 GB – 65 GB or more |
| Graphics Card | Intel Integrated Graphics or later ( Supports Directx 12 ) |
| TPM | Trust Module Platform 2.0 or TPM 2.0 |
| Internet | Online Connectivity for using different features |
And if you follow all the system requirements then you can easily download Windows 11 ISO file and can install it on your PC.
But wait a minute, here is one quick way to do it.
How to Update to Windows 11 For Free
If your PC or Laptop is compatible with the new Windows OS, then you can easily use this guide to update your Windows 10 to 11. This method also works for other operating systems by Microsoft. You can also check out the detailed guide on upgradation from the above link.
And here is a quick guide to follow…
Step 1: Go to Start Menu and then to Windows Settings of your Laptop or PC.
Step 2: Now go to the Update & Security option.
Step 3: Now under the Windows Update section, click on Check for updates.
Step 4: After that, you will find an update file "Windows 11 Insider Preview 22000.51". So download it and then install it.
Step 5: Once all the updates are downloaded and installed, it will Reboot your PC or Laptop.
And done! You have successfully updated to Windows 11 without using ISO Image file.
Some FAQs
Will my PC run Windows 11 test?

Yes, your PC will run Windows 11 if you follow all the minimum system requirements given by Microsoft.

Does my PC meet Windows 11 requirements?

Minimum Windows 11 requirements for PC are 1.5-2 GHz processor, 4 GB RAM, 64 Gb Storage, Directx 12 support & TPM 2.0 enabled.

How to check if you can upgrade to Windows 11?

Why is my PC not compatible with Windows 11?

This compatibility error only occurs because of two reasons – TPM 2.0 ( Trusted Platform Module ) and Secure Boot.

How can I get Windows 11 now?

You can easily Windows 11 by updating your Windows 10 through Insider Preview Program by Microsoft.
That's it for now…
Conclusion
So that's all about how to download PC Health Check App for Windows 11 using some external offline source. And this is the official file downloaded from the Microsoft server and then uploaded to Google Drive for free. I know this file is very important but right now it is not available on the Microsoft site.
Also, you may find many users searching for "Microsoft Windows 11 upgrade checker tool" but there is no such tool and the only tool is given above.
Stay tuned for the next post…
Feel free to share your thoughts via comments and also tell us if you liked this information on Microsoft PC Health Check App Windows 11 Download Link.
Don't forget to share this post with your friends.