Want to know which Windows OS is faster?
If yes, then you are in the right place.
On 29th June, Microsoft officially released the Windows 11 Insider Preview update via the Dev channel.
Also, in the Live launch event, they mentioned that this is the "next generation of Windows" & will have amazing performance, gaming features, improved visuals, etc.
And after that announcement, many tech geeks started testing the performance of the Windows 11 leaked version.
Also, I have seen many users searching for "Is Windows 11 Faster than Windows 10?" and are really curious to know about this.
And I think the time has come, it has been 2 weeks using this new Windows operating system on our PC. And the best part is that I didn't face any app crashes or bugs till now.
So, let get started…
Also check out, how to take screenshots in Windows 11.
Is Windows 11 Faster than Windows 10? [ Full Comparison ]

But before we dive in further, I want to give you a quick overview.
Although, I have used this Windows 11 for 2 weeks and didn't face any single app crash or bug. But this doesn't mean that it is compatible with all the applications presents on the internet.
Microsoft officially mentioned that this is just a preview and many features yet to come like Amazon App Store. Also, there are almost 5 months for the release of the Windows 11 stable build. And according to the tech geeks, the final build will definitely have a huge improvement in the performance.
But we if we compare on the basis of the current Windows 11 Insider Preview update, we can say that "It is faster than Windows 10." ( But in some aspects )
And we are not just saying this, we have benchmark proofs.
Also, the below comparison is based on different criteria like Windows performance, Gaming performance, and Application performance. In this detailed comparison, we have used the machine in every test and used some tools like Blender Open Data, Cinebench, etc.
So let's get started…
Windows Benchmarks
According to Microsoft, there will be a huge difference between the performance of Windows 11 with its predecessor like Windows 10, 7, & 8. But if compare these two using Cinebench with a configuration of AMD Ryzen 7 5800X and Intel Core i7-117000 for different machines, we have found something shocking.
Cinebench R23 Test
7-Zip File Manger Comperession & Decompression Test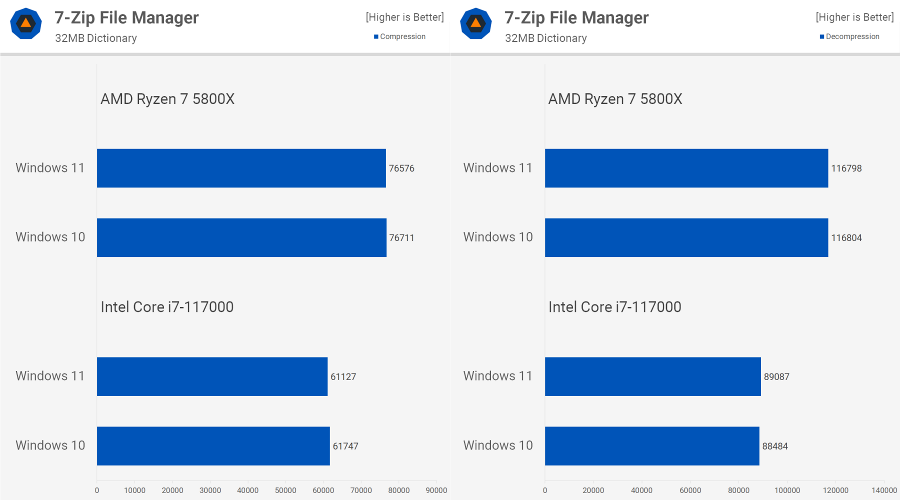 Blender Open Data
Although, according to Microsoft there will be 10% to 15% of performance improvement in Windows 11, but according to the benchmarks it's hardly a 1-2% increase. Also, this may increase or decrease when the stable version of Win 11 will release.
Now let's move to the next comparison…
Application Benchmarks
In the above section, we have already seen the overall performance using the tools like Cinebench & Blender Open Data. Also, we have used 7-Zip File Manger for checking its Compression & Decompression Speed. And after that, we hardly find any improvement of 1%. ( Which is not great )
Moreover in this section, we will be testing some applications like Video Editors used for Encoding & Editing videos with the same machines which we have used in the above section.
So let's see how Windows 11 will perform.
Adobe Photoshop 2020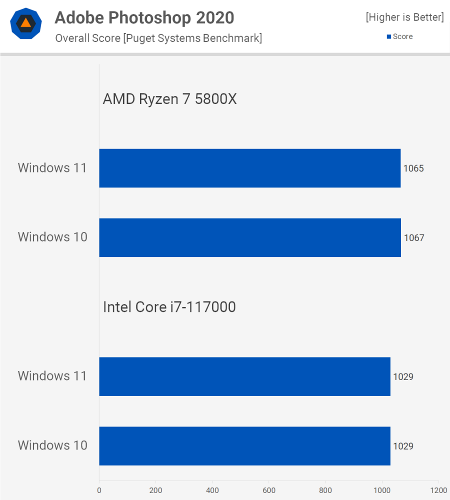 Adobe Premiere Pro 2020
Adobe After Effects 2020
DaVinci Resolve Studio 16
Although, according to Microsoft they have improved their latest version Windows OS for better video editing and faster encoding. But if we look at the above graph we hardly see any difference between all the 3 Adobe Softwares. Apart from if we look at the benchmarks of DaVinci Resolve Studio, we can see that Windows 10 is still performing better when using the Intel Core-i7-117000 processor.
Moreover, this is not the final release and maybe in the stable version, we find some great improvements in it.
Now let's move to the next comparison…
Gaming Benchmarks
In the above section, we have already seen the performance of some big applications that is used for video editing purpose. Although, all the adobe software was performing nearly the same but if go for the DaVinci Resolve Studio we can see a little difference but for Windows 10.
Moreover in this section, we will be testing some games like Cyberpunk, Watch Dogs, Tomb Raider, and Hitman 2. Also, we are using the same machine with the same processors that we have used earlier.
So now let's see Windows 11 gaming performance.
Cyberpunk 2077 [DX12]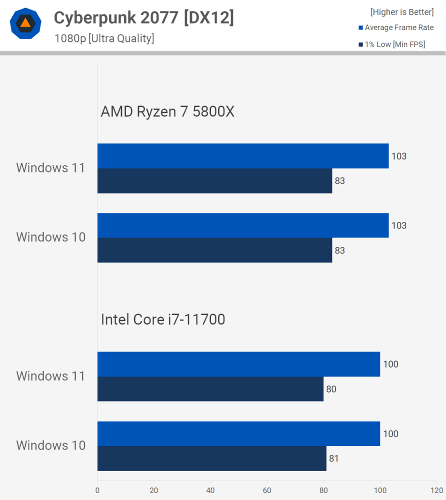 Watch Dogs: Legion
Shadow of the Tomb Raider
Hitman 2
Although, according to Microsoft they mention that we have massively improved Windows 11 for gaming purposes. And if we look at the graphs we can say that "Yes, Windows 11 is faster than Windows 10" in terms of gaming performance. Also, if we compare both the machines AMD Ryzen 7 5800X is performing much better than Intel Core i7-11700 in almost all the games listed above.
Moreover, we have seen a 10-15% increase in gaming performance and this may also improve with stable build release. We are also hoping to see some great experience in terms of running android apps on Windows 11.
Let's see what happens next…
Also, it is very rare to see such improvement in performance with just Windows OS update while using the same hardware. And I am pretty impressed that Microsoft invested 6 years for Windows 11 and they have done a great job. Not only in terms of Windows performance, gaming experience but also they have added more lot features which are badly needed for Windows users. One thing which I really like is the Start Menu which has given a much more appealing look to the Windows desktop.
Some FAQs
Which Windows 10 version is fastest?

According to us, Windows 10 S is the fastest version of Windows OS till now. And, this version is specially built for the Microsoft Surface laptop which is quite fast as compared to other Windows versions like Home & Pro.

Is Windows 11 fast?

Yes, Windows 11 is fast but in terms of gaming performance. Although, Microsoft has really done a great job but the performance is only improved by 1-2%. So we can say that Windows is faster as compared to other OS.

What is the difference between Windows 10 and 11?

If we talk about the difference between Windows 10 and 11 then there are two major differences, one hardware requirement like TPM 2.0 & Secure Boot. Second, in terms of Visual effects like Start Menu, Icons, UI and the gaming performance is much better.

Which Windows is faster?

Till now Windows 11 is faster but if we compare it with all the previous versions like Windows 10, Windows 8 & Windows 7. They are constantly improving their performance. For more info check out this post, where we have shared full comparison and benchmarks.
That's it for now…
Conclusion
So that's all about the comparison between Windows 10 and Windows 11 based on Windows Performance, Application Performance, and Gaming Performance. Although, this test was done with the leaked version of Win 11 but we are hoping that we are definitely gonna see a huge performance difference after the final release in late 2021.
Also, we have tried to make this comparison unbiased and used all the exact specs on all the systems that we have used.
Feel free to share your thoughts and I hope you have got the answer to this "Is Windows 11 Faster than Windows 10?" question.
If you liked this post, don't forget to share.
All Image Credits: Techspot