Want to know how to install Ubuntu on Virtualbox?
If yes then this step by step guide is definitely for you.
In the recent posts, I have already talked about how to install android on pc and also ChromeOS on Virtualbox.
And now I am here writing this post on installing Ubuntu on Virtualbox virtual machine.
Everyone knows Ubuntu is one of the best free open source Operating system.
And is considered to be the best OS for programming.
But the only downside I feel between windows 10, 7 and Ubuntu is that in Ubuntu we have to run codes for every small action.
And whereas in windows 10 or 7 it is pretty much easier.
But what if you can dual boot or you can use both Ubuntu & Windows 10 on the same PC at the same time.
And this post will definitely help you in doing so.
Let's see How.
Install Ubuntu on Virtualbox Virtual Machine [Windows 10]
But before we dig in further.
Please make sure that you have downloaded & installed the given files from the given link.
Oracle Virtualbox: Download Link
Ubuntu ISO for VirtualBox: Download link (18.04 Image)
Extension Pack: Download link
You can see the 64bit ISO image file is really big. Meanwhile, you can learn how to create an ISO from bootable USB.
And this step by step guide is divided into two parts: First creating a virtual machine using Virtualbox and then installing Ubuntu on Virtualbox.
Now if you are done with these files.
Let's go further…
Create Ubuntu Virtual Machine using Virtualbox
Note:- Please Enable the VT-x (Virtualization feature) or AMD-V feature in your BIOS settings of the host system.
1. Run Virtualbox
The first step is to Open or Run Virtualbox by double-clicking on it.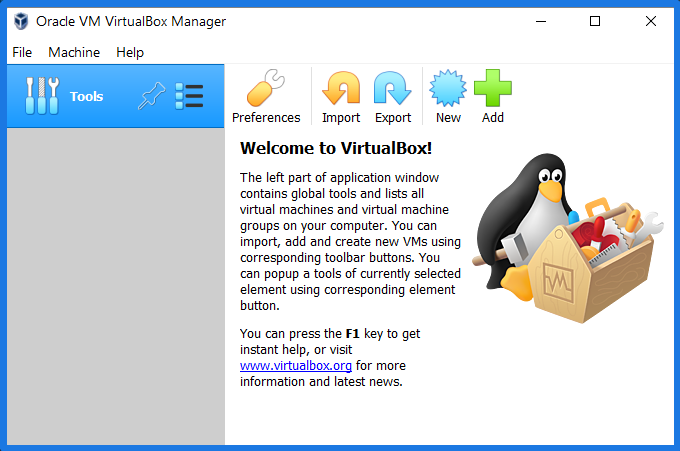 2. Create a new Ubuntu Virtual machine
To create a new virtual machine Click on the "New" Icon button.

Now in the name section, type Ubuntu 18.04 and it will automatically detect the Type as Linux and Version as Ubuntu (64-bit). Click on Next.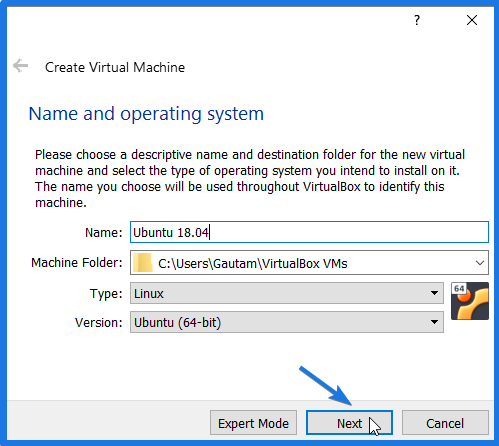 3. RAM Memory
Now select the amount of RAM memory to be allocated to the Linux virtual machine. And to Install Ubuntu Linux in Virtualbox 2048MB is enough.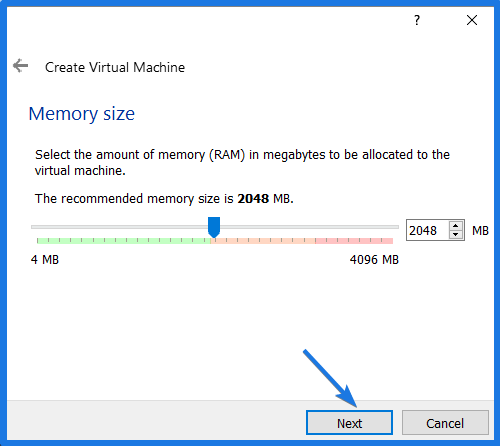 4. Create Virtual harddrive
Next step is to create a virtual hard drive for this Ubuntu VM. And the recommended size is 10Gb. Click on Create.
Now select the hard disk file type as VDI (Virtualbox Disk Image). And then Next.
Now choose the type of Storage on the physical hard disk as "Dynamically allocated". Click Next.
And then select File location and size in vmbox of Ubuntu. Click Create.
5. Configuring Ubuntu Linux Settings
Now it's time for final configuration settings for Linux Ubuntu. So click on the Settings icon.

And on the next screen, Go to Storage and in the Storage Devices section click on the Empty Dvd Image Icon and then in the Optical drive section click on Choose a disk file…
Now browse to the Ubuntu 18.04 Virtualbox image that you have downloaded earlier.
Bonus Tip:- Learn to boot OS from USB in Virtualbox, in place of booting from ISO file.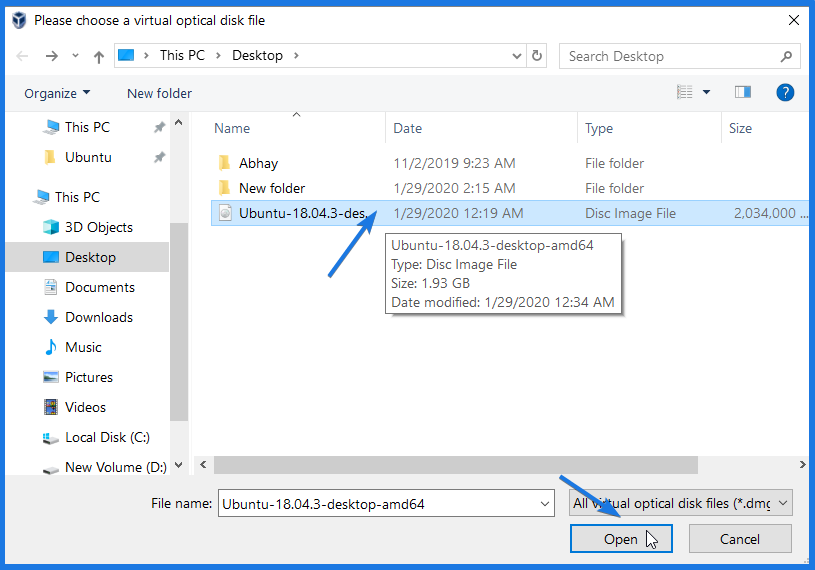 That's it! You have successfully created the Ubuntu Linux virtual machine using Virtualbox.
And now it's turn for the next part of this guide.
Install Ubuntu on Virtualbox on Windows 10
Note:- This process is also applicable if you are installing Ubuntu on PC without using Virtualbox. But for that, you need to create a bootable USB drive for Linux.
And to install it on PC, you need to plug in the USB drive and Start the CPU. But here we are installing it on a Virtual box. So we will start the Vbox & follow the below steps.
1. Start Ubuntu VM
Click on the "Start" icon to start or boot the virtual Linux machine VM.
Now, wait for few seconds while ubuntu is loading files & booting up.
2. Ubuntu 18.04 Installation
Note:- Here you will see two options, Try Ubuntu is a type of guest additions but we will install it.
Now select the language from the left-hand side section. Like I am selecting English and then Click on Install Ubuntu.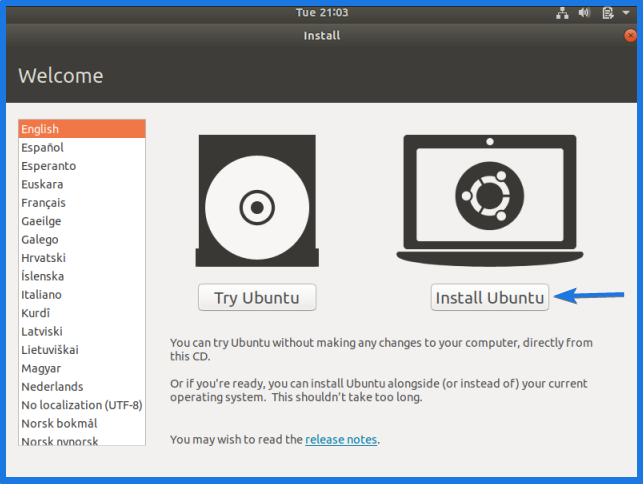 And then Select the Keyboard layout according to your preference & Click on Continue.
3. Finalizing Updates & other software
Now Click on Normal Installation and then in Other options Check the Download updates while installing Ubuntu and then also check the 2nd option Install third-party software. And Click on Continue.
Now in the Installation type Select Erase disk and install Ubuntu. And Click on Install Now & then Continue.
Then it will check for the location and click Continue.
And then Who are you? a section where you have to fill in your personal details. And Continue.
4. Installing Ubuntu Linux
Now, wait for a few minutes while Ubuntu Linux is installing on PC.
5. Run Ubuntu on Virtualbox PC
Note:- After installation is completed, Remove your ISO file from the Storage Settings. And if you are installing Ubuntu on PC then Eject your USB drive.
Now Click on Start to run Ubuntu Linux in Virtualbox.
And Done! You have successfully installed Ubuntu 18.04 on Virtualbox PC.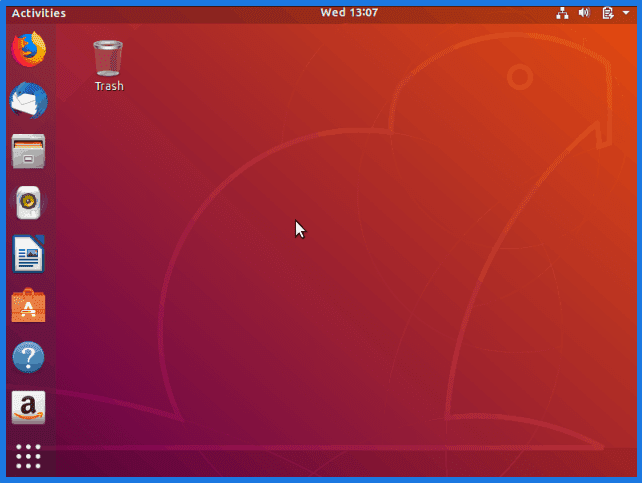 Some FAQs
How do I install Ubuntu 20.04 on VirtualBox?
Installing Ubuntu 20.04 on Virtualbox is pretty easy, just you have to follow instructions correctly. First, open the Application > Create VM > Configure it and then install it.
Which VirtualBox is best for Ubuntu?
The latest Virtualbox is the best for Ubuntu but if you searching for installation purposes via virtual machine then it's Lubuntu and Linux Lite.
Does VirtualBox support Ubuntu?
Yes, Virtualbox absolutely supports Ubuntu and apart from that, it also supports Linux, Windows, and macOS.
How install Linux OS on VirtualBox?
If you want to install Linux operating system on Virtualbox then follow the given steps.
1. Open Virtualbox
2. Create Linux VM
3. Configure the Virtual machine
4. Boot and Install Linux OS
5. Make account and done.
That's it for now…
Conclusion
So that's how you can easily install Linux Ubuntu from ISO file in Virtualbox Windows 10. And you can also follow the same method for QEMU & VMware.
Stay tuned for the next post on How to install ubuntu on Virtualbox mac.
Feel free to share your thoughts and also tell us if you know any better way to How to Install Ubuntu on Virtualbox Windows 10.
If you liked this post, Don't forget to share this helpful post with your friends.