Is Intel Core i7-7820HQ Supported for Windows 11?
If you want to know about this question, you are in the right place.
It has been almost 2 years since Microsoft released its latest operating system but still, only 1.5% of total users are using it.
And in my opinion, this is only happening because of the strict system requirements, especially for processors.
Yes, this is the 1 reason why plenty of users are facing issues and still searching on the internet for queries like "Is my computer compatible with Windows 11".
Although, the company made these requirements mandatory for improving security but I think this is killing their business too.
And because of this, many popular chips like Intel i7-7820HQ are lacking behind and are unable to get the official update from Microsoft.
So, without further delay, let's get started…
Is Intel Core i7-7820HQ Supported for Windows 11?
I know all this looks very frustrating and disappointing but for now, there are only very few processors which are compatible. Generally, they belong to the 8th, 9th, 10th, and 11th generation but there are exceptions like the Intel(R) Core(TM) i7-7820HQ CPU @ 2.90GHz which is supported only for only special devices that have modern drivers based on DCH Design Principles.
Due to this, plenty of other popular processors like i7-3770 and i7-5930k are not eligible, even if they are capable of running Windows 11. And that's not all because when the compatibility checker tools are used, some say supported and some say not, even when all machines are using the same CPU or processor.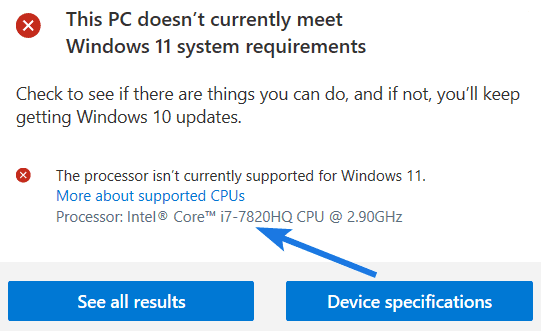 Does Intel i7 support Windows 11?
Yes, the Intel Core i7 processor supports Windows 11 but only those chips which belong to the 8th generation or later. Furthermore, this is one of the most powerful series of CPUs developed by Intel because using them you can easily perform any type of task which needs resources.
And that's why it only comes with heavy machines like Dell Latitude 5480 but when you check it using the PC Health Check App, it clearly shows that it doesn't meet the system requirements. Similarly, there are plenty of machines that are becoming useless because of the old generation chips like i7-6650u, i7-6560u, and many more.
Is Intel Core i7-7820HQ good?
Yes, the Intel i7-7820HQ is a very good CPU but it is not supported by Windows 11 because it belongs to the 7th Gen series. However, if look at the specs of this processor then they are pretty great such as 4 cores with 8 threads, 8MB cache, 8 GT/s Bus speed, and can operate at a Max Turbo Frequency of 3.90 GHz.
And you won't believe that the whole series of this model is very popular including the i7-7820hk and i7-7820x which are pretty good and can easily run any operating system. But because only very few machines like Surface Studio 2 and Dell Precision 5520 are following DCH design principles, these chips are going to vanish soon.
What do I do if my processor is not supported by Windows 11?
Generally, all computer users who are having older processors on their system are facing this issue and this can be only solved by using these two methods. First, you can try to install Windows 11 on unsupported CPU or the second one is to bypass the system requirements. I have personally used these methods to run this operating system on Intel i7 920 and Intel Core 2 Quad Q6600 which are pretty old CPUs.
Sometimes, it's not only about the processor but many times your machine is also incompatible. For example, the Lenovo Thinkpad P51 and P71 have the same i7-7820HQ CPU which is compatible with some machines but both of these laptops don't follow the right hardware platform.
Can i7 11800H run Windows 11?
Yes, the Intel i7-11800H can easily run Win 11 because it is a very high-performance chip and also belongs to the latest 11th generation which was released last year on 30th March 2021. Moreover, if you go and browse through the supported processor's list then you will also see that it is officially listed.

Apart from that, if you are having this chip on your system then you might have already received the official update from Microsoft. But if you haven't received it yet then it's better to visit the Windows 11 download page and install it manually using the ISO file.
That's it for now…
Conclusion
So, that's all about the i7-7820HQ chip and does it really supports the latest Win 11 operating system or not. Also, we have tried to cover everything which is related to this topic and hopefully, you have got all your answers.
Moreover, the company is also expanding the list of compatible processors because they have learned that this is going to be a big failure if the community users are not satisfied.
Stay tuned for the latest posts…
Feel free to share your thoughts via comments and also tell us about this post on Is Intel Core i7-7820HQ Supported for Windows 11?