Will an Intel Core i7-3770 Run Windows 11?
Want to know about this query, then you are in the right place.
When Microsoft announced the release date of its latest operating system, fans got crazy and were very much excited to use it.
But when Windows 11 was finally released, the fans got frustrated because of the new system requirements to install on their PC.
Although the look, design, and feel of this new OS were pretty impressive but due to the restriction very fewer users were able to upgrade successfully.
The majority of users were restricted because of the processor's generations and the Intel i7-3770 was one of them.
Apart from that, there were so many other issues like TPM 2.0 and Secure Boot, which were fixed later after trying different methods.
So, without further ado, let's get started…
Will an Intel Core i7-3770 Run Windows 11?
Being an outdated processor this is not enough to run the latest operating system but I have seen many users are running it successfully. Apart from that, there are so many other rumors going on about this chip.
In a nutshell, no one has an exact answer to this question because if you audit the system having this specific processor using the Windows 11 compatibility checker tool then you get some errors. Below I have also attached the screenshot for the same which clearly shows that the Intel(R) Core(TM) i7-3770HQ CPU @ 3.40GHz doesn't meet the system requirements fully.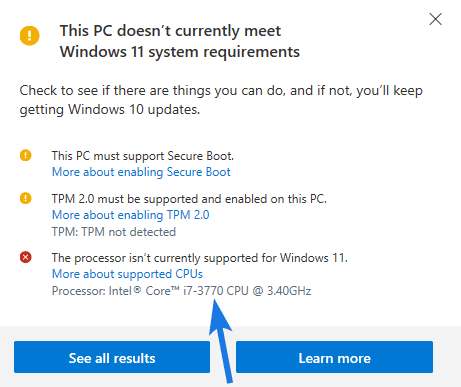 Does Windows 11 support 3rd generation?
No, Windows 11 is not supported by the 3rd generation processors. And that's not the only case with this specific generation but the 6th gen chips like i7-6820HQ also don't support this operating system. However, the 6th generation is way too ahead as compared to the 3rd but still, it doesn't fulfill the latest requirements like the latest TPM 2.0 version which is very important for security reasons. Apart from that, the older generation chips also don't have the updated BIOS and UEFI mode.
Does Intel Core i7-3770 Processor Support Windows 11?
No, according to the official list of processors given by Microsoft, the Intel core i7-3770 is not supported by Windows 11. And it's not only about this CPU but there are some other requirements also which are not satisfied by particularly. Moreover after looking at this scenario, the company also provided some ways to fix and upgrade to the newer version. Apart from that, if you are running Windows 10 smoothly on this third-generation chip then I would suggest you to keep using it till 2025.
Can I Run Windows 11 with an Old CPU?
Yes, you can easily run Windows 11 on any old CPU using one hack which is officially provided by Microsoft. In starting when this OS was released there was no such hack but after getting lots of comments from the users regarding the unsupported issues, they introduced a way to bypass them. And after that, many users successfully installed this operating system on chips like i7 2600k and some other Xeon chips also. But the worst thing about this method is that it makes your system more vulnerable and can cause different types of security issues.
Is the i7 3770 a Good Processor?
Yes, the Intel i7-3770 is a very good processor but the only downfall is that it belongs to the 3rd gen which is very outdated. Although, this processor has been very popular in the old days and it came with systems like Dell XPS 8500, Dell Optiplex 9010, and many more. Furthermore, if we look at the other components like TPM, SecureBoot, UEFI, and GPT partitions, then also it lacks behind and may work with the upcoming OS. And if you still choose to do the installation, then it's totally up to you because later on there will be other issues with new updates.
That's it for now…
Conclusion
So, that's all about the i7 3770 CPU and how beneficial it will be for running Win11 on any system. Although, by using the above-mentioned method you can easily get this operating system on your machine but it may also hamper the performance in long run.
Personally, if I just want to experience the new design and look of this latest OS then I would prefer installing it on a virtual machine.
Stay tuned for the latest posts…
Feel free to share your thoughts via comments and also tell us about this post on Will an Intel Core i7-3770 Run Windows 11?
If you liked this post, don't forget to share it.