Want to Show Clock on all Monitors in Windows 11?
If yes then you are in the right place.
Some feature which I really liked about this new operating system is its new taskbar and the Start Menu.
Although, they have a very beautiful user interface but it still has some major issues to be fixed. ( Since it's built from scratch )
But recently many users have reported that "Windows 11 only shows the clock on primary display".
This means that if you are using multiple monitors on your PC, then you will not see any clock on both or secondary displays.
And the worst part is that there are no settings given for this. But you can still use a third-party app called ElevenClock to fix this issue.
So, without further ado, let's get started…
Also Read: How to Show Taskbar On All Displays in Windows 11.
What is ElevenClock?
ElevenClock is a free utility that helps you to show the clock on the second monitor or screen. In simple terms, if you are using additional displays in extended mode then by using this app you can get the date & time back on all monitor's taskbar in Windows 11. And the best part is that you also get some pretty amazing customization options.
Like, it supports both light mode & dark mode with different themes. Adding to it, you can also change the text color of the clock and can also hide it when in fullscreen mode. You can also change the position of the clock like at the bottom and left of the screen. Furthermore, this app only extends the taskbar and you can still use the notifications panel and calendar by clicking on it.
And you can get this application for free from Microsoft Store and Github. In my opinion, this is a must app for every user who uses multiple displays or monitors with Windows 11.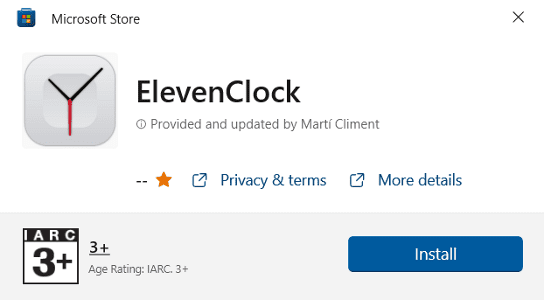 Now let's see how it works…
How to Show Clock On All Monitors in Windows 11
As you already know that there are no default settings given for showing date & time in the taskbar of the secondary monitor. And in that case, we are only left with this third-party app which is totally safe and compatible with Windows 11.
However, it's a very easy task to install and set up this utility but still, we have created this dedicated guide for the safer side.
Now follow this step by step guide:-
1. First, download the ElevenClock app from the given link.
2. Once the file is downloaded, install it by double-clicking.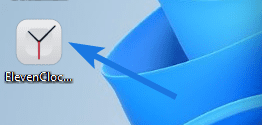 3. After that ElevenClock Setup Wizard will open up, so click on Next.
Note:- If you get the "Windows protected your PC" dialog box, then click on More info and then click on Run anyway.
4. Now click on "I accept the agreement" option & then click on Next.
5. After that, click on the Install button and wait for a few minutes.
6. At last, enable the "Run ElevenClock.exe" option & then click on Finish.
And Done! Now it will automatically display a clock on the second display monitor and it's the taskbar. And if sometimes you want to close it then you can do it from the system tray icon.
Now let's move to the next part…
Install ElevenClock using Command Prompt
Although, it's a pretty easy task to show Windows 11 clock on all monitors using the ElevenClock application. But what if the above steps didn't work for you and installation is failed for some reason. In that case, you can still install it by using the CMD or command prompt.
Now follow this step by step guide:-
1. First, search for "CMD" & then click on "Run as administrator" option.
2. Now type the "winget install –id SomePythonThings.ElevenClock" command in the dialog box and then press Enter.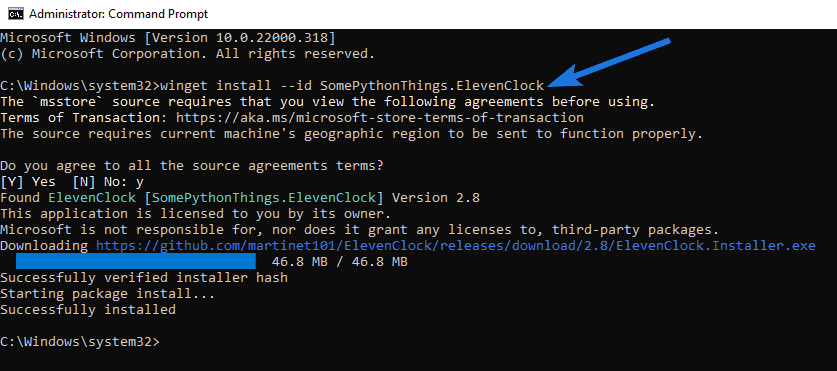 3. Once the installation is done, go to Start Menu & search for ElevenClock and then click on it to open.

Note:- If this didn't work for you, please restart your computer.
And Done! After that, you will see the date and time is showing on the secondary display which is in extended mode.
ElevenClock Settings
However, the ElevenClock app does its job perfectly fine of showing the clock on additional monitors. But the best part is that this app also gives different features to customize it more. Like, show seconds on the clock, showing only the date or time, and also some clock appearance options.
Now let's move to the next part…
Key Features of ElevenClock
Although, I have already talked about some main features in the above section. But here we will discuss some key features of this secondary monitor clock app that are beneficial for advanced users & also for normal users too.
Supports all system locales & time formats.
Supports amazing secondary clock animations.
Clock is added to all additional monitors except the main.
Can add days or seconds to the Windows 11 clock.
Can change the position of the taskbar. ( Right or Left position )
Compatible with all sizes of taskbar and displays.

Supports calendar and notification panel fully.

ElevenClock only starts when a secondary monitor is added.

Silent auto-update feature for gettings all new updates.

Other features like hide in fullscreen mode & changing text color.
That's it for now…
Conclusion
So, that's all about how you can make your Windows 11 to show the clock on secondary displays or when using multiple monitors. Also, I would suggest you to give a try to all features given by ElevenClock and adjust them according to your PC or computer screens.
Moreover, I hope that Microsoft will definitely consider this issue in the next cumulative and feature updates.
Stay tuned for the latest posts…
Feel free to share your thoughts via comments and also tell us about this post on How to Show Clock On All Monitors in Windows 11.
If you like this post, don't forget to share.