Want to know about how big is Windows 11?
If yes then you are in the right place.
It has been almost a month and still, most of the users are thinking about whether to download or update this OS or not.
I don't know the actual reason for this but I think they are confused about how much amount of space does this new OS would take.
Although, in the previous post I have already shared about How Long Does It Take to Install Windows 11?
But here we will specifically talk about whether there is recommended space on your computer to install and operate this Windows OS.
And I can assure you that after reading this article you will get all your answers like should I upgrade to Windows 11 or not.
So without further ado, let's get started…
How Big is Windows 11? [ Update and Download Size ]
Although, Microsoft has tried very hard to reduce the file size of the Windows ISO image but they were unsuccessful in it. Also, if we look at the minimum system requirements for windows 11 then it shows that it requires 64 GB of free storage space. And that's why most of the users are searching for how much data will be needed to download it and how much space it would occupy on your hard drive.
And here is a quick table for this:-
| Windows 11 | Space Size |
| --- | --- |
| Update or Upgrade | 3.5 GB |
| Download File | 5.1 GB |
Moreover, the exact partition size for installation of Windows 11 suggested by Microsoft is 64 GB but I would recommend you that 120 GB will be much better. And let's see does it really matters and will affect it accordingly.
Is it significant to find out the correct size of the partition?
With the slightly smaller SSD, it is found that the hard disk space is limited. Due to this reason, an individual may ponder whether the space would be sufficient in the future on hard disk C: \ or partition.
If the size of the partition is very small, it might occur that you have to reinstall Windows 11 somewhere in the future.
Now let's move further…
How Big is Windows 11 Update Size?

One feature of Windows 11 which I really like the most is that it will have fewer number of updates and will be lesser in size as compared to Windows 10. But the worst part is that due to new updates the file size of Windows images keeps on increasing.

Basically, the actual size of Windows 11 update is 3.5 GB but it may be different for all users because of the different build upgrades and Insider Preview updates. Moreover, you may also find a significant difference between the Windows 11 Home and Pro edition updates because of additional features.
Now let's move to the next part…
How Big is Windows 11 Download Size?
As per the latest information, the download size of Windows 11 64 bit ISO file is 5.1 GB ( for the English language ). If the scenario includes multiple architectures, ISO size can reach up to 6 GB. Keep in mind that if the ISO file size is 6 GB, you need a minimum of 8 GB of storage to correctly set up a bootable USB.

Since many devices will be accessible for Windows 11 ARM, it is highly improbable that somebody would put up a multi-arch ISO even though knowing that the 32-bit version is unsupported. But, for every edition, it is found that the ISO size increase by roughly 500 MB. However, considering different compression levels, the ISO size may be less for 12-Edition ISO as well.
The size of Windows 11 ( Pro edition ) will be roughly 3GB to 5 GB along with standard install.wim file. In this edition, the size of ARM English is 3 GB whereas the size of x64 English is 5 GB.
The Windows 11 Single Language ( Home edition ) saves several MB in its file size. In this Home edition, the size of ARM Single Edition English ISO download is 3 GB whereas the size of x64 Single Edition English download is 5 GB.
The size of Windows 11 ESD for ARM and 64-bit versions for a single language ranges from 3.4 GB to 3.5 GB.
Note:- All the ESD files are a perfectly packed archive that is transformed into ISO when ISO is being created through the Media Creator Program. Generally, ESD is less in size, and therefore, you could save up to 1.5 GB of download space.
Also Read:- Is Windows 11 Good for Gaming [ Performance ]
Now let's move to the next part…
How Big is Windows 11 on DVD & Hard Drive?

The 32-bit version is not available on Windows 11. And the 64-bit version on the DVD, the size of Windows 11 is roughly 4.5 GB. In that case, after installation over the hard drive, the size occupied is roughly 20 GB.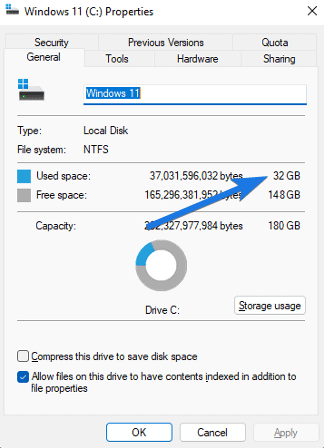 Through a clean offline installation, without pagefile.sys and hiberfil.sys on C:\, the size of Windows 11 is 12 GB. After passing through a few updates, Windows 11's size may reach 30 GB on your hard drive. Keep in mind that 5 GB space is provided for hybrid standby and 3 GB space is provided for the Windows swap files.
Now let's move to the next part…
How Big is Windows 11 on a Computer? [ 250 GB of Local Disk ]

On a laptop or computer with 250 GB Local Disk C, the Windows 11 OS may take around 24 GB of space, after installation. This space entails the primary drivers required to be installed for hardware to properly function. Keep in mind that such primary drivers were already installed when Windows 11 setup was carried out. This is because it needed an Internet connection so no option was available to avoid drivers from being installed. But there is a rare chance of Windows 11 not inquiring for Internet connection and Microsoft Account during setup if it fails to recognize an Ethernet connection.
Based on computer hardware like utilities and Graphics cards, additional storage space of 1-2 GB may be occupied. This additional space is because drivers of AMD and Nvidia are huge in size. Make sure to always keep a margin of 10-20 GB extra space for apps and drivers. Therefore, you can aim for a minimum of 30-40 GB of empty space on the installation partition. When you upgrade to Windows 11, the scenario may be different since Windows stores entire data in Windows.old folder and occasionally trims the folder to adjust consequently.
That's it for now…
Conclusion
So, that's all about the Windows 11 upgrade or update size in different scenarios and also when download for PC is required. Moreover, we have tried to cover each and every detail related to all possible sistuations.
Apart from this, I would suggest you to check out our recent post on Windows Subsystem for Android Download.
Stay tuned for the next posts…
Feel free to share your thoughts via comments and also tell us about this post on How Big is Windows 11? [ Update and Download Size ].
If you liked this post, don't forget to share.