Can Intel Core i7-7600u Run Windows 11?
Searching for this specific question, then you are in the right place.
Although, the minimum system requirements suggested by Microsoft don't make sense but due to privacy we are all accepting them.
Because there are plenty of users who don't care for this single reason and still struggling with these compatibility issues.
And if we look at the basic specs which majority of users have TPM 1.2 but that's not the only thing required for running this system.
Having the UEFI, Secure Boot, and most importantly, the 8th-generation processor is very important.
And because of this latest generation issue, chips like Intel i7-7600u are lagging behind and are unable to get the official updates.
But thankfully, there are some amazing ways to bypass it actually.
So, without further ado, let's get started…
Can Intel Core i7-7600u Run Windows 11?
However, all these CPUs are perfectly capable of running this latest operating system but when all these generations were tested, the developer found that the 7th gen faced 52% more crashes as compared to the new generation. And that's why the Intel(R) Core(TM) i7-7600u CPU @ 2.80GHz is not currently supported for Windows 11 or for the upcoming operating systems.
And this is not the only case with the 7th generation but the 6th gen processors like i7-6900k are also facing the same issue. I know that forcing such strict guidelines is not good but to make this operating system bug-free, reliable, secure, and faster they had to do that.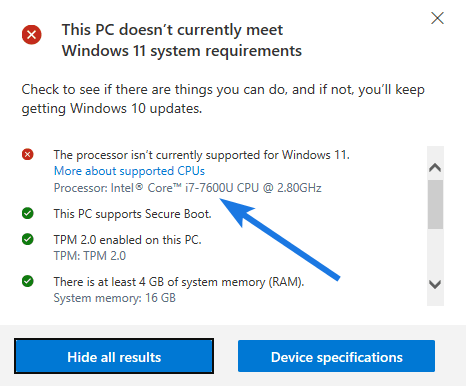 Is Intel i7 compatible with Windows 11?
Yes, the Intel i7 is totally compatible with the latest Windows 11 and you can easily install it on any supported device. Just you have to make sure that it must belong to at least 8th generation and also follow the requirements recommended by Microsoft. Because there are plenty of chips like i7 5930k and i7-3770 which fulfills some requirements but not the generation part. Adding to it, there are many users who commented that their machine has 2 cores, 4GB RAM, 64-bit architecture but still it not compatible with latest operating system.
Does i7 7600U support Windows 11?
No, the Intel Core i7-7600u is not supported by Windows 11 but you can still install it on any system by tweaking the registry files which allows the machine to check the parameters are fulfilled or not. One user having a Dell Latitude 7380 machine also have used this method to avoid these system requirements because it was having correct TPM, Secure Boot and also the UEFI boot mode. However, you cannot get the official updates from the Microsoft but you can still get this OS running on your system.
Is 7th gen i7 compatible with Windows 11?
No, the 7th generation i7 is not compatible with any version of Windows 11 because all this is a older generation and does not follow the DCH principle which is very important. Although, the company made these requirements compulsory to make sure the Reliability, Security, Compatibility of this system for their users. But it backfired them because there were lots of users who were using the older generation processors like i7-7820hk and i7-7y75 with the previous operating system and it was working pretty fine for them.
Is Intel Core i7 7700 supported for Windows 11?
No according to the Microsoft official compatibility list, the Intel i7-7700 is not supported for Windows 11 and also for their automatic updates or upgrades. However, the series of this CPU is pretty popular which also include the processors like i7-7700k, i7-7700HQ and more. And the best part is that, we have already shown some methods in that guide which you can easily use to bypass all system requirements and get this OS running. But make sure to backup all your important files before performing the steps mentioned in that detailed guide.
That's it for now…
Conclusion
So, that's all about the i7-7600u processor and if your machine can run this unsupported Win 11 operating system or not. Also, if you check the reports of previous OS then you will find that there is no operating system built till date which is free from 100% security threats.
Moreover, if you are concerned about the security of data and files then I would suggest you to keep running Windows 10 till the year 2025.
Stay tuned for the latest posts…
Feel free to share your thoughts via comments and also tell us about this post on Can Intel Core i7-7600u Run Windows 11?
If you liked this post, don't forget to share it.