Is Intel Core i7-6900k Compatible with Windows 11?
If you are looking for this question, you are in the right place.
According to Microsoft, their latest operating system is one of the most advanced versions of Windows.
With lots of new features and improvements but has only one compatibility issue which is related to the supported generation of processors.
However, the company made this decision to make Windows 11 a more powerful, stable, and very performing OS.
But it didn't go well because there were so many users who were still using their old systems and were not ready to upgrade their machines.
And due to this, the Intel i7-6900k became worthless because it was launched 6 years ago and doesn't follow the current requirements.
So, without further ado, let's get started…
Is Intel Core i7-6900k Compatible with Windows 11?
All the users were very much excited when they heard that Windows 11 is going to be more secure and will help you to stay safe online. But with this, they also gave some hardware requirements which need to be followed for running this operating system. Some of them are Secure Boot, TPM 2.0, UEFI Boot Mode, and the processor must belong to the 8th generation.
In a nutshell, the Intel(R) Core(TM) i7-6900k CPU @ 3.20GHz is not compatible with Windows 11 and if you check using the compatibility checker then also it will show the message "This PC can't run…". But by using some registry hacks you can still install this operating system on your and can easily bypass the requirements.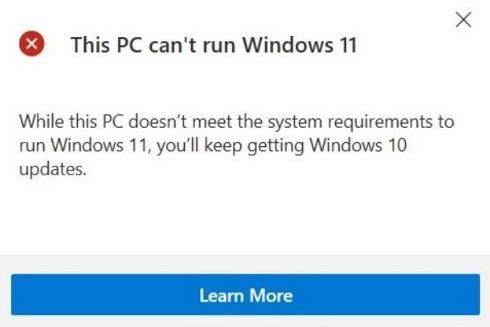 Is Intel Core i7 good for Windows 11?
Yes, the Intel Core i7 is a very good processor for Windows 11 because it is one of the most advanced and powerful processors available in the market. Furthermore, they are built with the latest technology and can easily perform heavy-duty tasks video editing, and 3D rendering. But some processors like i7-4500u are very old from the 4th generation and cannot handle the latest applications that are used these days. Apart from that, if you want to take the advantage of gaming upgrades of this operating system then the 8th generation would be a great fit.
Does Intel i7-6900k support Windows 11?
No, the Intel Core i7-6900k processor is not supported by Windows 11 but you can still install this operating system by using this quick guide. Basically, this guide talks about how you can get this OS on any unsupported device and run it smoothly. However, if we look at the specification of this chip then it has 8-core, 20MB cache, DDR4-2400 memory, and operates at a base clock of 3.2 GHz, and supports 3.70 GHz of Max turbo frequency. And this clearly suggests that this processor can easily deliver the performance required by any operating system.
Can 6th gen i7 Run Windows 11?
Yes, the 6th generation i7 processor can easily run Windows 11 because the power generated by this chip is pretty good and is more than sufficient which is actually required. But because of the restriction given by the company, the 6th gen intel CPU is not recommended for this OS. And that's not the only case with this specific chip but there are many more chips like i7-6850k which are facing this incompatibility issue. Also, if you look at the supported processor's list, you will see that hundreds of similar chips are abandoned for a single reason to just improve security.
Will an Intel Core i7 6700 work with Windows 11?
No, the Intel i7-6700 can't work with Windows 11 because it is not officially recommended by Microsoft. Although, it is also a great processor based on Skylake architecture which works perfectly with desktop machines but still it is not available in the list. Similarly, the i7-6700k is one more CPU with the same specifications but different a model, and this was also removed just because of the old generation. And since this chip is very popular, we have created a guide to skip these limitations and install this OS on any unsupported hardware without facing issues.
That's it for now…
Conclusion
So, that's all about the i7-6900k CPU and does it really have any compatibility issue or not. Although, we have shared some ways to install Win 11 by bypassing requirements but I have seen many users complaining that they face lags sometimes.
Moreover, if you want a smoother and faster experience then I would suggest you to buy a new machine or upgrade the generation of the processor, if possible.
Stay tuned for the latest posts…
Feel free to share your thoughts via comments and also tell us about this post on Is Intel Core i7-6900k Compatible with Windows 11?
If you liked this post, don't forget to share it.