Intel i7-7700k not compatible with windows 11?
If you want to know about this query, then you are in the right place.
Although, Microsoft released its latest Windows OS with a very huge live event launch.
But I have seen many users who are really disappointed because of the compatibility issues they are facing.
Earlier when Windows 11 beta version was released, Microsoft clearly stated that only 8th generation or later CPUs will be supported.
But after getting so many comments on this, they included the 7th generation processors including the Intel Core i7 7700k & many more.
But it didn't go well for some users as their Computer / PCs are still not compatible with Win 11.
So, let's dive in further…
Also Read:- Fix cFosSpeed Driver Windows 11 Installation Error.
Some Known i7 7700K Windows 11 Issues
Here we will talk about some known issues and problems faced by users having an Intel i7-7700K processor on their PC or laptop. And after that, we will tell you some ways using which you can easily install Windows 11 on your system.
But before that, I would suggest you to please again check your PC using some other Windows 11 compatibility checker tools other than PC Health Check App.
And if you don't rely on these tools then I would suggest you to manually check your hardware requirements that must be followed:-
Windows 11 Minimum System Requirements:-
Although, I already know that you have checked them and then at last you came on this post. But I would suggest you to again cross-verify it.
| Hardware | Minimum Requirements |
| --- | --- |
| Processor | 1 Gigahertz ( GHz ) or faster. Supports 64-bit architecture & System on chip ( SoC ) |
| RAM | 4 GB ( Minimum Required ) |
| Storage | Free Space of 64 GB or more. |
| System Firmware | Supports UEFI and Secure Boot capable. |
| TPM | Trusted Platform Module 2.0 ( TPM 2.0 ) |
| Graphics Card | DirectX 12 compatible with WDDM 2.0 driver. |
| Display | 720p HD resolution display and 8 bits per color channel |
| Internet | Active internet connection for using Microsoft account and other new features |
Original Source: Microsoft
Now if you have already checked these requirements but didn't find any clue then let's move further and check what other users are facing with these 7th generation CPUs and Processor.
1. i7-7700K Meets the Minimum Requirements to Run Win 11. But still not Supported?
This comment had a very long discussion in the Tech Community of Microsoft forums but didn't get any solid answer. The user also stated that its machine follows all the requirements like TPM 2.0, Secure Boot, 4 Core up to 4.2 GHz, and also supports the 64 bit.
The user also attached the screenshots of the PC Health Check app showing that the processor Intel(R) Core(TM) i7-7700K CPU @ 4.20GHz is not supported and later he had to switch to Apple's Macbook.
And it's not only about this CPU but there are many others like i7-7700HQ who are facing the same issues.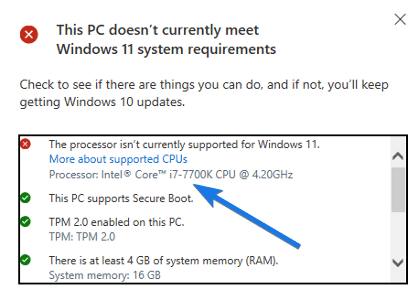 Image Credit:- techcommunity.microsoft.com
And after all this, the user only gets a simple answer that Microsoft will later start supporting the 7th generation processors and further you can check this list of Intel processors supported by Windows 11.
2. Windows 11 does not supported core i7-7700k?
One more user commented on this via linustechtips forums but get didn't find any solution. Similar to the previous one, he also attached some screenshots of all settings that are considered as Windows 11 system requirements to run on any PC or laptop.
Image Credit:- linustechtips.com
Apart from this, many users also stated that they want to know about the real reason why i7-7700K is a non-compatible processor and is there any way to upgrade to Windows 11. Moreover, some users also commented that they have seen some Intel Pentium users running this operating system.
3. Other CPUs facing Issues like i7 9700k, AMD & ASUS
It's not only about this single CPU having issues but there are so many other processors which are facing compatibility issues like Intel i7 9700k, ASUS Z270-AD, AMD Ryzen 7 1800X, and many more. And if we look at the specs then we can easily say these chips are compatible and will support Windows 11. But it's not like that and now I think Microsoft has already removed most of the 7th generation CPUs.
But don't worry below we have listed some awesome ways which will help you in installing this operating system on any unsupported PC. Moreover, if you also have an AMD machine then check out this list of AMD processors supported by Windows 11.
Now let's finally move to the fixes…
4 Ways to Fix Intel i7-7700K CPU Issues

Although, Microsoft didn't think that this Windows 11 OS will cause this many compatibility issues. And most of the users are very disappointed with this and never thought that they will ever face any issues with Windows.
Earlier, the PC Health Check App was a mess and that's it was down for almost 2 months and live again. And according to rumors, Microsoft tested the Windows 11 operating system with 7th generation CPUs but didn't get that much performance as compared to the higher ones.
But don't worry we have got the solutions for this.
1. Force Windows 11 Update or Upgrade
This method is pretty simple you just have to follow some steps and you are all set. Moreover, I would suggest you to please be careful while using this method because this may cause data loss if not done correctly.
And here is a detailed guide on How to Force Windows 11 Update.
2. Install Windows 11 on Unsupported Hardware

This is method is really a full proof which has helped so many users in installing this operating system on their old PCs. Moreover, this method is a little bit complicated as compared to the above one because in this you have to create some registry files which may take more time.
And here is a detailed guide on How to Install Windows 11 on Unsupported Hardware.
3. Bypass Windows 11 Requirements & CPU Checks

This is the official method recommended by Microsoft to bypass all these requirements and security checks. But this method is also similar to the above but will definitely help you in fixing issues related to TPM 2.0, CPU, Secure Boot, and many more. Moreover, in this we have also used some scripts that make this process easier.
And here is a detailed guide on How to Bypass Windows 11 Requirements.
4. Block Windows 11 Update or Upgrade

Yes, you heard it right. If any of the above methods are not working for you then blocking this update is the only option. Because after blocking you will save lots of space and time of automatic downloading update files. And don't worry, keep using Windows 10 because it will be getting updates at least till 2025.
And here is a detailed guide on How to Block Windows 11 Update.
That's it for now…
Conclusion
So that's all about the core i7 7700K compatibility issues faced by the users. Moreover, in this post we have tried to cover each and every detail related to this processor and why they are facing such issues even if their chips follows all the basic requirement.
All the above method works really great but you have to be careful while working with these registry files.
Stay tuned for the next post…
Feel free to share your thoughts via comments and also tell us if you know any better source on Intel i7-7700K is not Compatible with Windows 11? [ Fixed ].
If you liked this post, don't forget to share…