Can Intel Core i7-4600U Run Windows 11?
If you are searching for this question, then this post is for you.
Microsoft has been continuously upgrading its operating system for a better experience and performance.
But this time, they have done a major upgrade which also needs some new hardware for running it properly.
Although, they have done it for extending the power and strength of Windows 11 but it resulted in some incompatibility issues with the processors like i7-6900k and many more.
And this means that you cannot run this operating system even if you have a good amount of storage and memory because you don't have the correct generation of CPU.
Due to this, plenty of high-performing processors such as Intel i7-4600U are suffering and failing to experience this OS on their systems.
So, without further ado, let's get started…
Can Intel Core i7-4600U Run Windows 11?
As we know, Windows 11 has been gaining popularity at a very larger scale and many companies are upgrading their operating system but users like us who still rely on old machines with Intel(R) Core(TM) i7-4600U CPU @ 2.10GHz are facing issues to update it properly. And if you are using HP EliteBook Revolve 810 then this chip is also present in it.
Furthermore, if we look at the release date of this processor then it's September 2013 which is pretty old. But the specs it has are more than enough to run this OS but due to its old generation, it is not compatible for now. Basically, it has 2 Cores, 4 Threads, a Bus Speed of 5 GT/s, can uphold 16 GB of RAM memory, and is capable of having a maximum turbo frequency of 3.30 GHz.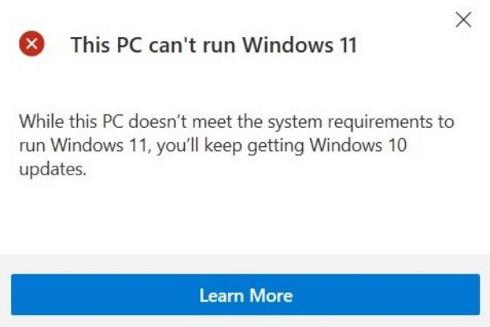 Can Windows 11 run on i7 4th Gen?
No, the i7 4th generation processor cannot run Win 11 because they are very processors and might not fulfill the other minimum requirements like TPM 2.0, Secure Boot, UEFI mode, etc. Apart from that, if you still try to install Windows 11 without TPM then it will run very slowly and you won't be able to do tasks like video editing and gaming. Similarly, there are other chips like i7-2600 and i7-3770 which might work well but they also belong to the very old generation and are not recommended. So, it's better to upgrade your PC's hardware and fulfill the requirements of the specifications given by the company.
Does Intel i7-4600U support Windows 11?
No according to the supported processors list published by Microsoft, the Intel Core i7 4600U is not supported by Windows 11. But if we look at the features which these chips provide are quite a match to each other. Having a total 2-core CPU, it can be regarded as eligible where any install can expect it to run on their system. And to be honest, this is not the only requirement that needs to be fulfilled, Secure Boot, TPM 2.0, and having an 8th generation processor is a must requirements to run this operating system smoothly.
Is Intel Core i7 compatible with Windows 11?
Yes, the Intel Core i7 chip is absolutely compatible with Win 11 but it must belong to the 8th Gen CPU or later. Moreover, if your processor doesn't fulfill this specific requirement then your PC or laptop won't be able to get official updates from Microsoft corporation. And due to this many systems having chips like i7 920 and i7 5930k have suffered to get this update but have no use because even if the installation is done, you won't be able to get the best performance since it is not fully compatible.
Can 7th gen i7 run Windows 11?
Yes, the i7 7th generation processor can easily run Windows 11 but it is not recommended by the company. And this was only done because when they tested this operating system with 7th gen chips then it was not performing well and was also facing some lags while using it. Here are the two popular chips which didn't pass the test well, the first one is i7-7700k and the second one is i7 7820hk. However, you can still install this OS on an unsupported CPU and can bypass the requirement but to use it well you definitely need an 8th-generation processor.
That's it for now…
Conclusion
So, that's all about the i7-4600U CPU and if you can run Win 11 using this processor. In the future, it may support but currently, this problem has made the usage of this operating system an inevitable one.
Therefore, if you want to use this OS then it should be upgraded otherwise you might have to stick to the earlier versions like Windows 10.
Stay tuned for the latest posts…
Feel free to share your thoughts via comments and also tell us about this post on Can Intel Core i7-4600U Run Windows 11?
If you liked this post, don't forget to share it.